The U.S. Environmental Protection Agency (EPA) is now accepting round two of the Clean School Bus Program, and school districts can submit applications for competitive grant funding.
The agency is anticipating awarding about $400 million in competitive grant funding. However, the EPA has stated previously that it will make $1 billion available in fiscal year 2023, year two of the five-year, $5 billion program. The EPA confirmed to School Transportation News that the CSB program expects to open another round of rebate funding opportunities later this year.
The grant will provide funding for the replacement of existing diesel engine school buses with electric, propane or compressed natural gas as well as the purchase of electric vehicle supply equipment infrastructure and installations.
The Clean School Bus Program is a five-year, $5 billion program that was signed into law through the 2001 Bipartisan Infrastructure Law by President Joe Biden. It provides $5 billion over fiscal years 2022 through 2026 to fund the replacement of zero- and low-emission school buses. The first round of funding, in the form of a rebate, helped to replace over 2,400 school buses for cleaner emissions, 95 percent of which was electric.
To ensure a healthy grant competition, the EPA said in a statement it issued two notices of funding opportunities (NOFO). One is for school districts and tribal applications, and the other is for third-party applicants such as school bus contractor companies that serve school district beneficiaries.
The first informational session will be on May 10. The NOFO must be submitted by Aug. 22. The anticipated notification of selection will take place from November to January, with anticipated awards following in February and March.
Eligible applicants include local or state governmental entities, Indian tribes, tribal organizations, and tribally controlled schools, eligible contractors, and nonprofit transportation associations. Eligible contractors include those that have the capacity "to sell, lease, license, or contract for service clean school buses, zero-emission school buses, charging or fueling infrastructure, or other equipment needed to charge, fuel, or maintain clean school buses or zero-emission school buses, to individuals or entities that own, lease, license, or contract for service a school bus or a fleet of school buses," the EPA states, adding that those that arrange financing of a sale, lease, license, or contract for service are also among the approved contractors.
---
Related: EPA Announces Collaboration for 'Seamless' Electric School Bus Implementation
Related: EPA CSBP Payment Request Deadline This Month
Related: EPA Advances Reduced Greenhouse Gas Emissions Goals, More Stringent Standards
Related: Lion Electric Announces School Bus Battery Manufacturing Factory
Related: White House Recognizes First Student for Electric School Bus Pledge
---
Priority for funding is given to applicants that are high-need local educational agencies, rural school districts, Bureau of Indian Affairs-funded school districts, and school districts that receive basic support payments for children who reside on Native American land.
The amount of funding depends on the fuel bus type, bus class size, number of buses being replaced, and prioritization status.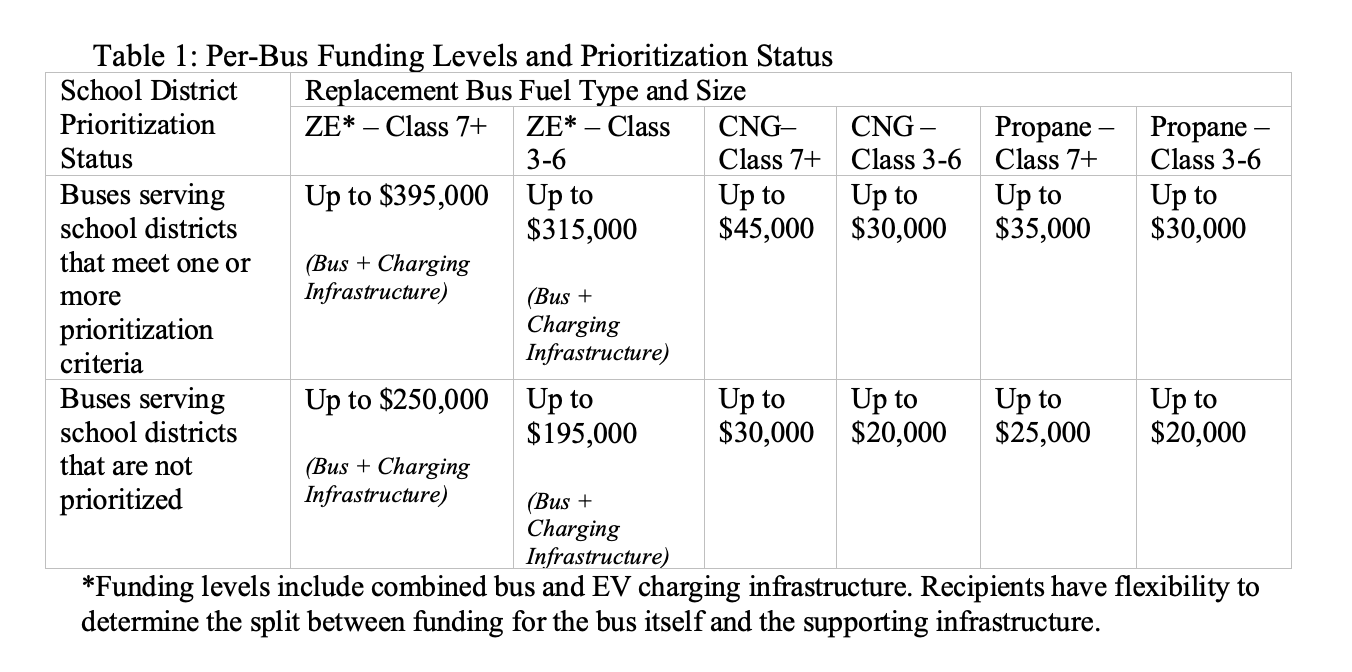 Find districts that qualify under Environmental Justice & Disadvantaged Communities. The agency has also released a 58-page Grant Program PDF with more information.
The article has been updated from its original version to include a response from the EPA on the CSBP funding opportunities for the year.