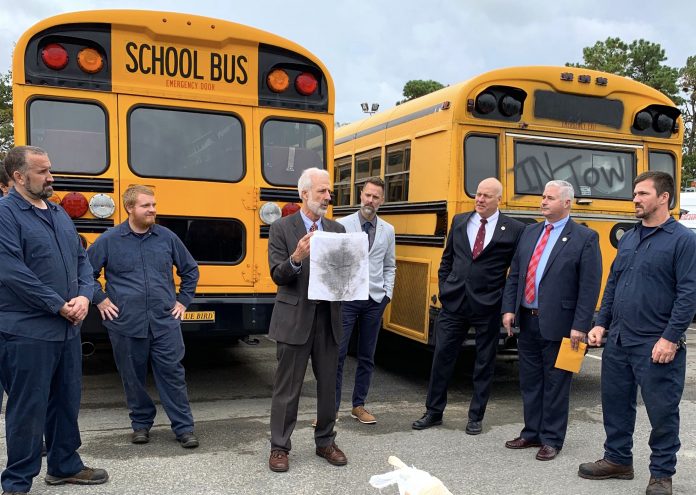 Toms River Regional School District on New Jersey's East Coast is using $200,000 in U.S. Environmental Protection Agency (EPA) rebate money to purchase 10 gasoline- and propane-powered school buses to replace older diesel buses.
Toms River has now replaced 29 buses by using $545,000 in funds over the past three years. EPA Deputy Regional Administrator Walter Mugdan was joined by Toms River Regional Schools Superintendent David Healy for the announcement at the Toms River's transportation department on Oct. 16. They discussed the importance of programs like EPA's diesel emissions reduction program.
This is the seventh rebate program to fund cleaner school buses offered under the Diesel Emissions Reduction Act (DERA) appropriations. Over the past seven years, the EPA has awarded about $39 million in rebates to replace almost 2,000 school buses nationwide. Meanwhile, overall DERA funding has replaced or retrofitted nearly 30,000 buses nationwide.
"EPA is partnering with Toms River Regional Schools to scrap the older, dirty buses to ensure that they will not be put back on the road," said EPA Regional Administrator Pete Lopez. "We are progressively reducing diesel pollution and will soon make that familiar black puff of smoke a relic of the past. Reducing air pollution from diesel engines has enormous benefits for the health of our children and our communities."
Toms River Regional Schools Superintendent David Healy commented, "To be rewarded for doing the right thing—providing our students safe, clean transportation while reducing our carbon footprint—with savings we can reinvest into the classroom is a remarkable opportunity, and we are sincerely grateful to the EPA."
Healy also observed that the funds have helped to make the district "a better, safer, healthier place to learn and work."
Toms River Regional School District and EPA Region 2 officials then performed a white towel demonstration to show how much dirtier tailpipe emissions are from older diesel school buses compared to gasoline and propane.
The EPA standards for new diesel engines can make them more than 90 percent cleaner than older ones, but many older diesel engines still in operation predate these standards.
EPA funds projects that reduce emissions from existing diesel engines, as appropriated annually by Congress. Previously, the EPA announced that about $10 million in clean school bus rebates are available nationwide. The application period ends on Oct. 30.
---
Related: EPA Awards Clean School Bus Grants in Several States
Related: EPA Accepting Applications for DERA School Bus Rebates Program
Related: EPA Extends Clean Diesel Tribal Grant Applications Timeline
Related: STN EXPO: Discover School Bus Alt-Fuel Benefits of Clean Cities Programs
Related: EPA Announces DERA Funding Recipients
Related: California Lower-Emission School Bus Program Issues Revisions
Related: Atlanta-Area School District Receives EPA Grant for Propane Buses
Related: EPA to Propose New Standard on NOx Emissions
Related: EPA Grant Brings 4 Blue Bird Electric School Buses to New York District
Related: EPA Announces Latest School Bus Rebate Awards
---