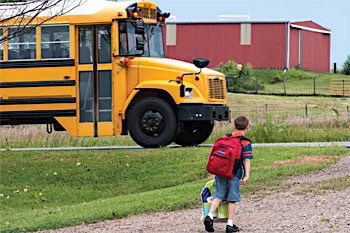 States reported the same number of fatalities for the 2012-2013 school year during school bus loading and unloading operations as for the previous school year, the Kansas State Department of Education released to STN on Tuesday.
The nine student fatalities occurred in five states: Arkansas, Georgia, Indiana, North Carolina and Texas. North Carolina suffered four fatalities and Texas two, while the other three states reported one each. Forty-six states participated in this year's National School Bus Loading and Unloading Survey, up from 43 for the past three surveys dating back to 2009.
The states reported that six of the children were killed by vehicles that illegally passed a school bus that had its flashing red loading lights engaged and its federally mandate stop arm extended. All four North Carolina fatalities occurred at the hands of an illegally passing motorist.
Of the three students struck and killed by their own school bus, two were killed at the rear wheels while one died at the front, and all buses were Type C conventional models. Nearly two-thirds of the fatalities occurred on the trip home, according to the KSDE, while students en route to school represented 22 percent. The young victims ranged in age from 1 to 14.
Because not every state reports their number of student deaths around the school bus, the KSDE statistics were lower last year than student fatality numbers researched and compiled by STN staff members via national wire reports. According to this research, there were not nine but 16 student deaths around the school bus or bus stop during the 2011-2012 school year.
The discrepancy between the STN total and Kansas' may arise from the definition of "loading and unloading zone" as related to bus stops. Wilma Crabtree of the KSDE's School Bus Safety Unit said they only count fatalities that occur when the school bus is "in the vicinity" of the bus stop. STN, meanwhile, tracks the mention of school bus stops in articles on student fatalities that are published across the country.
The National School Bus Loading and Unloading Survey compiled by the School Bus Safety Unit has been conducted every year since 1970, when it was developed by the Kansas Department of Transportation. During that tine, the department said that more than 73 percent of student fatalities involved students aged 1 to 9 years old.
Over the past 43 years, 65 percent of the fatalities, or 786 incidents, occurred during the trip home compared to 32 percent, or 385 incidents, on the trip to school. Another 3 percent, or 41 incidents, occurred during an activity or "other" trip. The school bus was involved 57 percent of the time and illegally passing motorists 39 percent of the time. Four percent consists of an "other" vehicle.
Additionally, KSDE amended its 2006-2007 survey results after finding that there were four children killed by illegal passers while only one fatality was added to the 37-year totals at that time.