The Ohio State Patrol released interior video from a nearly two-month-old school bus crash that shows unbelted student passengers tossed about the cabin during the t-bone crash and resulting rollover.
On Dec. 19, a vehicle ran a red light in Thornville, Ohio, located 37 miles west of Columbus, and struck the Northern Local School District bus. The video shows the 25 students on board being propelled out of their seats, with many slamming into bench seats, windows, each other and the bus roof as the vehicle tips onto its right side.
Several national media outlets aired clips of the video on Tuesday and Wednesday.
The crash report states the school bus was traveling northbound when an eastbound vehicle failed to stop for the red light and struck the bus. Both vehicles traveled northbound until the school bus overturned and the vehicles veered off the left side of the roadway, striking a guard rail.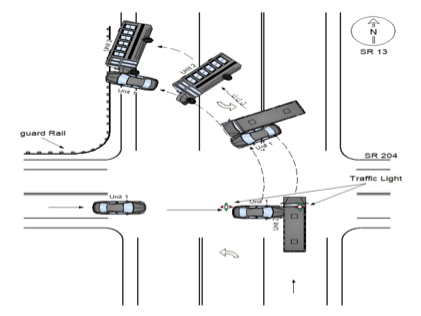 The school bus driver, Danny Hupp, 74, was wearing his mandated seatbelt, but the school bus was not equipped with the safety restraints for the student passengers. The video shows children being thrown out of their seats and hitting the bus roof.
Children can be heard screaming and begging for help. Hupp was able to direct the children out of the school bus through the emergency doors and windows.
Hupp was transported to OSU Medical Center with suspected minor injuries. Eight children were injured and transported to local hospitals around Ohio. The remaining 17 Sheridan High School students sustained bumps and bruises but were not hospitalized.
While no major injuries were reported, Rudolph Breglia, a school bus seatbelt safety advocate in Ohio, said the accident could have easily resulted in multiple fatalities.
"School districts and communities are participating in high stakes gambling. Every day children are sent flying down a highway in buses without protective lap/shoulder seatbelts. Accidents happen no matter how much we try to prevent them," Breglia said.
Breglia added that the flawed and incomplete "compartmentalization theory," afforded by cushioned and energy-absorbing, high-backed seats that are regulated by the National Highway Traffic Safety Administration, doesn't offer protection for children in commonly occurring rollover and side-impact crashes. Several recent crash tests held by SafeGuard/IMMI and the Iowa Pupil Transportation Association (IPTA) also found limitations to compartmentalization, especially in side-impact and rollover crashes.
---
Related: SafeGuard School Bus Crash Demo Kicks Off STN EXPO Indy
Related: IMMI/SafeGuard School Bus Crash Test Demonstration
Related: New Federal Bill Adds Fire Suppression Systems to Call for Seatbelts
Related: Iowa Crash Test Identifies Limits of Protection in School Bus Compartmentalization
Related: A Changed School Bus Seatbelt Perspective at STN EXPO Indy
---
Seatbelts on a National & State Level
The National Transportation Safety Board (NTSB) also found that compartmentalization is "incomplete" and "does not protect passengers during lateral impacts with vehicles of large mass, in rollovers and from ejection." The NTSB stated that an occupant protection system should be developed that would protect passengers in most accident scenarios.
The School Bus Safety Act, co-sponsored by Sen. Tammy Duckworth and Rep. Steve Cohen, is calling for three-point seatbelts on school buses, in addition to other safety enhancements recommended by the NTSB. But the legislation has failed to move out of committee, where it has sat since last July.
---
Related: Sen. Duckworth Highlights Plan to Improve School Bus Safety
Related: Iowa Becomes Fifth State to Require Lap/Shoulder Seatbelts In School Buses
Related: Coming Soon to Your State? Navigating Seatbelt Implementation on School Buses
---
Meanwhile, several states and school districts nationwide are adopting the safety restraints. Last fall, Iowa became the fifth state to require lap/shoulder seatbelts in school buses. The other states are California, Nevada, New Jersey and Texas.
While Ohio does not have a state law regarding lap/shoulder belts in school buses, some school districts have already started the implementation process. Students who attend Beachwood City Schools near Cleveland advocated for the safety restraints as part of a social studies class. The students were able to see the entire process of how a bill becomes a law, with a subject that they chose.
Now, two of the district buses are equipped with the lap/shoulder seatbelts. The occupant restraint systems will also be added to every new school bus purchased from here on out, using city funds awarded by the Beachwood city council.
Nearby Avon Lake also added lap/shoulder belts to two school buses for the start of the 2019-2020 school year as part of a pilot program. The pilot program will provide the district information on whether or not more school buses with seatbelts will be purchased on an ongoing bias.
---
Related: Cleveland-area Students Successfully Petition for Local School Bus Seatbelt Ordinance
Related: Ohio District Received School Buses with Lap/Shoulder Seatbelts
---