Beachwood City Schools social studies students are living the experience of how a bill becomes law, as their yellow school bus ride to school is now equipped with lap/shoulder seatbelts.
Teacher Vicki Challenger takes her third-grade civics lessons to a new level at Hilltop Elementary School. Instead of simply teaching about the three branches of government—executive, legislative and judicial—she immerses students in the learning process by inviting local city council members to speak to her class, then taking a field trip to city hall every school year.
Last year, however, Challenger said the council members asked if the students could choose a topic for a hands-on exercise on how the legislative process works. The end result might be the full experience of what it is like to pass a law.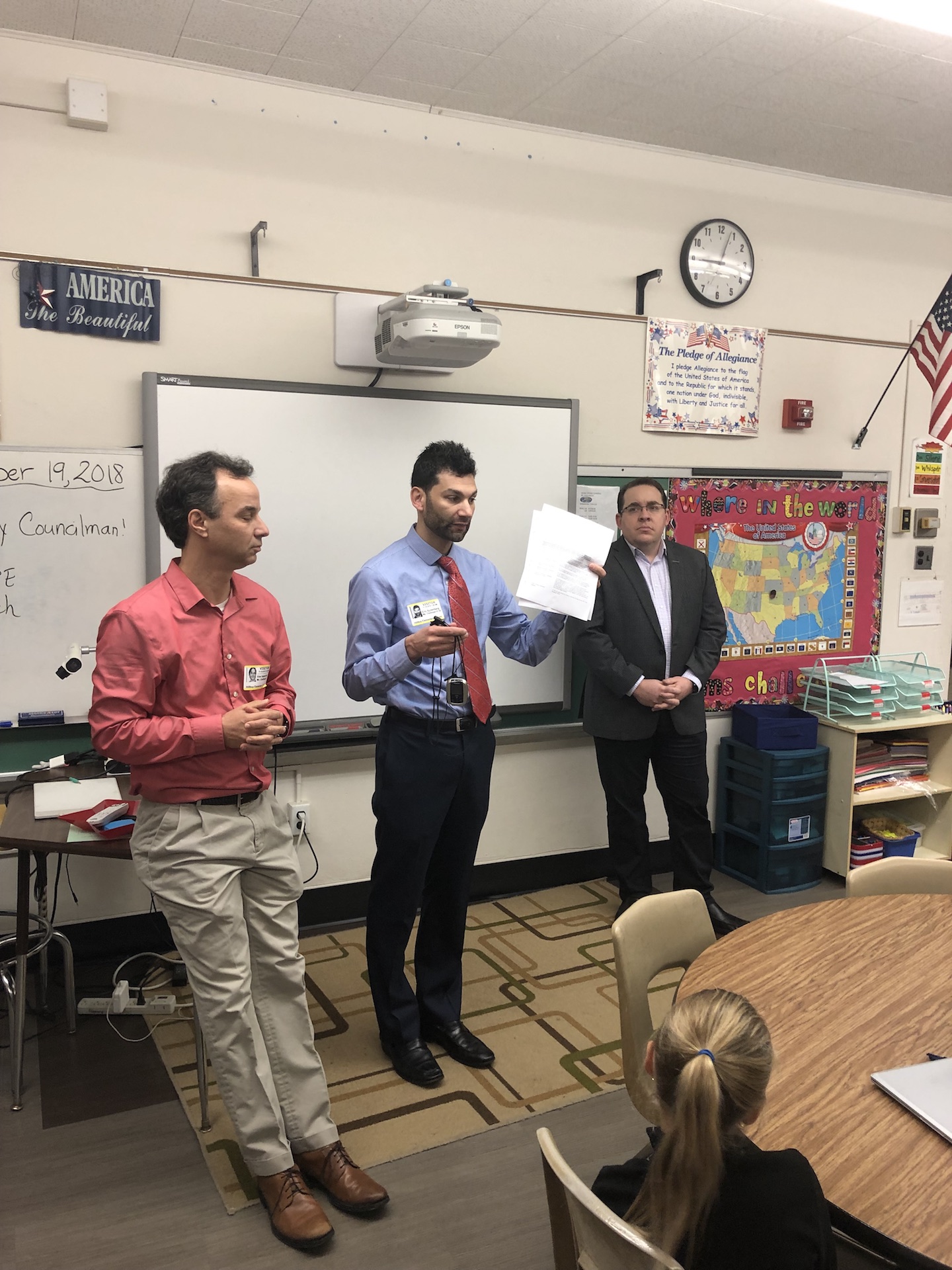 "It's part of a program from the city council where we go and talk to the students in their schools in their social study classes, third grade, and this year, we decided to make it a little more interesting," Beachwood City Council President Brian Linick said. "We would have each class come up with an idea of an ordinance to pass in the city, so the students could see how the process works."
The City of Beachwood (population 11,707 in 2016), is located in Cuyahoga County, Ohio, a suburb of Cleveland, and covers 5.34 square miles.
Challenger said the students' ideas were far-fetched at first. One called for ice cream on Fridays. Another sought four hours of recess. However, other students recommended fines for not keeping dogs on their leashes or adding more crosswalks throughout the city.
"We had to keep emphasizing safe," Challenger said. "What would make Beachwood safer, the community or the school?"
The third-graders ultimately came up with four legitimate ideas, which they presented to the city council. One of those ideas was requiring seatbelts on school buses.
"I think that the seatbelt one struck a chord with everybody," Linick said.
Coincidentally, City Council VP James Pasch suffered a broken neck and back in a serious school bus crash while he was in high school. Rudolph Bregila, a local doctor and school bus seatbelt advocate, was in the audience at the city council meeting when Pasch shared his story.
The school bus Pasch was riding in wasn't equipped with seatbelts. Bregila relayed that Pasch said he was in a body cast for a year. (School Transportation News reached out to Pasch, but he has not replied at the time of this writing.)
---
Related: It's Clicking 
Related: Iowa Becomes Fifth State to Require Lap/Shoulder Seatbelts In School Buses
Related: 'Great Guy' Ohio School Bus Driver Stabbed to Death on Way to Work
Related: Ohio Association President Focuses on Leaders of Today, Goals of Tomorrow
Related: Ohio District Received School Buses with Lap/Shoulder Seatbelts
---
Linick said the councilmembers had never before publicly discussed the idea of school bus seatbelts before, but they were supportive of a measure. On top of passing the ordinance, they also decided they would allocate $250,000 for the installation of seatbelts on school buses.
"The unique thing that I felt was important … was that not only would we potentially pass an ordinance requiring the schools to implement seatbelts over time, but that we would actually fund it," Linick said. "So, that was a really significant part of it, that the city council was supportive of actually funding schools doing so."
Challenger added that nearly two dozen students showed up at the city council meeting, and they were able to watch their idea eventually become a law.
"When it actually happened at city hall I was sitting there in tears," Challenger said. "This is something I can't even teach. This is the hands-on, the real process and I never dreamt that would ever happen."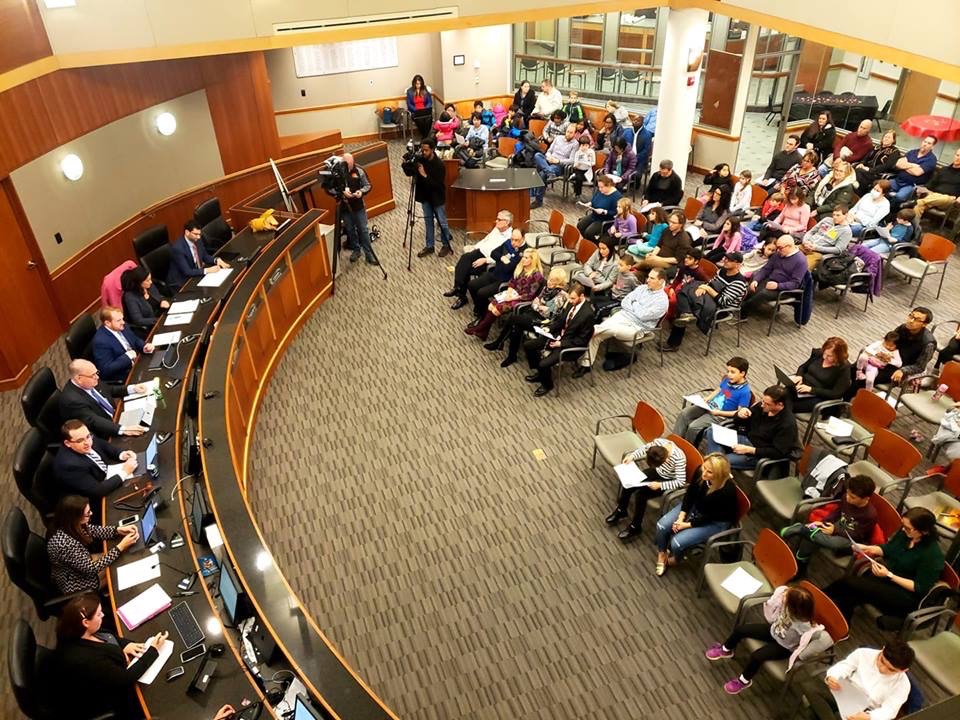 Linick said the entire process lasted about two months. The students came up with the idea last October and the legislation was passed in December.
"And in the world of government, what I can tell you is that is like lightning speed," Linick said. "We joked that if we were really trying to teach them about how government worked, we probably should have gone slower."
"But we try to be pretty efficient in what we do," he continued. "We were very aggressive and worked with the school board. It's hard enough to build a consensus with things among a legislative body, so I felt that … we had to strike when the iron was hot and make sure that we got this thing moved."
Starting this school year, Beachwood City Schools bought two new buses equipped with lap/shoulder seatbelts, and the district will add the occupant restraint systems to every new school bus purchased from here on out. For the foreseeable future, the district will be able to use the money from the city council to pay for the seatbelt portion of each purchase.
"I think we all feel, or felt, that it is a matter of time before the federal government puts into place some safety standards regarding safety belts," Linick said. "But we had the means to do it, and we weren't willing to wait."
Bregila added that, as of September, only two school districts in Ohio had implemented seatbelts, to his knowledge at least. Nearby Avon Lake City Schools joined Beachwood by adding seatbelts to two school buses this year as part of a pilot program.
"That idea stuck with me, and I said if Beachwood City Council can do it, I know these other city councils can," Bregila said.
Bregila added that he is making his way to different city councils around Ohio to talk to them on the importance of adding seatbelts in school buses. Several have passed ordinances allowing a pilot program at their district.
"I remind the city councilmen of this idea that they are responsible for the safety of all citizens," Bregila said. "And children, fall into that requirement."