INDIANAPOLIS — Over 100 attendees watched in awe as a 2007 66-passenger Type C IC Bus school bus was crash tested at the Center for Advanced Product Evaluation (CAPE) facility.
A school bus traveling around 35 mph was pulled by a wire down a stretch of concrete before driving off a 20-degree angled ramp and crashing into a specially engineered barrier wall. The school bus contained 15 crash test dummies, nine secured in three-point, lap/shoulder seatbelts and the remaining six unbelted.
In the demonstration on Friday morning, attendees watched the school bus drive off the ramp and land only on its left-side wheels. The school bus hood immediately popped open following contact with the ramp and as it landed. The bus continued for 10 to 20 feet on its left wheels until it impacted the barrier.
The exterior body separated from the chassis during impact yet remained largely intact. Watch the crash video below.
Video cameras captured the results of the mayhem that ensued inside of the bus and the effect on the dummies. That video will remain confidential until its release by NBC News in segment that will air in the fall. No date had been determined at this report.
IMMI representatives immediately closed the rear emergency door, which was thrown open during the impact, so spectators could not see inside. However, one dummy was seen partially resting out of a window toward the rear of the bus.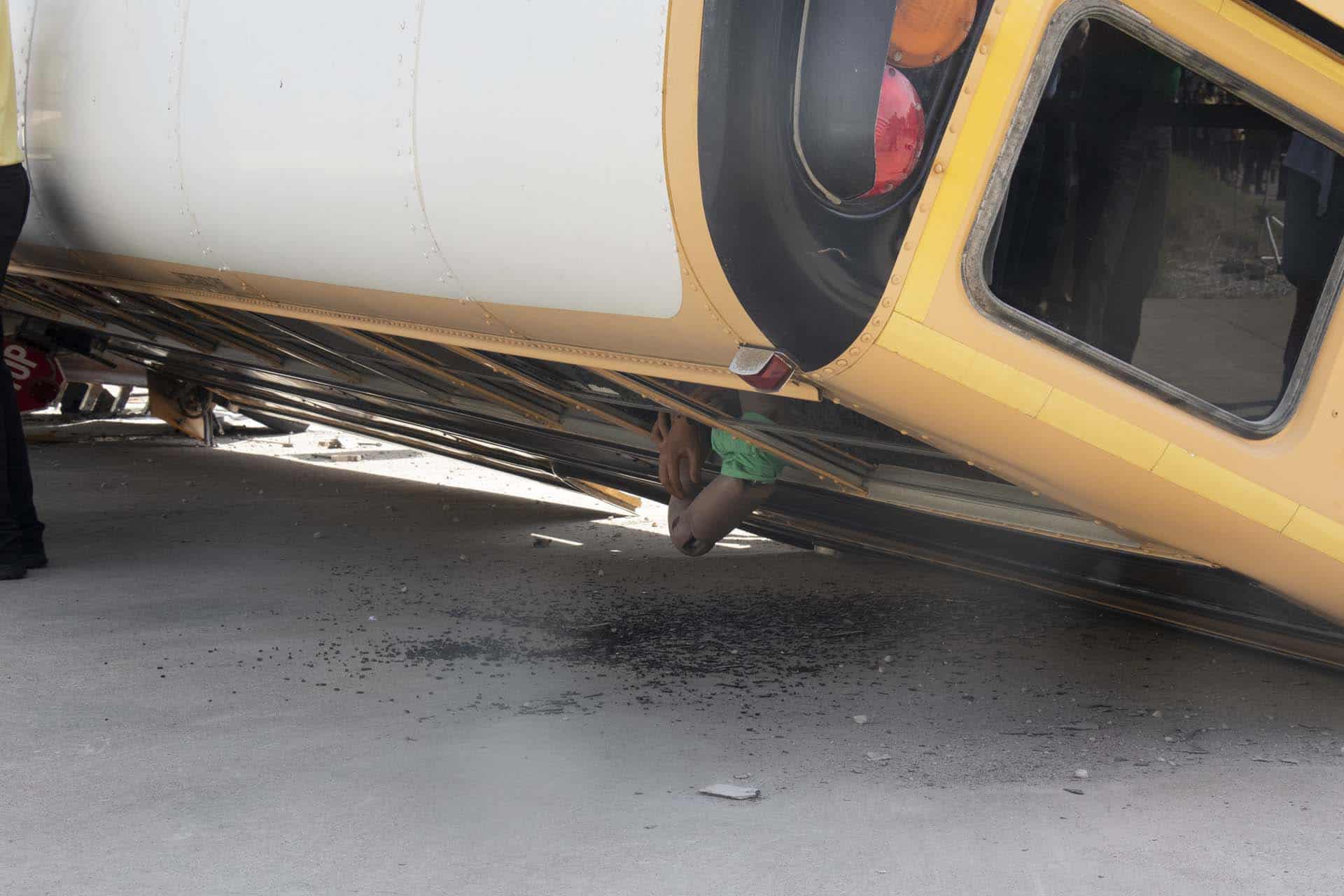 SafeGuard, the school bus division of parent company IMMI, hosted the event to kick off the start of the inaugural STN EXPO Indianapolis. The crash test was demonstrated live, giving attendees a first-hand view of a rollover school bus crash.
"It was much more violent than I expected, just based on that speed," said Samantha Harshman, transportation director at Wabash City Schools in Indiana who witnessed the event. "Didn't seem very fast but there was a lot of damage. Hard to manage how much worse it would be at highway speeds."
This was the 20th live school bus test crash performed by IMMI at its Center for Advanced Product Evaluation (CAPE). It was the first of its kind to be viewed by the public. Charles Vits, IMMI's market development manager, told School Transportation News that the ramp was used to mimic the what would happen when a school bus leaves the roadway, similar to recent fatal crashes in Mesquite, Texas and Chattanooga, Tennessee.
This particular type of crash test was performed to demonstrate what happens to both the bus and the belted and unbelted occupants in the event of a rollover, when compartmentalization by federally regulated high-back, padded school bus seats is ineffective. IMMI said the event was the latest reminder that compartmentalization only works in frontal- and rear-impact crashes, and that students who don't wear lap/shoulder belts in side impacts and rollovers are susceptible to serious injury or death.
"This is a new and unique one for us. You guys have all seen lots of rollovers from our rollover machine, you have seen videos over the years, lots of information on what happens when children are unbelted in a bus," said Melissa Dobbs, a senior program manager at IMMI and a panelist during a debriefing session following the crash test. "This [was] a combination of the real world, when you see what actually happens when a full bus rolls over and as you saw today, it's very dynamic and it's very violent."
---
---
"My observation from the test, and I have been involved in six or 10 for a public event like this and you were the quietest audience at the end of an impact that I have ever heard," CAPE General Manager Kevin Tribbett said. "… I think for a lot of you this was the first time you have seen a crash test and it's almost surreal. Probably when you see this type of event it's hard to remember that it is a crash test or a crash test demonstration and not an actual bus crash. But it is a privilege for us to be able to do these tests. We learn from it and it is good exposure for you as well to see what happens when these type of events occur."
Following the crash test, attendees were given a tour of the IMMI manufacturing facility as well as the CAPE crash test building. Employees discussed the engineering behind school bus safety, how seats and seatbelts are made, and the purpose of the work. The CAPE facility showed attendees additional crash test instrumentation and how they help IMMI and SafeGuard products as well as third-party vehicle manufacturers enhance safety.
"One of the important pieces that we do every day in CAPE is we do compliance testing," Dobbs said. "We are pulling seats off of the production line, we are pulling seats off the line and we are testing those to make sure we continue to meet all the regulations that we need to meet. We have seen from previous tests a lot of different things that haven't been as optimal as we would have liked to see. We are able to better design the height of our seatbelts, how the adjusters work on the seatbelts, the ICS modules and how they function."
The day concluded with the panel question and answer session. STN Publisher and President Tony Corpin asked the IMMI representatives what attendees should take away from this crash test demonstration.
"One thing that stuck with me for a long time, I started working on SafeGuard bus seats in the beginning in a completely different capacity. One of the things that I had to learn was compartmentalization was great," Dobbs said. "It still works great in the front or a rear impact—when a child is completely behind the seat back in front of them, it is still a very effective method of safety."
IMMI said that this crash test is completely different than others it has performed in the past. However, the company noted that the school bus itself did do what it was supposed to do. A surprise element was the bus not being flipped completely over onto its side prior to impact with the ground. When performing a similar crash with an ambulance, company representatives said the bus rolled over after driving off the ramp. However, the school bus was able to stay on its left wheels until hitting the barrier.
See a gallery of the aftermath of the crash.