Listeners returned for round two of a popular webinar hosted by SafeGuard on the topic of seat belts on school buses.
The webinar, available to watch on-demand, drew from questions asked during last year's SafeGuard webinar on lap/shoulder belt implementation, held after the National Transportation Safety Board (NTSB) had recommended the three-point safety restraints on buses. Since then, New Jersey and Iowa have passed laws requiring the occupant restraint systems.
"I call it the pendulum swing of how this is starting to take effect," commented facilitator Matt Chaplin, manager of aftermarket sales and service at SafeGuard. "We're seeing the momentum growing in districts, and it seems to be picking up pretty quickly, even without funding."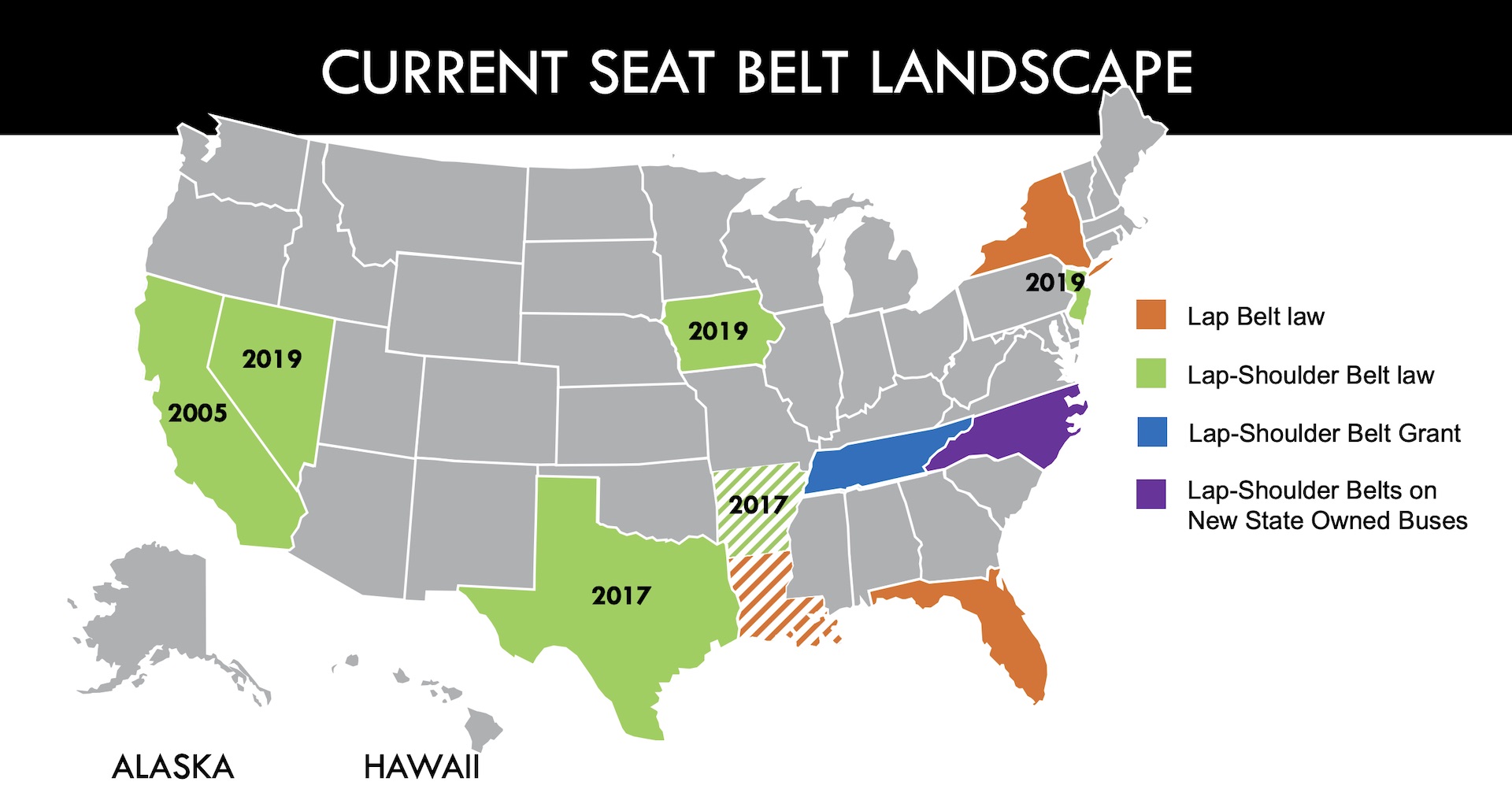 Why Seatbelts?
All of the panelists in the Nov. 7 webinar have extensive experience with not only the planning stages but also the implementation of three-point seatbelts in a bus fleet. Several of their stories began with a wake-up call in the form of a major school bus crash.
Chris Darling, executive director of the Iowa Pupil Transportation Association, shared how a major head-on school bus crash in 1991 resulted in many student injuries. This prompted officials to start looking at the cause of injuries when they determined that seatbelts would keep students in seats and reduce injuries.
A former transportation director and now SafeGuard's Student Transportation Account Manager, Monica Coburn shared how a major crash started her former Indiana district on the path toward lap/shoulder belts. Likewise, at Helena Public Schools in Montana, the focus was on compartmentalization, until a fatal 2011 rollover crash in a neighboring school district.
"You go through the research and it'll show you that in the majority of catastrophic accidents, kids really aren't that safe. The only time that a student is safe is if they're sitting perfect, feet on the ground, facing forward—and if you've ever watched a school bus, you know that that's not normally the case," stated Tom Cohn, director of transportation for Helena Public Schools
Diana Hollander, who retired this month as Nevada's state director of pupil transportation, also served as a past-president of the National Association of State Directors of Pupil Transportation (NASPDTS). She was instrumental in the association rewriting its position to support seatbelts in school buses. She pointed out that a shift in the industry conversations now has professionals focusing on not just preventing fatalities, but also injuries, even in minor crashes.
Implementation Strategies
Communication and preparation are crucial to seatbelt implementation into a bus fleet. Coburn advised that school districts should make a strategic plan with school principals to prep drivers, parents and students for the new procedures. If a district uses a contractor, as Helena Public Schools does, Cohn recommended that districts, their administration and school bus company all be on board.
In Iowa, the newest state to pass a requirement, a large school district installed lap/shoulder belts on two school buses, one that ran a route on which the children were already well-behaved, and another route that was rife with issues. Darling reported that both drivers loved the results, which included a dramatic reduction in student referrals for behavior issues and bullying, kids staying in their seats, drivers spending less time watching students in the rearview mirror, and more time with their eyes on the road—which also potentially reduces fender-benders caused by inattention.
---
Related: Warning System to Alert School Bus Drivers if Students Unbuckle Seatbelts
Related: Journalist Discusses Production of 'Safe Enough?' School Bus Seatbelt Documentary
Related: Ohio District Received School Buses with Lap/Shoulder Seatbelts
Related: Panel Reviews Recent Adoption of Lap-Shoulder Seatbelts for School Buses
Related: Canadian Province Could Have 3-Point Seatbelts in School Buses by 2021
Related: A Changed School Bus Seatbelt Perspective at STN EXPO Indy
Related: School Bus Associations Respond to NTSB Recommendations
Related: Seat Belt Resources
Related: Video Shows Interior of School Bus During Crash Test Demonstration
---
Cohn revealed that he has had to replace four lap/shoulder belts since implementing them in 2012. Neither he nor Coburn nor Darling reported any issues with cleaning or maintaining the belts. Coburn said that if a belt was damaged, that particular seat would simply be out of commission. Hollander added that insurance companies would help with repairs or replacement in the event of a crash.
As a district begins the implementation process, it may face questions from parents wondering who only some buses have seatbelts. Darling advised that districts point to the record a school bus has of being 70 times safer than a personal vehicle. Compartmentalization still exists, he added. Seatbelts are simply aiding it.
Usage Policies & Enforcement
At Helena Public Schools, the policy is simple: If a bus has seatbelts and a student refuses to buckle up, they don't get to ride the bus. Drivers who refuse to enforce the policy don't get to drive.
Coburn related that her drivers made a point of being aware to track whether students were buckling up by listening for the clicking sound of the belts latching or by scanning their rearview mirrors to spot students who were standing or not seated properly.
"You don't want lap/shoulder belts to become a form of disciplining your drivers or a fear factor. You want, with your training, to make them buy-in and have that positive reinforcement," she explained. She and Cohn agreed that it is important to show drivers that they have support from the district through the implementation phase and usage concerns.
Nevada's law that requires three-point seatbelts went into effect for newly manufactured school buses as of July 1 this year. But the state does not have a mandatory seatbelt policy for all vehicles and specifically exempts school buses from having seatbelts. Hollander explained that the new school bus seatbelt law did not change the exemption, so each district had to develop its own policies for allowing the occupant restraint systems.
Hollander added that drivers can avoid liability concerns by making sure they tell students to buckle up. Iowa districts will also need to have policies, a requirement written into the state vehicle code.
In response to driver concerns about routes taking longer as they dealt with seatbelts and liability if they didn't take the time to do so, Coburn told them that they would be fine as long as they made the effort to remind students of the rule and consequences, walking the bus aisle if necessary.
Hollander said she tells drivers not to stress over liability because "even if you do everything right, you're going to get sued—it's just the nature of the job." The point of seatbelts is that they help improve safety.
Opposition and How to Deal With It
When deciding which buses get seatbelts, the panelists shared that they assigned the safety equipment to routes with behavior issues, rural routes with ditches and a history of rollovers, and field trip routes.
While some drivers may be adamantly opposed to seatbelts, Hollander suggested assigning buses with belts to any drivers who agree with their installation. As time goes on and others observe the feedback, the entire staff may come around, she added.
A common concern raised is what impact seatbelts will have on school bus evacuations. As the newest state to pass a rule of this type, Darling said he was careful to examine all aspects of the issue of the last five years through regional meetings and discussions with transportation directors—all culminating with an evacuation drill and crash test this summer.
Students participated in the evacuation drill, some of whom had not even ridden a school bus before. Nonetheless, they took less time to evacuate a bus with belts than they did to evacuate a bus without them. Darling added that seatbelts have less of an impact on evacuation as long as students are regularly drilled on it.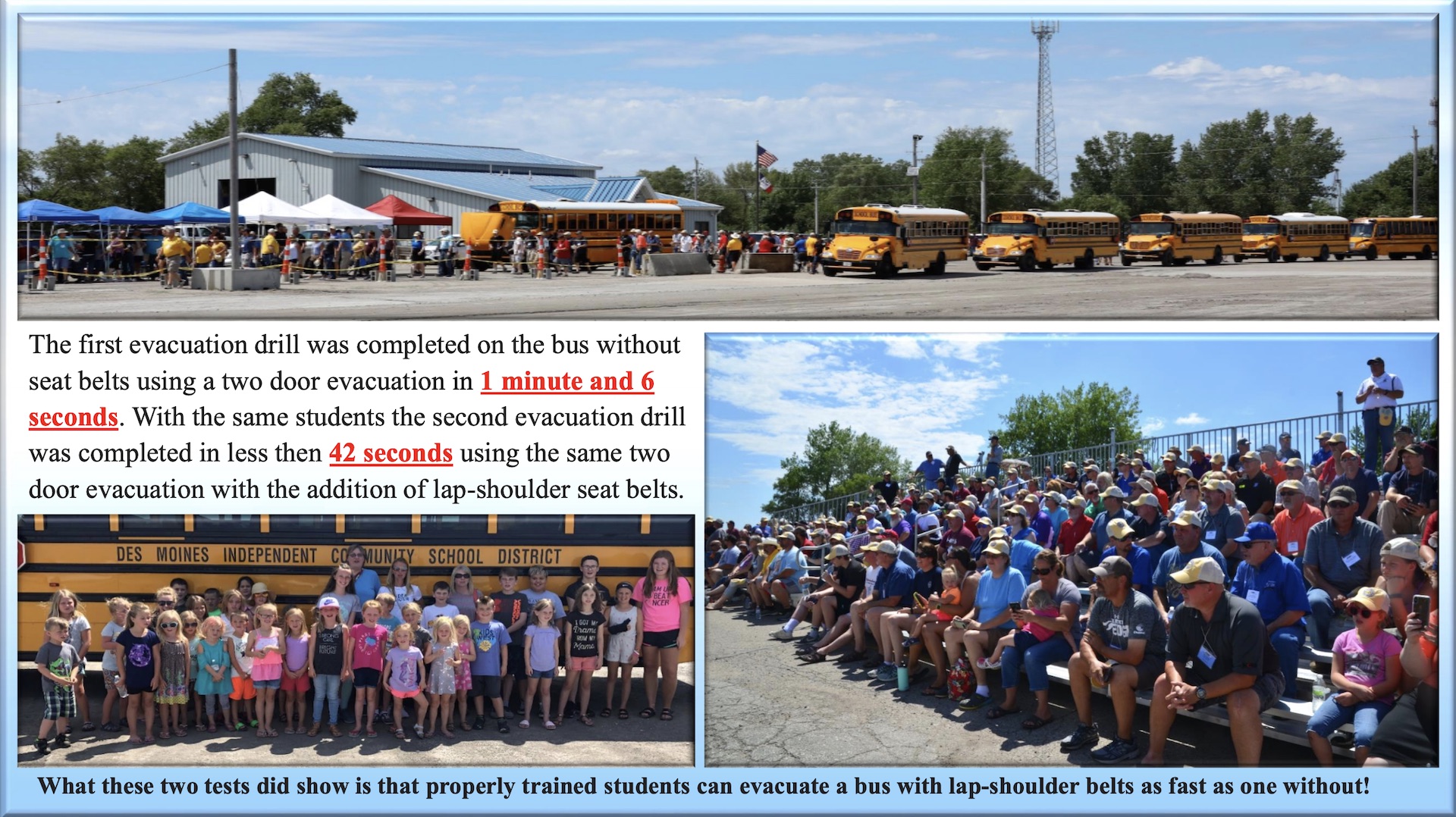 Darling discussed a crash in which a dump truck hit a bus with 12 students aboard. The driver was rendered unconscious, but the students managed to evacuate themselves and the older ones were checking on the younger ones by the roadside. "Kids know what to do if they're trained well," he finished.
"In a major crash, they can still unbuckle their seatbelts because they're going to have a better chance of surviving the crash in the seatbelts than without."

-Chris Darling, Executive Director, Iowa Pupil Transportation Association
Cohn pointed out that whether a bus has seatbelts or not, the main issue in evacuations is the chokepoints in the narrow bus emergency exits.
In response to an oft-repeated theme in listener-submitted questions, Hollander addressed extreme emergencies such as drivers having to evacuate unconscious students. "You are less likely to have an unconscious student if they are restrained in their lap/shoulder belt," she stated. Bus drivers will likely not have to cut 60 students out of their belts, she said, because students know how to unfasten themselves after growing up in car seats and using seatbelts in passenger cars.
"You don't want to take the most extreme case that doesn't happen very often," cautioned Darling. "[Seatbelts] help in the minor crashes which happen much more often."
In answer to questions about capacity, the panelists pointed to new flex seating available from all school bus seat manufactures. The technology allows for seating two or three students per seat. There is no capacity lost because you normally wouldn't seat three larger high schoolers per seat anyway, noted Cohn.
Changed Opinions
In order to get a wide range of opinions and experiences, Coburn encouraged drivers opposed to seatbelts to drive buses equipped with them. One driver said she'd quit if she lost her seatbelt bus. Another, who had the highest number of student referrals and discipline issues, privately admitted to being wrong and expressed her thankfulness for the seatbelts.
Coburn's district had a 90 to 95 percent drop in student referrals. Images from onboard video recorded one month apart showed a marked difference on a bus that took the same students on the same route.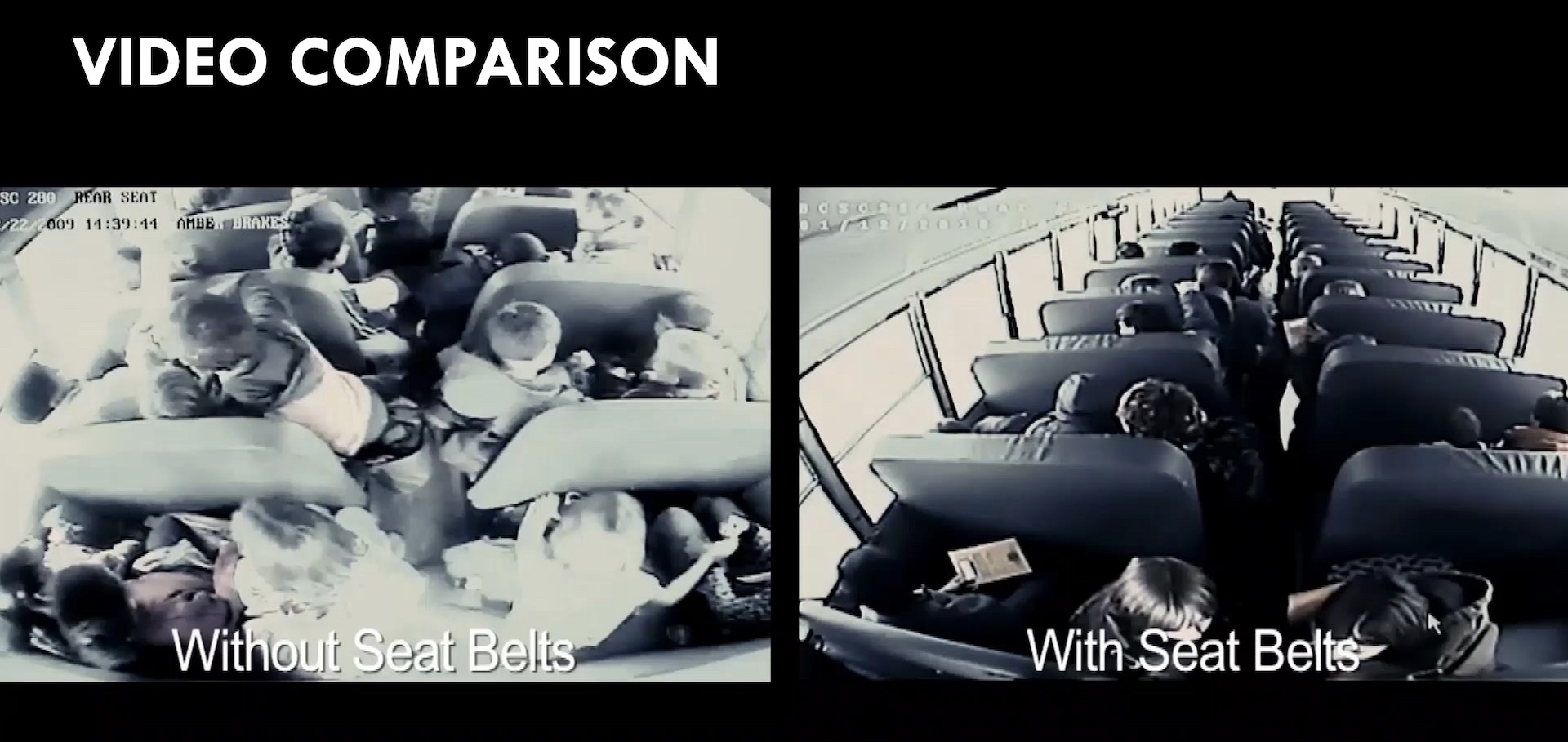 "Everyone reports student management is easier when students are restrained in their seats," commented Hollander.
"When drivers get them, they can't believe how different their students are," agreed Darling. He noted that bullying has also decreased significantly.
Can You Afford It?
The question, said Cohn, is not whether you can afford seatbelts. Instead, he said you can't afford to not have them. He told the story of a seatbelt-equipped bus with students aboard that was T-boned by a truck at 55 mph at night. It was pushed over 150 feet and rolled over. The driver and all the students walked away from that crash.
"You are going to have a catastrophic accident at some point in time," he said. "You need to look into doing whatever it takes to get seatbelts on your buses."
Darling agreed. In Iowa, funding was not allocated for seatbelts but instead will come to districts via property taxes. Seatbelts add about $8,000 per bus, but if you look at the 15-year lifespan of the bus, it comes out to about six cents/student/day over the life of the bus. "What parent wouldn't want to spend that?" he asked.
SafeGuard offers resources including a step-by-step implementation guide, sample letters to distribute to parents and seatbelt usage guide. All of these can be obtained by emailing Matt Chaplin at mchaplin@imminet.com and referencing this webinar.