Details have emerged about a rookie school bus driver in Darlington County, South Carolina, who is being lauded as a hero for safely evacuating 40 students after a car rear-ended the bus at a railroad crossing and fire engulfed both vehicles.
Neither Bernadine Reed nor her students were seriously injured during the Wednesday morning incident, although the driver of the car was transported to a local hospital. The Palmetto Rural Fire Department posted photos on its Facebook page shortly after responding to a car and bus engulfed in flames.
"A special shout-out to the bus driver, who got all the kids off the bus!" it said.
Reed, who on Tuesday was starting only her 45th day on the job when the crash occurred, was back to work that afternoon to drive her afternoon route.
"This is what I do, this is what I love. So, I can't be scared," she said, during a Thursday press conference with Darlington County Schools Superintendent Dr. Tim Newman.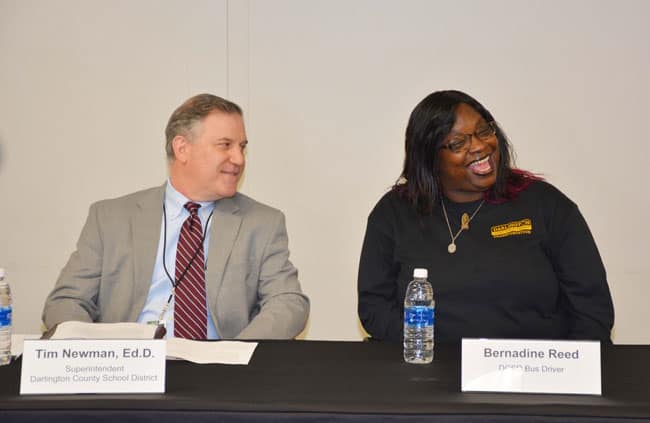 She recalled that she had just activated her lights and had come to a complete stop at the railroad crossing at approximately 6:30 a.m. Tuesday. That's when a car rear-ended the bus. Almost immediately, a girl at the back of the bus cried out that there was smoke.
"The only thought I had was getting them all out of the bus to safety," said Reed, a former special education teacher from Maryland who referred to her student passengers as her babies. "I have a true passion for kids, period."
She added that not until she and the children were gathered together away from the bus did she realize how bad the fire was.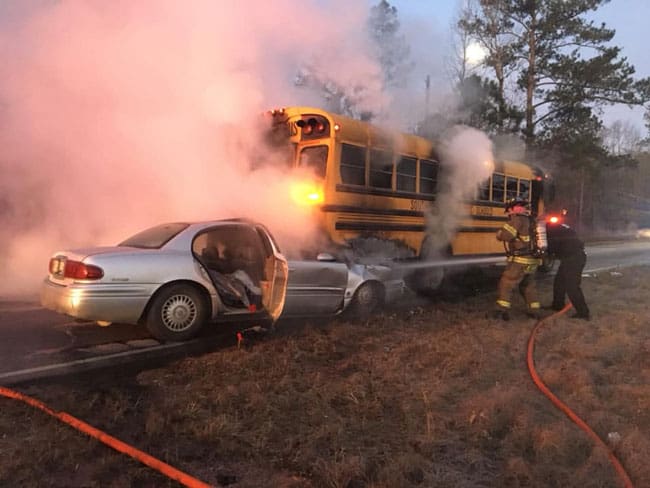 ---
Related: First-Ever Hawaii School Bus Safety Week Honors Heroes
Related: Fast-Acting Colorado Driver Puts Out School Bus Fire
Related: Ohio School Bus Driver Saves Choking Student
---
News of Reed's actions quickly spread across the country, and on Thursday, she appeared on ABC's Good Morning America.
"I'm just a mother who got 40 kids off the bus to safety," she said.
Dr. Newman said Reed is one of 110 Darlington County bus drivers, and he added that he considers every one of them to be heroes. The fleet consists of 90 school buses and the district transports 60 percent of its 10,000 students.
He said all student school bus passengers participate in two required emergency-evacuation drills each school year, and the students on Reed's bus most recently practiced in October.
Reed said some of the students were crying and screaming as they evacuated the bus, but afterward, they were all smiles. She also said she continuously reminds her students to remain alert during the bus ride and to remember what they are taught to do in the event of an emergency.
"We are just very thankful and fortunate that this incident turned out the way it did," Newman said. "Most importantly, Ms. Bernadine Reed was on our school bus yesterday. I'm proud you're one of ours."