The outcome of lawsuits filed by school districts against the Ohio Department of Education (ODE) because of financial penalties levied against school districts operating with driver shortages could decide the future of student transportation in the state.
At least four Ohio school districts have filed lawsuits against ODE over monetary penalties totaling millions of dollars in student transportation funding for what the state agency determined was a failure to transport charter and private school children to school, which is required by state law.
The school districts argue that withholding transportation funding would further cripple their efforts to transport public as well as private school students while they grapple with the effects of a nationwide school bus driver shortage that was exacerbated by the COVID-19 pandemic.
Columbus City Schools, Dayton Public Schools, Groveport Madison Schools, and Toledo Public Schools are in litigation. Cincinnati Public Schools and the Elyria City School District near Cleveland have also been fined, according to news reports, but were not mentioned in any legal proceedings at this report.
Todd Silverthorn, president of the Ohio Association for Pupil Transportation (OAPT), said one of the problems with the law is that the language is vague. The language states school districts that are non-compliant for a "consistent and prolonged" period will be fined.
Silverthorn said ODE defines "consistent and prolonged" as 10 consecutive days of non-compliance, or it can be 10 total days of noncompliance in a semester.
"The semesters are fiscal semesters, not school semesters," Silverthorn explained. "It could be that in a six-month period you were not in compliance for 10 days and you are penalized, and anything more is added on top of that."
He added that the withheld funding is not just for the affected routes but also the entire transportation department operations for the day.
As an example, Silverthorn, who is the transportation supervisor at Kettering City Schools in Westerville, Ohio, pointed out that it would cost his department $5,270 a day for non-compliance. "Do that over 10 days and $52,000 would be pulled from our budget," he said. "That affects your ability to pay for anything operational, such as purchasing fuel, and paying salary and benefits."
---
Related: Ohio Survey Indicates Pay is Leading Reason for Bus Driver Shortage
Related: Ohio Superintendent Obtains CDL to Address School Bus Driver Shortage
Related: Ohio PTA Shows Support for Seatbelts in School Buses
---
Silverthorn said the OAPT members he has had conversations with believe these penalties are completely unfair and added that public schools suffer a double hit because the money withheld goes back into the state's general fund and is no longer earmarked for student transportation.
"We could understand if it was a service that we did not provide for a specific route, that we would lose that one route's funding for the day. But that's not what's happening here. We're losing the total daily transportation funding for that district," he commented. "Instead of losing a couple hundred dollars per day for a route, we're losing thousands of dollars. And that money, from what we've been told, goes back into the general fund for the state. So, it's no longer allotted to ODE for transportation."
Silverthorn said school districts are expected to provide the same level of service not only through the current driver shortage but also through resignations and retirements.
As a non-profit, OAPT cannot advocate for change, but Silverthorn noted the association has had conversations with members of the Ohio Association of Business Officials (OABO).
"We've told them our concerns, and they have a legal team that can take a look at this and suggest how we can get the word to our supporters in the state house and to superintendents and business managers to understand what's happening," Silverthorn said. "As of now, they are fact-finding.
The ODE did not reply to a request for comment.
School Districts Respond
Dayton Public Schools received total fines of $1.95 million. In a prepared statement, Superintendent Dr. Elizabeth Lolli said the school district continues to strive to provide safe and reliable transportation to all students on a daily basis.
"DPS has sought a legal remedy for the ongoing compliance fines being levied against the district," the statement read. "The recent changes in legislation and the shortage of drivers have made it extremely difficult to transport all students, including DPS students, within the legislated time constraints. Both charter and DPS students have been impacted this year. The district continues to hire full-time and part-time drivers to remedy the situation and continues to work to improve transportation to meet the needs of all students."
Meanwhile, Jim Gant, deputy superintendent for Toledo Public Schools did not mince words.
"We believe the Ohio Department of Education is being unfair and unrealistic in its stance about public schools being required to transport students who choose to attend charter or private schools," Gant said in a statement. "The threat of withholding funds allocated to Toledo Public Schools' transportation division is punitive and will harm the students we serve.
"Toledo Public Schools has been very deliberate in how we recruit bus drivers," Gant continued. "We offer competitive wages and benefits, provide training, and have adjusted the work schedule of bus drivers, so they are full-time employees. We are also planning to launch a CDL training program that will allow the district to train new drivers, including graduating [high school] seniors who meet the requirements and standards."
Groveport Madison Schools is seeking a reprieve from a $698,000 fine district officials said was incurred by its school bus contractor, Petermann Bus. The two have since parted ways and may be involved in their own legal struggle , but no one is talking.
"I have consulted with our legal counsel, and we cannot comment on these matters at present, as they are under adjudication, preparing for trial," Groveport Madison spokesman Jeff Warner wrote in an email.
However, the Columbus Dispatch, quoting from Groveport Madison's lawsuit filed last year, reported that, "Petermann has attributed its failures and deficiencies to driver shortages caused by the COVID-19 pandemic and related labor disputes," according to the lawsuit. "Petermann's shortcomings have created an unpredictable and ever-changing transportation environment throughout the 2021 school year, involving reduced and canceled routes, often without notice, impacting students of the district, nonpublic and community schools."
A spokesman for National Express, which owns Petermann Bus, would not comment on this article, citing pending litigation.
Meanwhile, Columbus City Schools dodged an $11 million bullet when a judge intervened last March to prevent the state from withholding transportation funding.
Efforts to reach a CCS spokesperson were unsuccessful, but according to its website, the school district implemented what it calls an unprecedented update of its transportation efforts in mid-year that include updating its routing software.
This means that nearly all CCS students as well as charter and nonpublic school students will have a new school bus driver, according to the CCS website. While the website indicates CCS will do all it can to transport charter and nonpublic school students, public schools in Ohio cannot mandate changes in bell times by these schools to better accommodate bus schedules.
The CCS website also indicates the district will work with charter and nonpublic school officials to identify alternatives to the yellow school bus to help offset the bus driver shortage.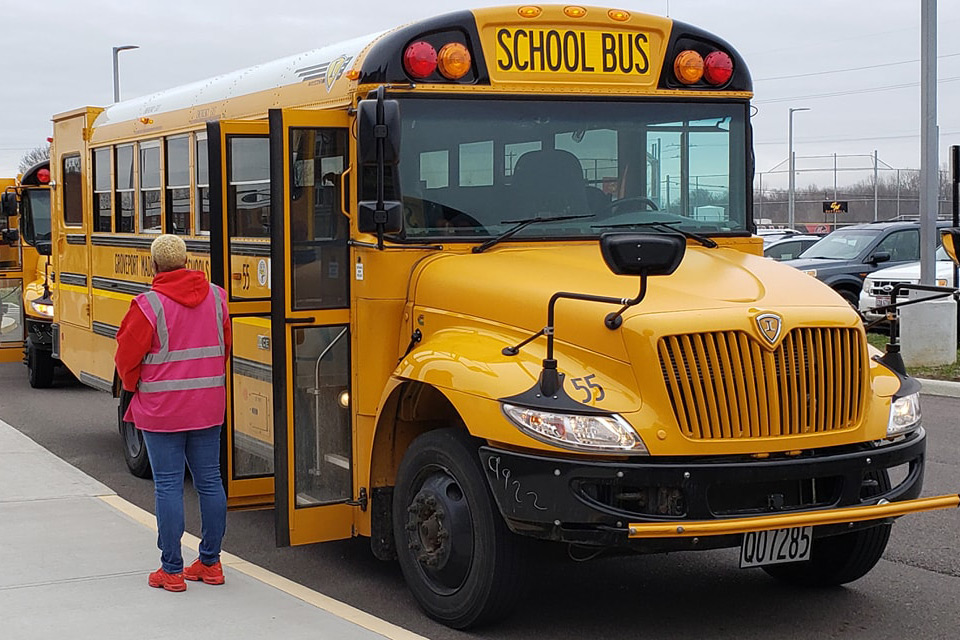 Anyone Can Complain
Silverthorn said anyone can file a complaint, as Dayton charter schools did against ODE and as parents did against all of the districts involved.
"This is the crazy part to this," he said. "The way that the law is set up, any person can file a complaint. You do not have to live in our district, you do not have to have a student attending that school. You can be a John Q. Public and file a complaint because you heard that a neighboring district was not providing transportation. So, you can call and say, this is what I heard, on this day this child did not get a bus."
Silverthorn said finding a suitable solution is the million- dollar question people keep asking.
"Had districts had the staffing and not providing services, we could understand that. But when you're facing a crisis situation, not only the state of Ohio, but nationwide of a school bus driver shortage, there needs to be some understanding of how this operation works," Silverthorn said. "It's not like you can bring somebody in from off the street and train them. They need to pass a background check, pass the physical aspect of this, they need to pass drug and alcohol screening, and then the certification aspect to become a certified driver."
He said third-party vendors are used but have not proven to be a viable solution.
"We have contractors in play in several districts and it does help out, but it is not an overall solution," he lamented. "We're in a dire situation with no relief, no understanding of how [student transportation] takes place."
---
Related: EPA Seeks Comments on Next Round of Clean School Bus Funding
Related: California Budget Provides 'Historic' Funding to School Transportation, Questions Remain
Related: (Recorded Webinar) Putting EPA Funding to Work: How to Turn Grant Dollars into Successful Projects