Ahead of the awarding of Superintendent of the Year at the National Conference on Education this week in San Antonio, Texas, School Transportation News sat down with those in charge of transportation operations at the respective districts that represented to gain a better understanding of how the services function.
Meridian Community Unit School District #222 — Stillman Valley, Illinois
Meridian Community Unit School District #222 is located in the southern valley of Illinois. The district runs 16 regular routes as well as four special needs routes and four pre-k routes, transporting an average of 460 students in the morning and 540 in the afternoon. Director of Transportation Jen Hagemann added that the regular routes travel about 16,000 miles a month, and their special education routes travel about 7,800.
Prior to Superintendent PJ Caposey joining the school district in 2013, Hagemann said the transportation department was a mess. "Buses were old and would break down daily," she explained, adding the buses couldn't pass their annual inspections. "[Caposey] has seen the need for helping us upgrade our fleet to ultimately save money on repairs. When we wanted to start adding safety equipment/programs to our buses, he was right there to help us get it done. Student safety is our first priority, and PJ understands that and makes sure we have what we need to provide that to our community."
The Superintendent of the Year Award is sponsored by AASA, The School Superintendents Association along with CoreBridge Financial and First Student to celebrates contributions and leadership of public school superintendent. This year's four finalists were selected from 50 state superintendent award winners and are judged based on their exhibited leadership for learning, communication, professionalism and community involvement. A $10,000 college scholarship will be presented in the name of the 2023 National Superintendent of the Year to a student at a high school the winning superintendent graduated from or from the school district the winner now leads. This year's award will be announced on Feb. 16 in San Antonio, Texas.
Caposey added that he was the district's fifth superintendent in three calendar years and Meridian was in a financial collapse. "One of our first meetings we had to let go of 26 of our staff just to make payroll," he said, adding that the district didn't even have email when he was first hired. "And so we were at kind of a true crisis level in order to get to where we are."
The district has done a 180-degree pivot with its technology adoption. Hagemann added that his staff is currently working with other districts on a grant to obtain funding to purchase a new electric school bus. This, she said, would be beneficial to their operation as electric buses would reduce fuel costs, result in low maintenance, have better performance and are environmentally friendly.
Additionally, the district uses REI video systems and has stop-arm cameras on all school buses, along with GPS to allow parents to access the Here Comes the Bus App through Synovia. Meridian also uses Tyler Technologies for its routing.
"I feel driving a school bus full of you kids with no other adults on board can be taxing and even dangerous, that could be one of the reasons deterring people from applying," Hagemann said of the school bus driver shortage. "Conversations with area transportation directors would lead to many thinking school bus driver positions are underpaid and undervalued. When trying to hire bus drivers we try to get creative with bonuses being offered."
The district currently has 14 regular education drivers, two special education drivers, one van driver, and three consistent substitute drivers.
"Having a good working relationship with administration helps with having the support to be able to be creative with what we can do/offer bus drivers. They understand the shortage and have our backs so that we can try new things to entice people to come and work for us," Hagemann said, adding that Caposey is a great administrator. "He cares about his team, teachers and students. Meridian CUSD#223 has been very lucky to have a guy like him as [its] leader."
---
Related: 7-year-old Struck, Killed by School Bus in Illinois
Related: Illinois School District Pays Tribute to Beloved School Bus Driver
Related: Illinois Lawmakers Voice Concern About Equity of EPA Clean School Bus Program
Related: First Electric School Buses Arrive in Northern Indiana
Related: California District Talks Positives, Challenges of Electric School Buses
---
Caposey added that one key to success is treating every department and thus all staff members the same. This ensures every department is accounted for. He said he sends surveys multiple times a year to ensure the departments have measurable goals, are meeting performance standards, and are prioritizing culture and improving their systems.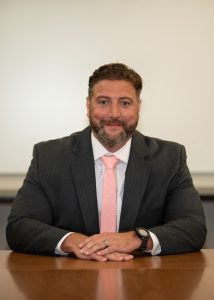 "I think of working in this district is that you're known, cared about, and valued, but the downside of that is there's accountability that comes with it," he explained, adding that rising the bar and the expected accountability has created leaders. "We've had people that were doing a nice job of managing that turned into sincere, 100-percent bonified leaders. And other people within the department are now interested in leadership roles, whether those be in that department or somewhere else. For me, that's establishing the culture much more than anything else."
He said humbled is the first word that comes to mind when talking about being a Superintendent of the Year finalist. "It's interesting because it's not something you pursue, I've never woken up and said, 'I want to be superintendent the year' you just wake up and you do the work," he explained. "And sometimes you get recognized and a lot of times you don't. It's a once-in-a-lifetime, once-in-a-career type thing," he added. "I'm trying to soak up every minute of it.
"In terms of my district, I think there are two things that kind of come to mind," he continued, talking about the importance of the award. "One is like it's kind of the Capstone. We've had a 10-year Renaissance from having a long positive history in our region, in our state, to [being] on the verge of literally closing the doors before I was hired. … And it's interesting, a lot of the feedback that I've gotten, even nationally, is there are not a lot of districts my size that get represented on a stage of this magnitude. … I think there's a lot of pride in that, both for our community and the rural community at large."