RENO, Nev. — The Transportation Director Summit held during the STN EXPO shared tips for supervisors in the school bus industry to improve themselves and their teams.
All three featured speakers stressed that persons in authority positions do not have to be perfect, but do need to learn how to more effectively utilize skills to build a great team that achieves its goals.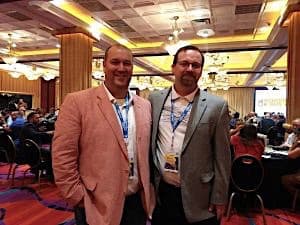 The TD Summit began on Friday afternoon. Jarrod Underdown, an engagement specialist with consulting firm People Centric Consulting Group in Springfield, Missouri, provided statistics from Pew indicating that for every two out of 10 employees are toxic. That's a problem supervisors must deal with.
"There can be bad leaders too," he cautioned. Those after-hours meetings of people gathered to complain are hurting the organization since it's the toxic employees who are leading. A good leader must have the difficult "watershed" conversation with those kinds of employees to either turn them around or send them on their way, so the team can improve.
Matt Griswold, a fellow engagement specialist with People Centric, concurred with the idea that a good manager or supervisor builds up their team, not themselves.
"It's not about managing the mistakes, it's about eliminating the barriers that cause them," he stated.
Attendees agreed that of the most important things a leader can do is listen and allow employees to share their thoughts and feelings. Underdown said meaningful communication can be fostered by not objecting to ideas straight off the bat, but allowing employees to research and develop their ideas in more detail so they come to more informed conclusions.
Both consultants advised the directors in attendance that empowering employees results in a better, tighter team overall.
"Empowering your people aligns them with the goals for your specific organization," said Griswold.
Ryan Avery, the youngest Toastmasters International World Champion of Public Speaking, gave a raucous and hilarious presentation Saturday morning to a capacity crowd. Those attendees who weren't quite awake yet, sure were within a minute or two of his introduction by STN Publisher Tony Corpin.
"Words are free but can cost you a lot," he warned. That got everyone's attention quickly.
"Whenever you aren't confident, [it's because] you aren't passionate about it," he stressed.
Avery's favorite quote is from Eleanor Roosevelt, who said, "Do what you love, because people will criticize you anyway." Avery added that he has found "confidence is the byproduct of being courageous."
He advised everyone that, "Our job as a leader is to find the answers."
Avery's bestseller, Speaker, Leader, Champion, has already been translated into five languages, and is the focus of his effort to break the Guinness World Record for book signing.
He recalled that his publisher, McGraw Hill, agreed to rush ship 3,000 copies to the campus of Colorado State University, Avery's alma mater, so he could try and sell all of them. But he could only sell and sign less than half of them in the nine hours. Part of that effort in his book was to, "convince people to believe in you." However, the effort did help propel sales of book to a much broader and larger audience.
Avery's walk-away advice to the audience was that, "when your actions inspire others to take action, then you are the leader." Become THE leader, not just A leader, he said.
Leading, he concluded, "is about going from A to Z in everything you do, to be the leader."
Editor's Note: David George contributed to this report.