Virginia school districts will be able to start applying for Volkswagen Environmental Mitigation Trust funds early next year to upgrade diesel school buses to all-electric models.
Gov. Ralph Northam announced a $20 million electric school bus initiative on Tuesday during Climate Week NYC. The grant will be distributed by the Virginia Department of Environmental Quality through a competitive application process that is being administered in partnership with the Virginia Department of Education.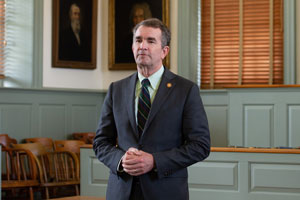 "School buses are the safest way to transport students to and from school, but as a pediatric doctor, I know the harmful effects of diesel-powered buses on our children's health," Northam said in a statement. "This initiative represents a significant investment in the electrification of our transportation system, in our efforts to address the climate crisis, and in an environment that allows Virginia children to learn, grow, and thrive."
Winning school districts will be reimbursed up to $265,000 for the purchase of a qualified electric school bus with a range of at least 100 miles per charge. The funding would also go toward paying for the necessary charging infrastructure.
Northam's office said that diesel fuel currently powers nearly all of Virginia's 17,000 school buses, 20 percent of which are at least 10 years old. It added in a press release that replacing 75 older diesel buses with electric powered could result in vehicle lifetime savings of 670,000 pounds nitrogen oxide, approximately 41,000 pounds of particulate matter population, and 36 million pounds of greenhouse gas tailpipe emissions. This is equivalent to removing 3,500 cars from the road or saving 1.6 million gallons of diesel.
"Replacing aging buses is better for the health of school children and will save school divisions money," said Secretary of Education Atif Qarni. "Each electric school bus can save districts nearly $2,000 a year in fuel and $4,400 a year in reduced maintenance costs, saving tens of thousands of dollars over the lifetime of a bus."
One of Virginia's districts that currently operates an all-diesel fleet is also it's biggest: Fairfax County Public Schools outside of Washington, D.C. "FCPS supports initiatives to promote a healthy environment and manage resources efficiently," said Francine Furby, director of the office of transportation services. "FCPS has and will continue to apply for funding opportunities that support such, as they become available."
School districts may also use the VW funds to receive up to $20,000 in reimbursement for purchasing a propane school bus that replaces a 1997-model-year or older bus. But the applications must justify why an electric bus replacement is not feasible.
Dominion Energy, headquartered in Richmond, Va., and operating in 18 states, announced last month that it plans to partner with local school districts to usher in 1,000 new electric buses by 2025—with 50 fully operational EVS by the end of next year—so the utility can further develop vehicle-to-grid reliability.
---
Related: EPA Awards Clean School Bus Grants in Several States
Related: EPA Accepting Applications for DERA School Bus Rebates Program
Related: EPA Extends Clean Diesel Tribal Grant Applications Timeline
Related: STN EXPO: Discover School Bus Alt-Fuel Benefits of Clean Cities Programs
Related: EPA Announces DERA Funding Recipients
Related: California Lower-Emission School Bus Program Issues Revisions
Related: Atlanta-Area School District Receives EPA Grant for Propane Buses
Related: EPA to Propose New Standard on NOx Emissions
Related: EPA Grant Brings 4 Blue Bird Electric School Buses to New York District
Related: EPA Announces Latest School Bus Rebate Awards
---