FRISCO, Texas — Attorney Monica Velazquez opened her TSD Conference presentation with her own lesson number one: Don't post a derogatory commentary on Facebook; it can get you fired.
---
---
That happened recently to a software engineer at Facebook, she reported. The employee commented on a particular company policy, which executives did not appreciate reading on a public platform.
"Ninety-five percent of our kids carry around a smartphone," stressed Velazquez, a partner at nearby law firm Clark Hill, PLC, during a legal session Saturday on social media policies for student transporters. "Talent, today, is measured by whether you can text on your smartphone behind your back."
Also, today, government agencies have tried to regulate our workplace social media interactions.
The National Labor Relations Act of 1935 applies to regular employees, not management, Velazquez pointed out. The Act is also based on certain categories and groups of employers. It does not apply to government workers—federal, state and local. So, staff at private companies are covered, especially regarding discussions among other employees, like at the water cooler.
Public employees, then, have First Amendment protection, but not employees at private companies. However, over the last few years, the NRLB has aggressively sought to protect workers.
Employees must have a business-related reason for gossiping at the workplace, she noted.
Velazquez elaborated on the need to not be disclosing confidential information. Also, employees may not record conversations, phone calls or company meetings, without company consent.
Rules banning disparagement or criticism of your employer, or speaking to the media, may also be restricted.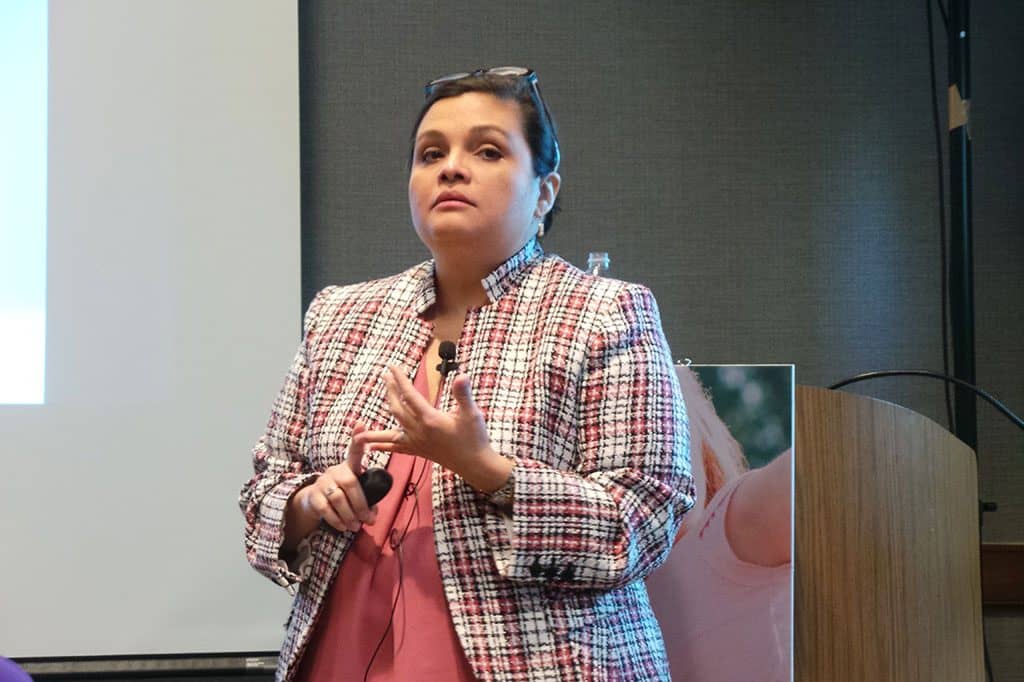 Lately, texting and posting have been especially huge in sex discrimination lawsuits.
Velazquez advised that taking a computer or phone screenshot can be vital to collecting and preserving evidence. She then reminded the audience that evidence disappears quickly, often within 48 hours or one week.
Also relevant is that it is difficult to interpret tone and intent in text messages. Try not to text with employees, she remarked.
In some circumstances, such as when there is a complaint, management may have to monitor their employee's social channels, to make sure they are not posting negative remarks about the company or coworkers.
When Velasquez conducts investigations, she said she often finds that it's the coverup that is the problem, not so much the original bad conduct.
In addition, some states have legal protections for lawful conduct outside of the job, she noted.
Social media can reveal the ignorance or sheer stupidity of people, Velazquez said. For instance, the bicyclist who flipped off President Trump's motorcade in 2017. As a result, her employer, a government contractor, fired her for lewd conduct. She argued that nowhere on her Facebook page, where she posted her one-finger salute as her profile picture, did she name her employer, and she wasn't currently doing a job for the company.
She then sued her former employer, but the judge threw the case out because she was not engaged in protected conduct, Velazquez explained. Remarkably, she later ran for her local city council and won.
One question from the audience focused on a problem with some school bus drivers taking pictures of their young passengers and posting them. "Let's start with how that would be illegal," she replied. "If you gather information or (take) photos of minors, you must have parental permission. It's bad to take the picture, but don't ever post it on social media."
Students "sexting" transportation staff, with some message involving child porn, comes with criminal penalties. "The moment you click, you are in possession of (child) pornography, so don't do it." In that case, the bus driver should report the incident, and not destroy the evidence.
Another question dealt with when cellphone video evidence is taken on the bus that shows sexual activities among the student riders. Velazquez advised to preserve the evidence and file a police report. "I wouldn't destroy it," she said.
In the case of parents harassing bus drivers, transportation management has a duty to protect its employers. If the drivers are being defamed, then the parents should be sent a cease and desist letter.
In the area of privacy and monitoring of employees, she said there is a legal obligation to preserve information that is private. Monitoring can also affect trust issues. She said employees are likely to appreciate management monitoring their Facebook pages.