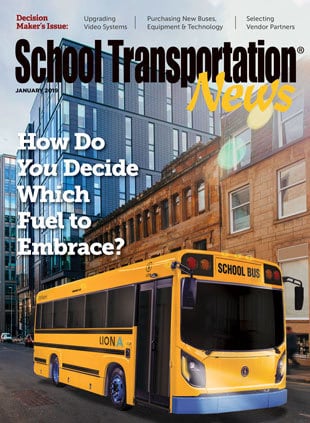 With a new year comes many decisions to be made: Choosing new technologies, selecting fuel types and weighing costs vs. benefits. 
Read the Full January 2019 Issue.
Cover Story
The Complicated World of Fuel & Energy Choices
School districts discuss how they are selecting full types, amid the various options and changing landscapes.
Features
Technology vs. Cost
Several school bus manufacturers are introducing collision migration technology on their new buses. But are the promised benefits worth the cost?
Digital Dashboard Camera Could Prevent Tragedy
Technology can identify dangerous intersections and aggressive drivers, while also giving school districts more visibility and control over their fleets.
Special Reports
Choosing Technology: Decisions, Decisions
Technology is becoming increasingly complex, but the process of making the right choice on what to implement remains the same.
Employee Protections
The New York State Supreme Court reinstated a fired transportation director, while the U.S Supreme Court further defines age discrimination in the workplace.
Columns
Thought Leader by Robert Pudlewski
Supplier Relationship – Key Performance Indicators
First Take by Ryan Gray
Decision Time: A New Year's Resolution
Publisher's Corner by Tony Corpin
Who & Where Should You Buy From?
Sections