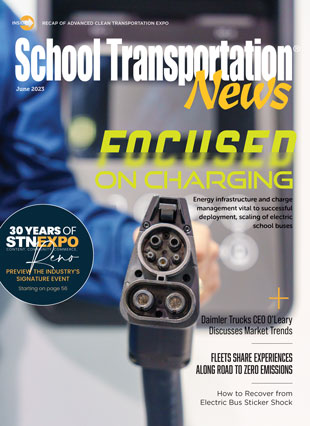 Electric school buses are front-page news in the student transportation industry. From energy infrastructure and charge management, scaling of electric school buses, analyzing different clean energy options to recovering from the electric bus sticker shock, this month's issue delves into the big questions about fleet electrification.
Check out the preview of this year's milestone STN EXPO Reno conference featuring keynote speaker bios, vendor lists, daily agenda and more!
Read the full June 2023 issue.
Cover Story
Slow and Steady Wins the Race
Experts discuss the most important steps to take before even purchasing an electric school bus.
Features
Sticker Shock
Electric school bus warranties are saving some districts from expensive replacement parts, at least for now.
The Charge Forward
Working closely and often with utilities is the saving grace when it comes to implementing charging infrastructure.
Managing Charge
Charging an electric school bus should be cheaper than using traditional fuel. But if you're not managing your power correctly, the opposite is proving true.
Special Reports
Getting An Act Together
Take a deep dive into last month's Advanced Clean Transportation Expo in Anaheim, California.
Q&A: OEM Perspective on Future of Fuels & Energy
Daimler Trucks North America leader John O'Leary provides insight into the transition from diesel to zero emissions and what the future holds for subsidiary Thomas Built Buses.
STN EXPO Reno Preview
This year's milestone conference and tradeshow provides attendees with invaluable networking opportunities amid information sharing on green school buses, technology, and more.
Editor's Take by Ryan Gray
What Energy Option Makes the Most Sense?
Publisher's Corner by Tony Corpin
Change is Happening