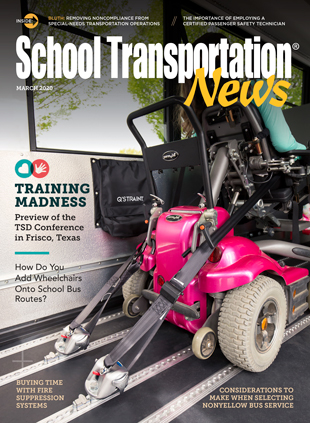 This month's issue features articles about securing wheelchairs on school buses, student tracking and contracting out transportation services.
Cover Story
A Numbers Game
How many wheelchairs can you fit on a school bus? School districts are developing their own requirements for how many wheelchairs to include on routes, based on evacuation times and student safety.
Features
Another Benefit to Student Tracking
Besides knowing when and where special needs students board and exit the school bus, districts can also use tracking technology to assist in easing the Medicaid reimbursement process.
One Size Doesn't Fit All
Using a yellow school bus to transport students doesn't always make sense for many reasons. Districts are turning to alternative transportation solutions to transport their precious cargo to and from school.
TSD Conference Preview
Browse the full conference agenda that is planned for Frisco, Texas this month, including a session that discusses how Baltimore City Schools transitioned its transportation program from noncompliance to compliance. Also, see which of this month's advertisers are exhibiting at the TSD Trade Show.
Special Reports
Suppressing the Flames
Adoption rates of fire suppression systems remain low, due to the cost and lack of standard solutions offered by OEMs. But that hasn't stopped some districts.
Safely Securing Students
Having a child passenger safety technician on-staff helps districts alleviate risks by ensuring their child safety restraint systems are properly secured on the school bus, among other proactive measures.
Sections
Feedback
Online
Trends
Ad Index
Marketplace
Columns
Editor's Take by Ryan Gray
Walking the Talk on Trust
Publisher's Corner by Tony Corpin
Crash Sparks Safety Concerns