STN EXPO Reno attendees once again have the opportunity to vote on their favorite hardware and software products made for the pupil transportation industry.
The STN EXPO Innovation Choice Awards program is open to any individual, organization or authorized agent that exhibits at STN EXPO 2023 in Reno, Nevada, and promotes school transportation products.
The four categories are Best Hardware, Best Software, Best Safety Technology, and Best Green Bus Technology. Attendees can vote on-site, starting July 16 and running through July 20.
Attendees can scan QR codes at each exhibitor booth to cast votes during the STN EXPO 30th Anniversary Celebration & Trade Show on July 17 and the Trade Show + Drinks & Appetizers on July 18. Voting remains open until July 20. Winners will be announced at a later date.
View the list of exhibitor products, below. Exhibitors submitted their own product descriptions that have been edited for space and clarity.
247Security Inc. (Booth 218)
Category: Hardware
Name of Product/Solution: Zeus TITAN DVR
Description: TITAN is our flagship purpose-built school bus DVR, the latest technology in a rugged and compact enclosure that is easy to use and install. How is TITAN unique? Sixteen high-definition channels support 360-degree interior cameras, 360 external live view, and AI-enhanced, stop-arm cameras. Plus, OBD connection to the engine computer collects live diagnostic data, Wi-Fi for remote access to the DVR, cell modem providing live access to GPS, OBD data, and real-time video. Powerful smart core enables the integration of cross-platform features not limited to video, like live tracking, engine performance, and more. Additional features can be enabled on-demand, allowing you to scale your operation as needed, without having to buy more hardware, or touch the DVR. Future-proof your fleet with Zeus TITAN.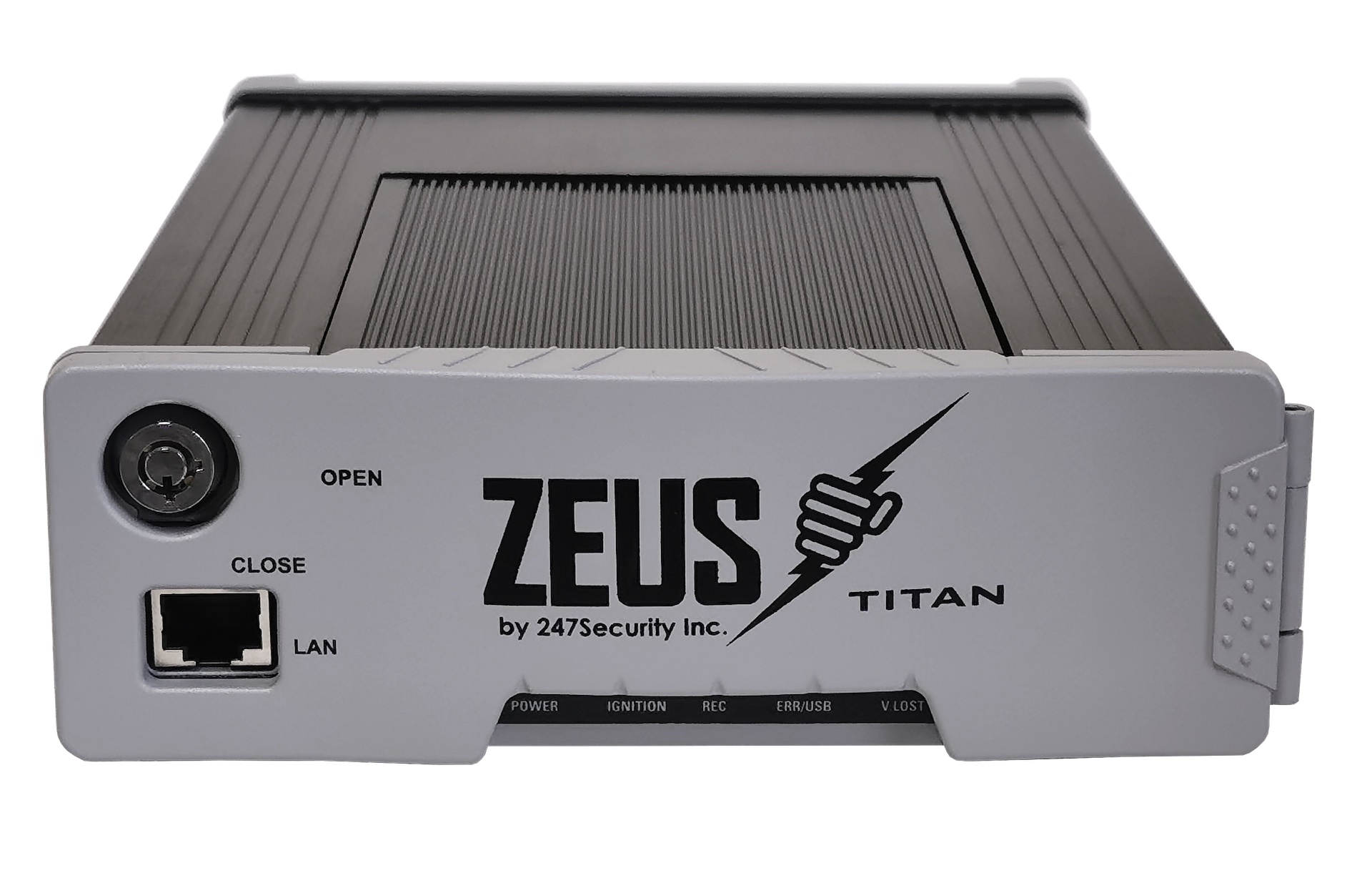 Category: Software
Name of Product/Solution: DVRVIEWER PRO 2
Description: DVP 2 is designed to be the easiest and most powerful video review software on the market. Designed from the ground up from your direct feedback and feature requests, it includes the fastest video clip export in a video review software, and bus stop review that allows you to see stops along the route and get video instantly, instead of scrolling through hours of footage. Sort video by custom data attributes, including engine data, speed, GPS, motion/acceleration sensors, stop-arm violations, driver markers, and more. Get the exact video you are looking for, fast. TruView combined with our 360 cameras creates three video streams from one camera. A tremendous value that you have to see for yourself. Cloud-based live GPS tracking and sensor data allow you to keep your finger on the pulse of your fleet 24/7, no pun intended. Live video look-in allows you to see inside/outside your buses anytime, anywhere live. We believe in putting our customers first, and as such all our technology is backward compatible with previously saved files from older DVRs. Another way 247 tech stays future-proof.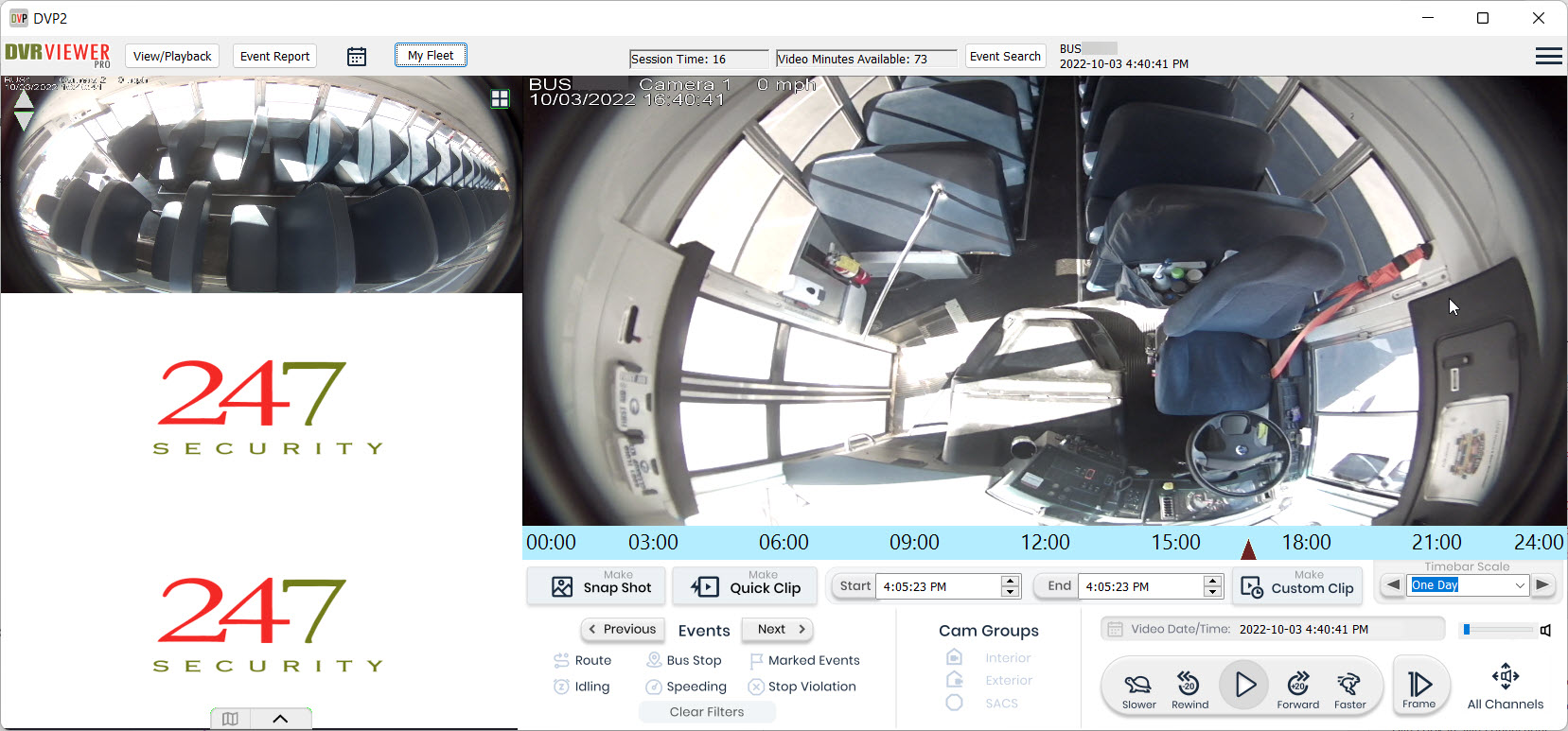 AlphaRoute (Booth 146)
Category: Software
Name of Product/Solution: AlphaPlan
Description: Web-based and easy to use, our AlphaPlan routing application integrates with our full suite of software and features the following innovations: Instant feedback on every edit allowing you to see the impact on run duration and other variables before you save (We can even factor in cost implications); multi-database view: You can see a student's routing information across our planning, pending, and live databases at the same time and on the same screen; artificial intelligence suggestions: You can easily process many edits yourself, but you can also ask the system to pull from artificial intelligence and it will prompt you with an efficient result for the edit you are attempting. Other features include the fact that all edits can be processed in seconds and in fewer than five clicks; download route sheets at the run or route level, one at a time or in bulk. (You can download hundreds of route sheets, with turn-by-turn directions or without, in under five minutes); and easy-to-use export data feature: Your data is your data! You can customize reports with any number of fields, arranged in the order you want them, for your entire system or for specific filtered criteria.
Plus, AlphaPlan includes a built-in AlphaCom communications platform: easily send messages to students' parents or guardians, individually or at the run, school, or route level. Using preset variables, you can send the same message to thousands of students at the same time, and each will be personalized with their individual information. More features include on-time performance charts at the student, run, route, and school levels. Other charts as well, across a range of key performance indicators; visual aids throughout, (before you move a bus stop, you can see light circles on your screen denoting students' maximum walk-to-stop distance.) Our fleet schedule includes different colors for deadhead, live, and unloading/loading time, and also school or run ID's overlaid on top of each run. Additional features include easy-to-see buttons on top of each student's page to inform you if the student's info or routing has changed; one sign-on, multiple modules, multiple screens, (once you sign in, you can have multiple software modules on different screens or on different tabs within your browser – AlphaPlan and our state-of-the-art AlphaView operations module, for example.) You can have many different tabs open to different pages within AlphaPlan. Plus AlphaPlan has MIT-based optimization, we can preload solutions for school districts, fully customized to their policies, that cut bus counts by more than 10 percent. We once helped Columbus City Schools remove 150 buses from their fleet, wiping out their driver shortage. Our system can also auto-assign students, automatically and efficiently accounting for the many changes that come from the SIS each night. Another feature is a unique workflow page that lays out all the student info changes that came from the previous night's download, all the routing changes that our system made to account for these changes, and all the itineraries that were impacted. Users can start their day here to easily track all the updates in the system since the previous day. They can even view and manage parent requests that come from our innovative parent application, AlphaPortal.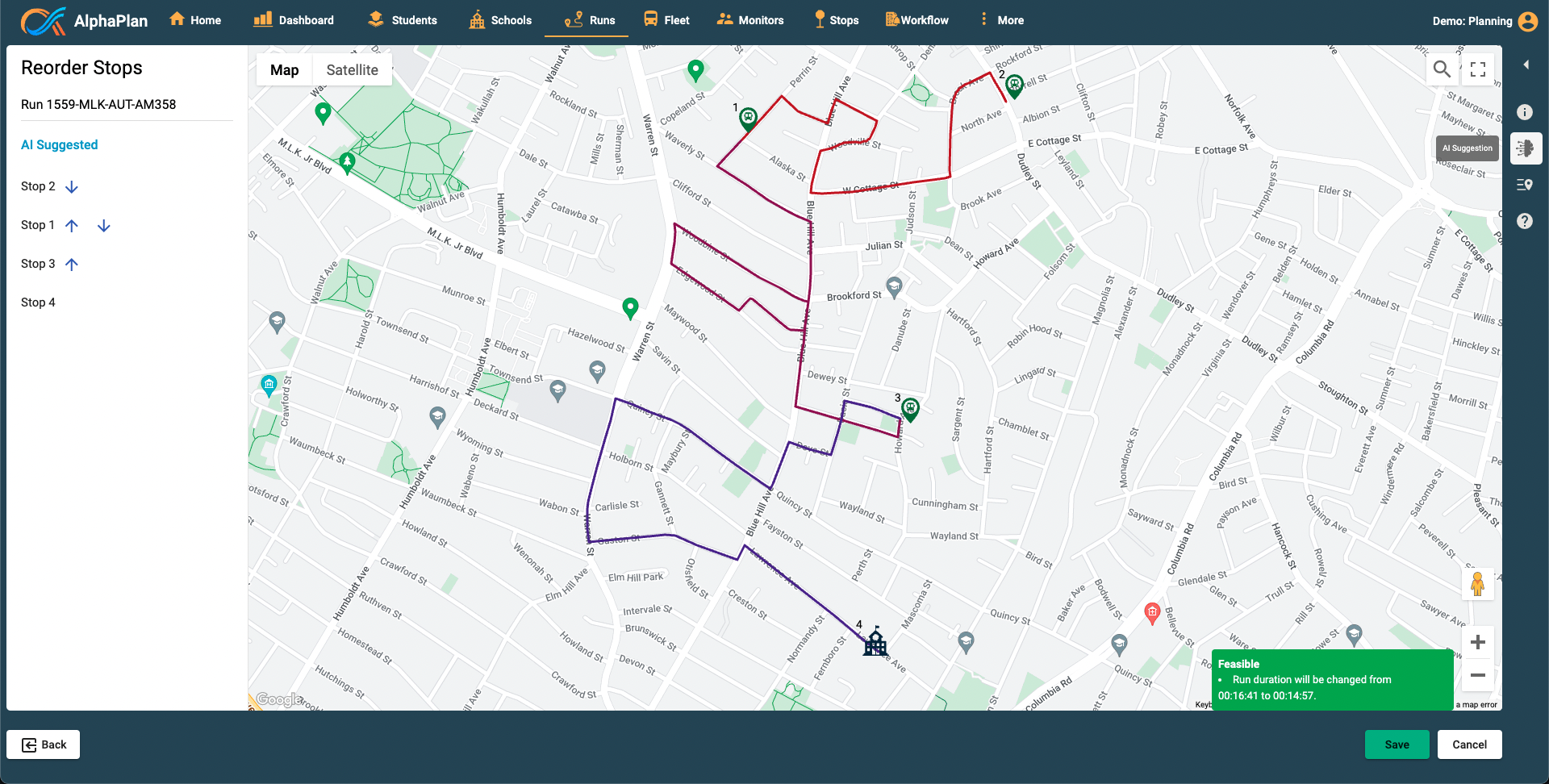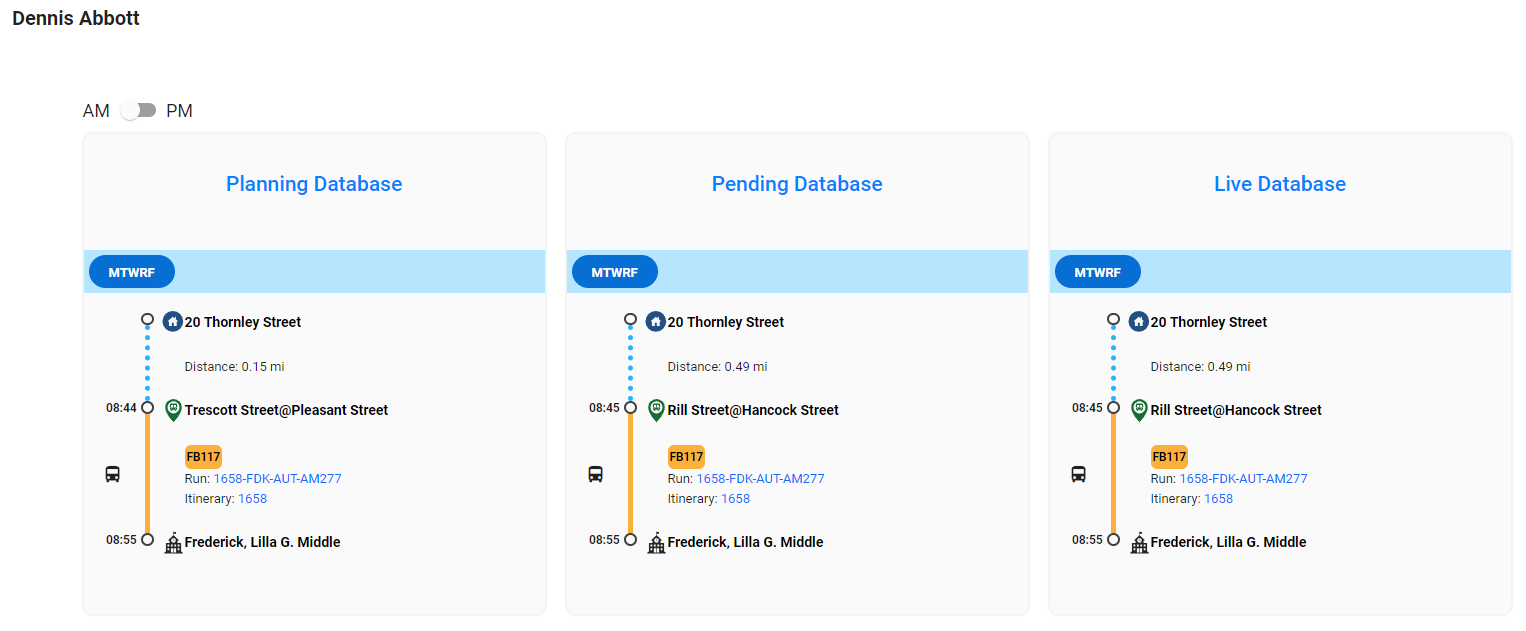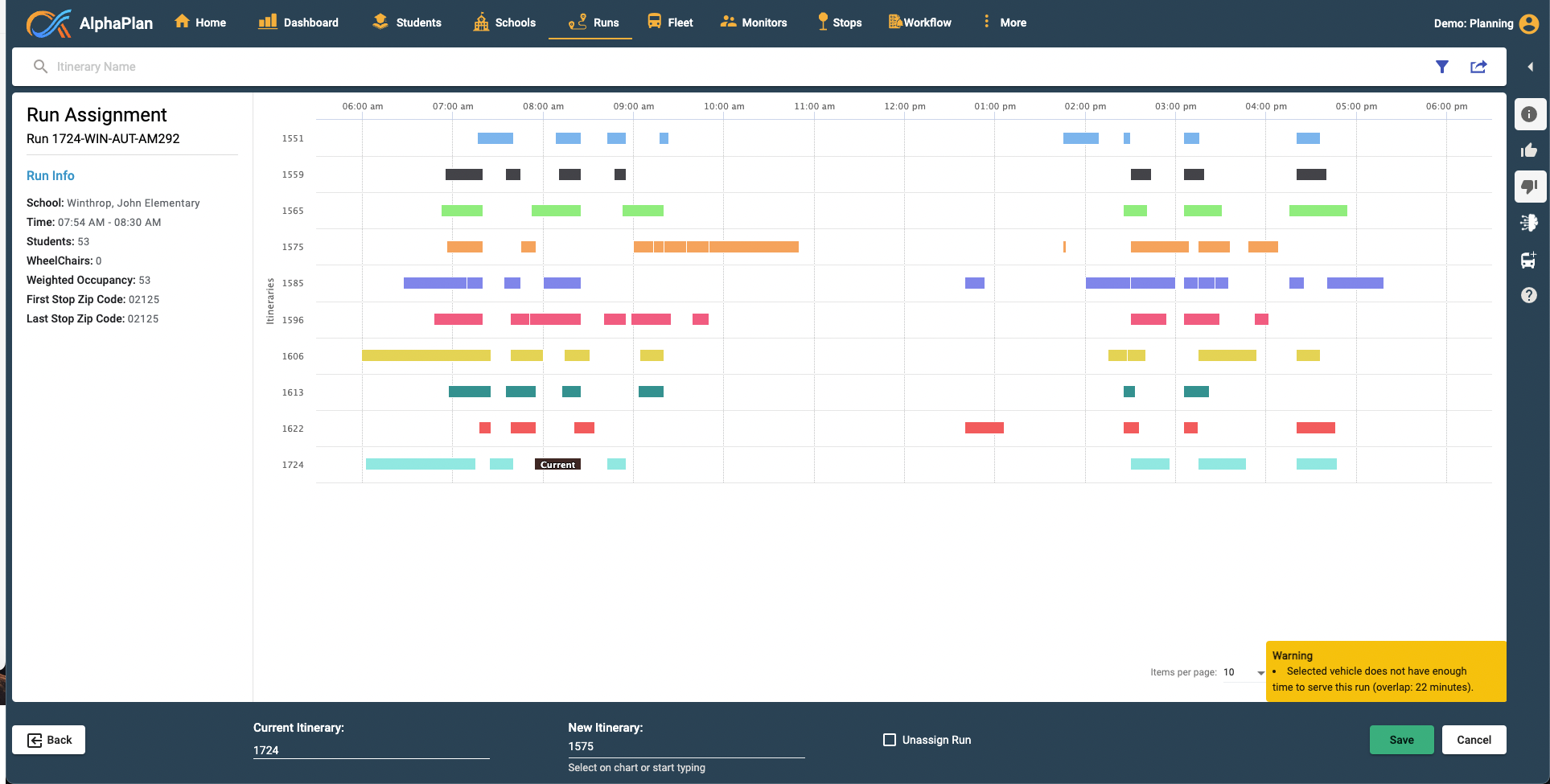 Ampcontrol Technologies, Inc. (Booth 233)
Category: Software
Name of Product/Solution: Ampcontrol
Description: AI-powered, smart EV charging management software that reduces total cost of ownership and downtime of charging hardware.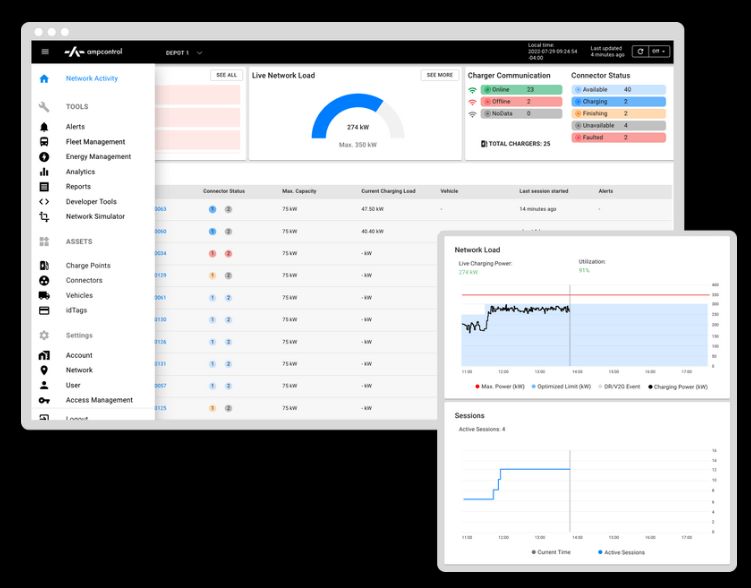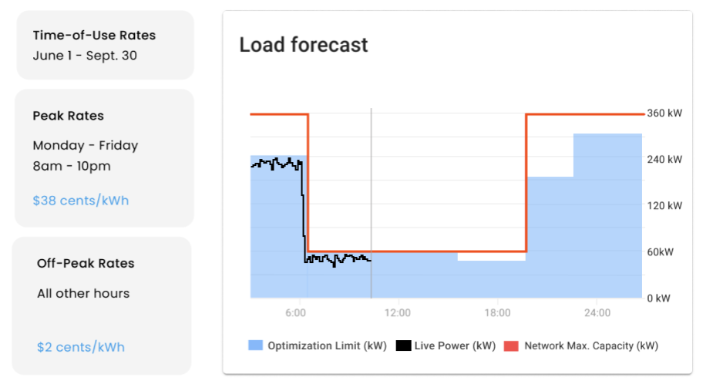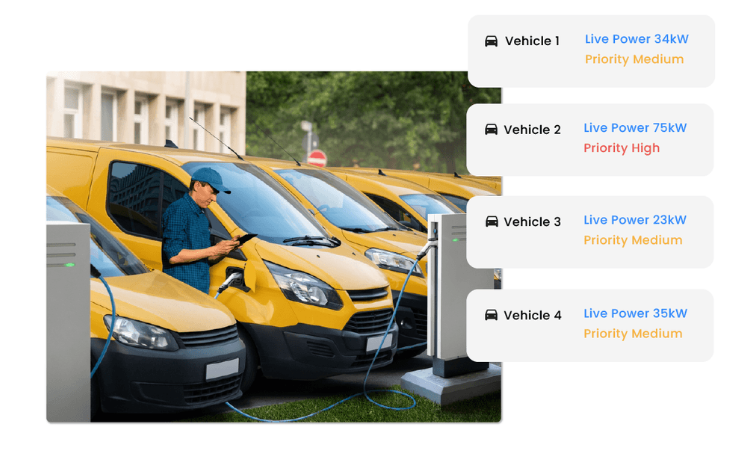 Bitimec School Bus Wash-Bots, Inc. (Booth 116)
Category: Green Technology
Name Product/Solution: BITIMEC
Description: BITIMEC is the market leader in single-brush bus washing equipment. Our machines are advanced and affordable power-brush systems delivering positive ROI to school bus fleets worldwide. A single operator can soap, wash and rinse up to 40 buses or vans in one shift; each unit in 6-8 minutes. The 15 sq. ft. machines do not need a dedicated building and can be tucked out of the way when not in use. Available in 220V electric, 24V battery, gasoline or hybrid.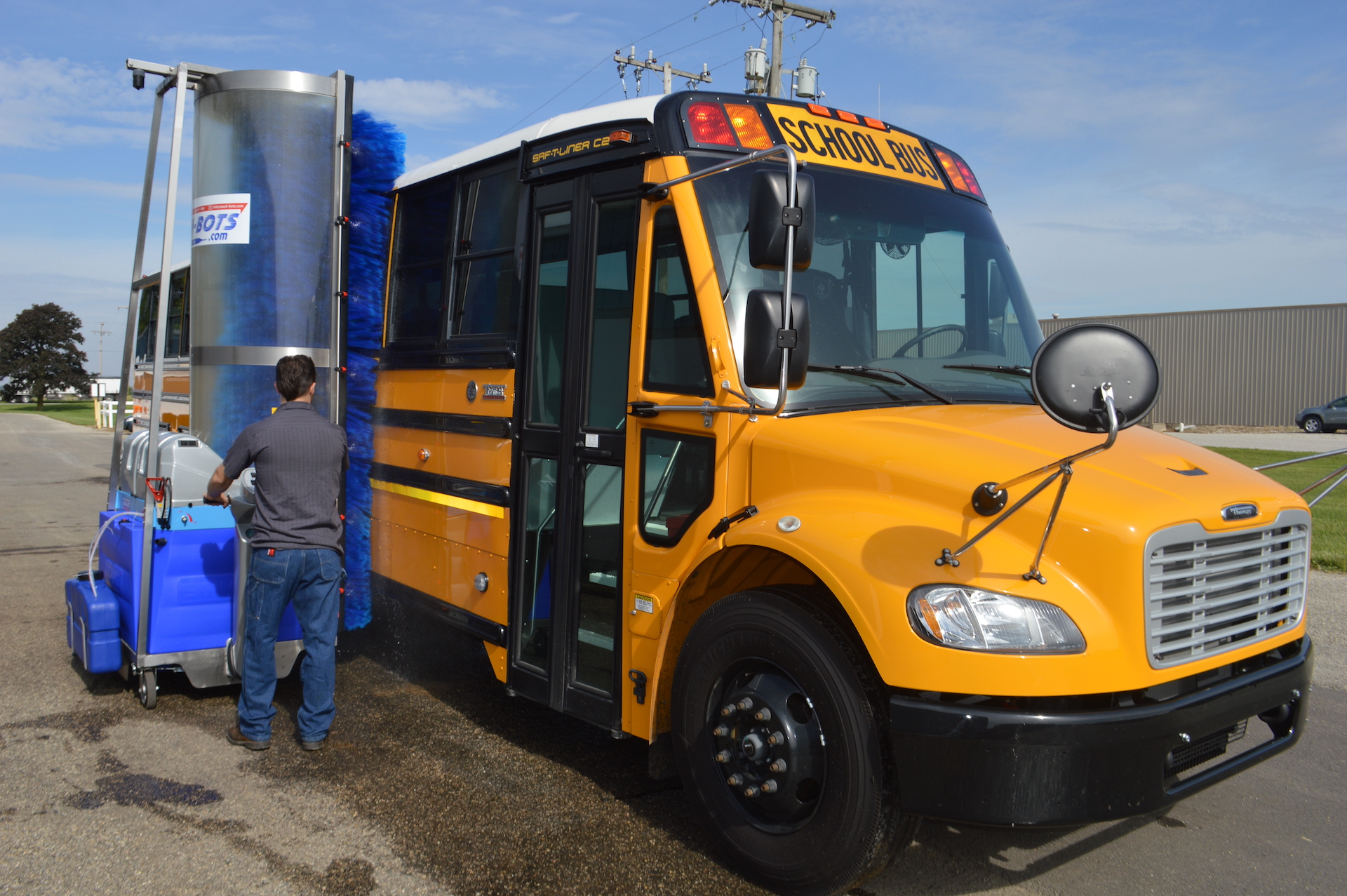 BP Pulse: (Booth 529)
Categories: Hardware, Green Technology
Name of Product/Solution: omega
Description: The fleet-first charge management software automates charging when energy costs are lowest, dynamically responding to your evolving needs each shift. Comes with a 99.9 percent uptime guarantee. Connected and technology agnostic. Integrates with EV chargers, fleet management, telematics, and more. Out of the box and future-proofed. Ready to deploy today and built to evolve as needs do. Adaptive and automated load management. Delivers costs optimized energy while respecting operational constraints. Co-optimize charging for cost, battery health, and GHG impact. Integrates with telematics, route and asset management tools. Monitors vehicles out on routes and track their expected state of charge when they return to the depot. Easily run savings, energy, equipment health, GHG emission reductions, and other operational reports.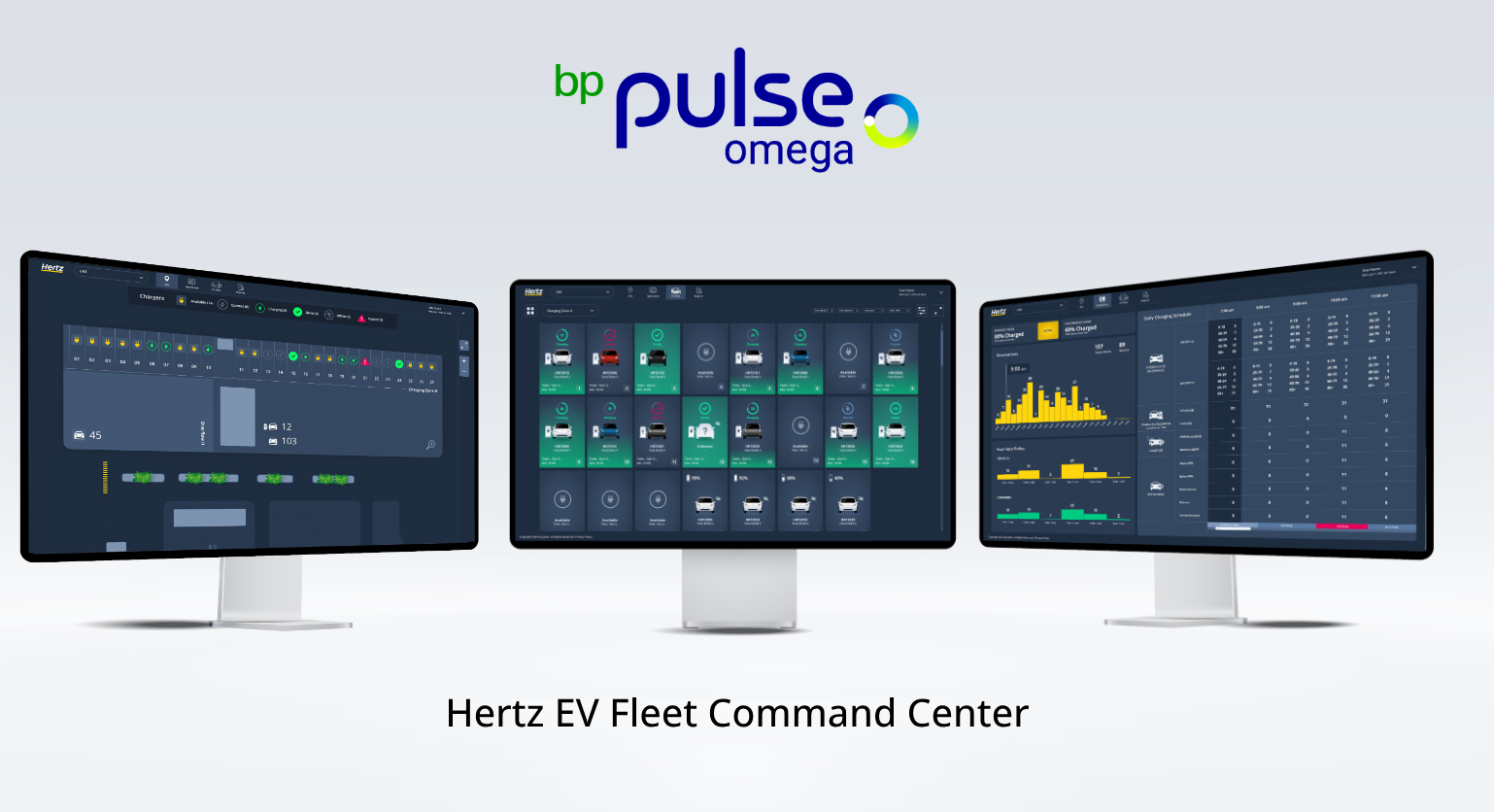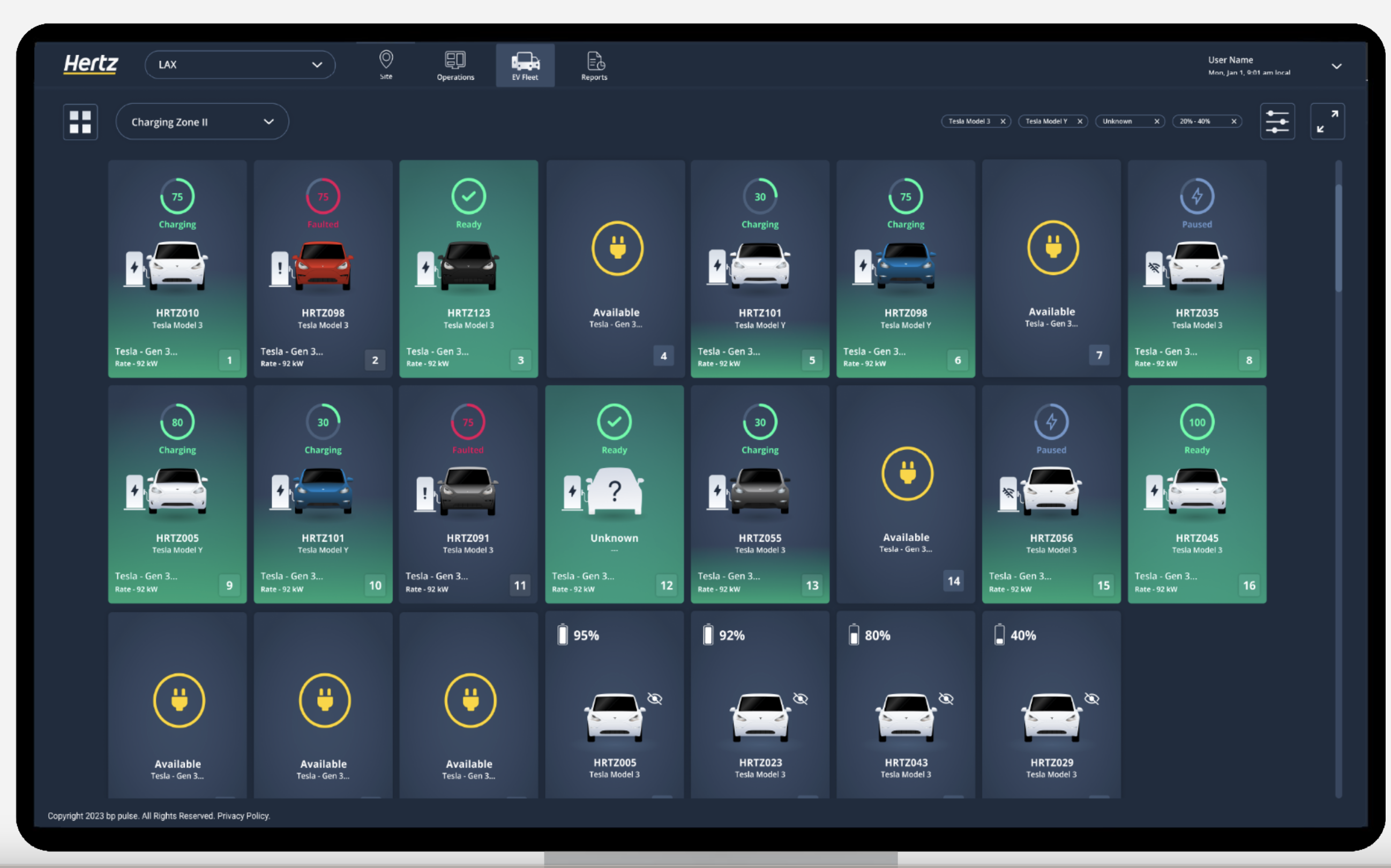 BYD (Booth 101)
Categories: Hardware, Software, Safety Technology, Green Technology
Name of Product/Solution: The Achiever
Description: The Achiever is BYD's 100-percent battery electric Type A school bus offering. The Achiever was designed with student safety in mind, the latest technologies, a strong commitment to the environment, and reliability for school commutes. The Achiever operates on a zero-emission electric motor. With decades of experience in the transit industry, BYD developed the Type A bus to exceed the quality standards of the school bus industry. The Achiever can be outfitted with the latest safety technologies including anti-bullying seats, anti-collision software, and electronic stability control. The Achiever will also have V2G capabilities that will provide schools and districts with the ability to realize renewable energy integration and cost savings.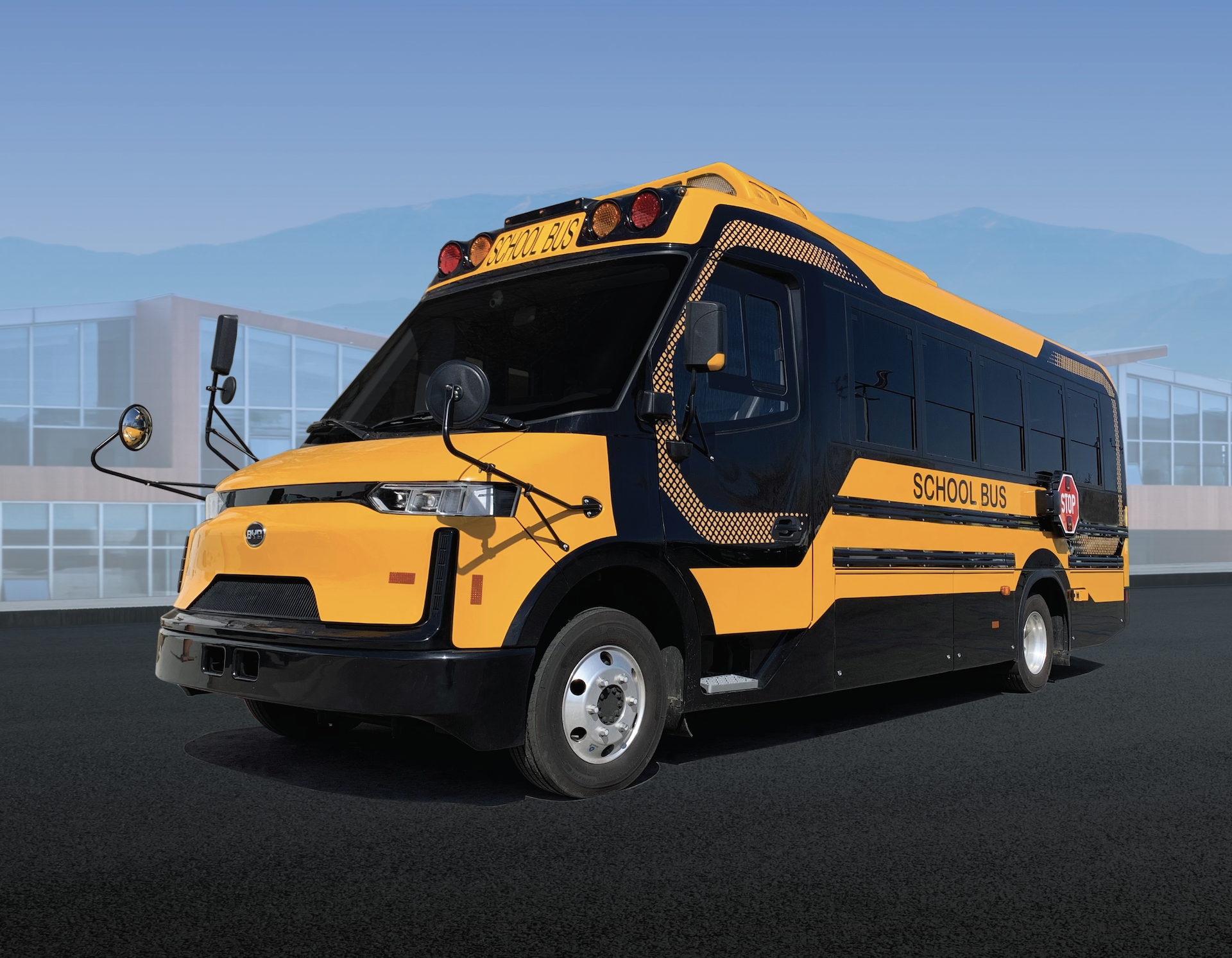 CowFarts Bus
Category: Green Technology
Name & Description of Product/Solution: Not provided
First Student (Booth 541)
Category: Green Technology
Name of Product/Solution: FlexCharge
Description: FlexCharge, the behind-the-meter charging infrastructure solution, was designed for future-proofing and to accommodate our needs for property not owned by First Student. Landlords were not on board with digging trenches and tearing up bus depots to install infrastructure. FlexCharge solved that problem. This solution allows positioning, mounting and protection of high-voltage circuits for electric school buses. The design is flexible, quickly deployable, and can be moved or relocated easily if needed.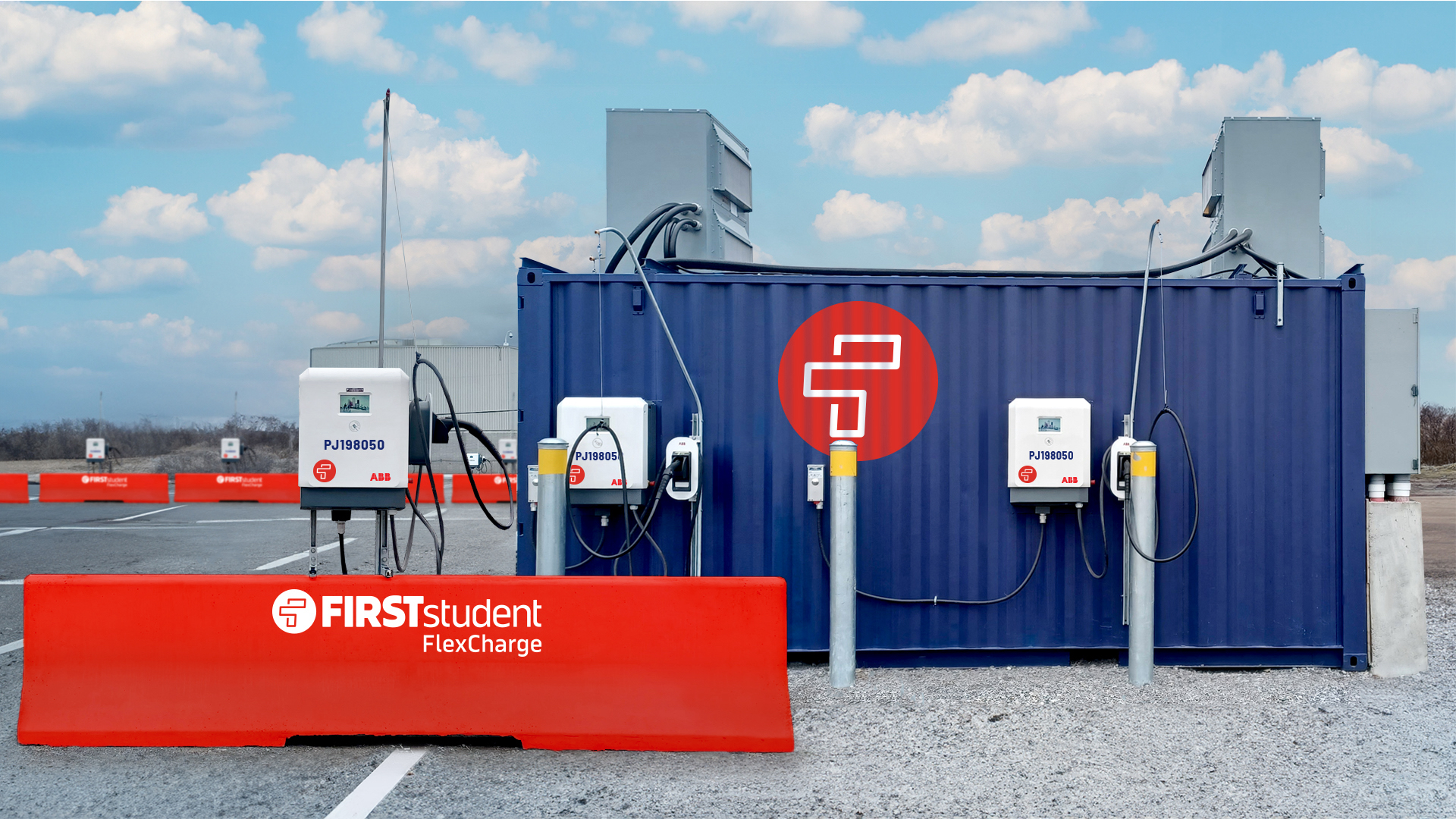 Fleetsoft (Booth 641)
Category: Software
Name of Product/Solution: Fleetsoft
Description: Fleetsoft makes keeping track of your bus fleet's maintenance easy and efficient. It keeps track of work orders, PM schedules, parts usage, inventory management, warranty claims, core tracking, fuel tracking, and more. Fleetsoft also integrates with third-party GPS providers to keep odometer and hour meters current. In addition, it brings in inspection and fault code data automatically. It is a complete maintenance solution for your fleet.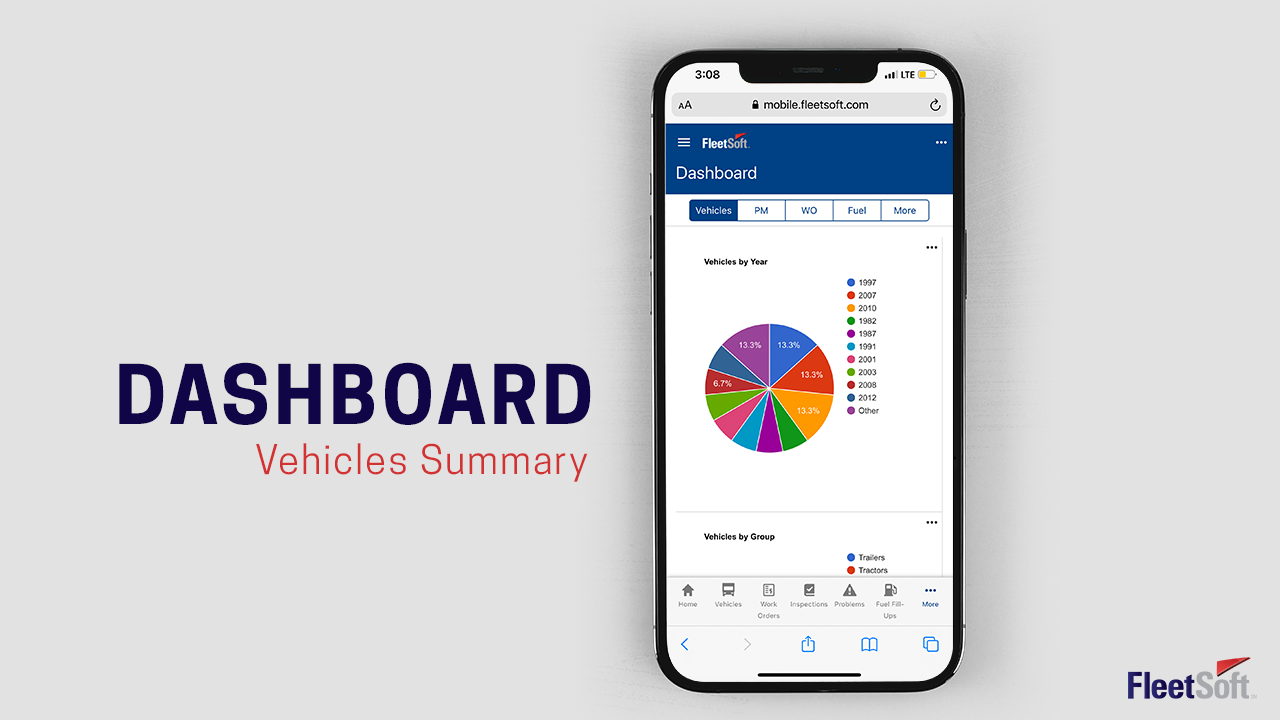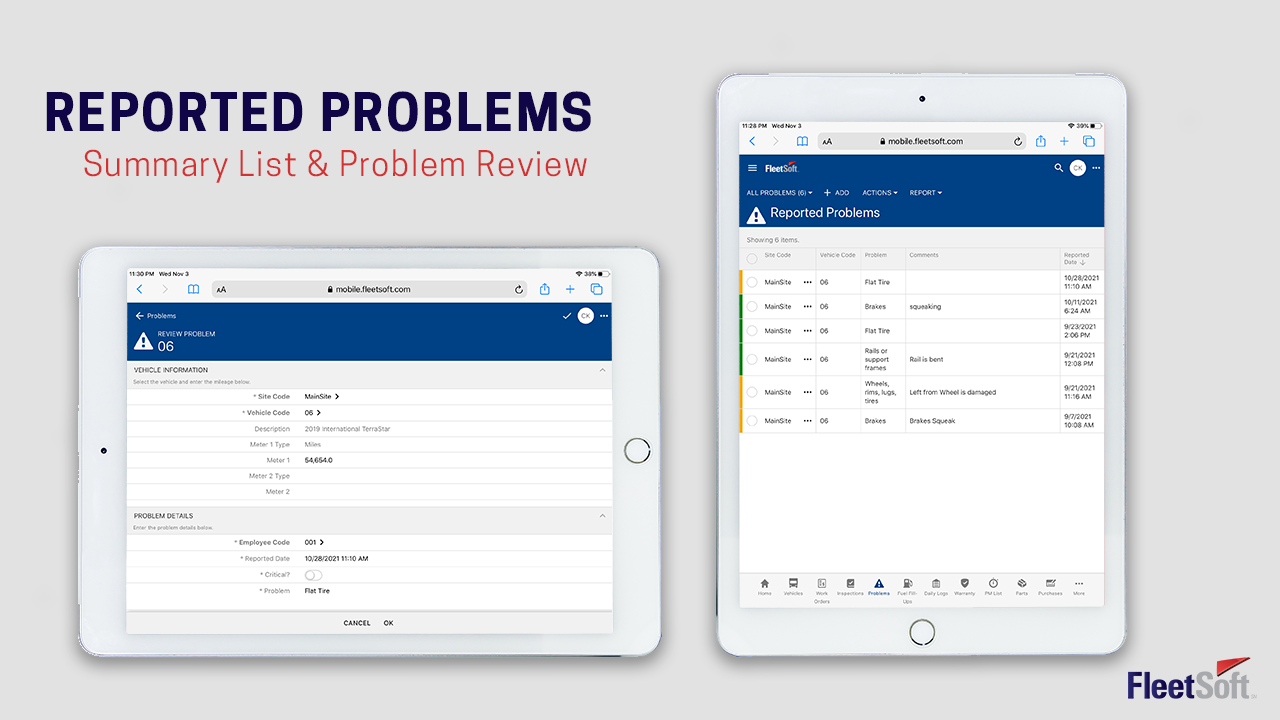 Greenpower Motor Company
Category: Green Technology
Name of Product/Solution: Nano BEAST
Description: GreenPower's Nano BEAST (Battery Electric Automotive School Transportation) is a purpose-built, all-electric Type A school bus. Its clean sheet design approach facilitates optimal battery pack placement and weight distribution, allowing the vehicle to accommodate a larger energy supply, deliver a longer range and set the new standard for zero-emission student transportation. The Nano BEAST can be charged with either a Level 2 or DC fast charger allowing school districts flexible charging options. GreenPower is constantly looking for new technologies and ways to improve its vehicles and experience for riders. Most recently, GreenPower deployed a version of the Nano BEAST that serves the needs of special education students and children with disabilities by including wheelchair lifts and securements while featuring a flat floor to ensure excellent accessibility. The bus can seat up to 24 students with a class-leading range of up to 150 miles per charge.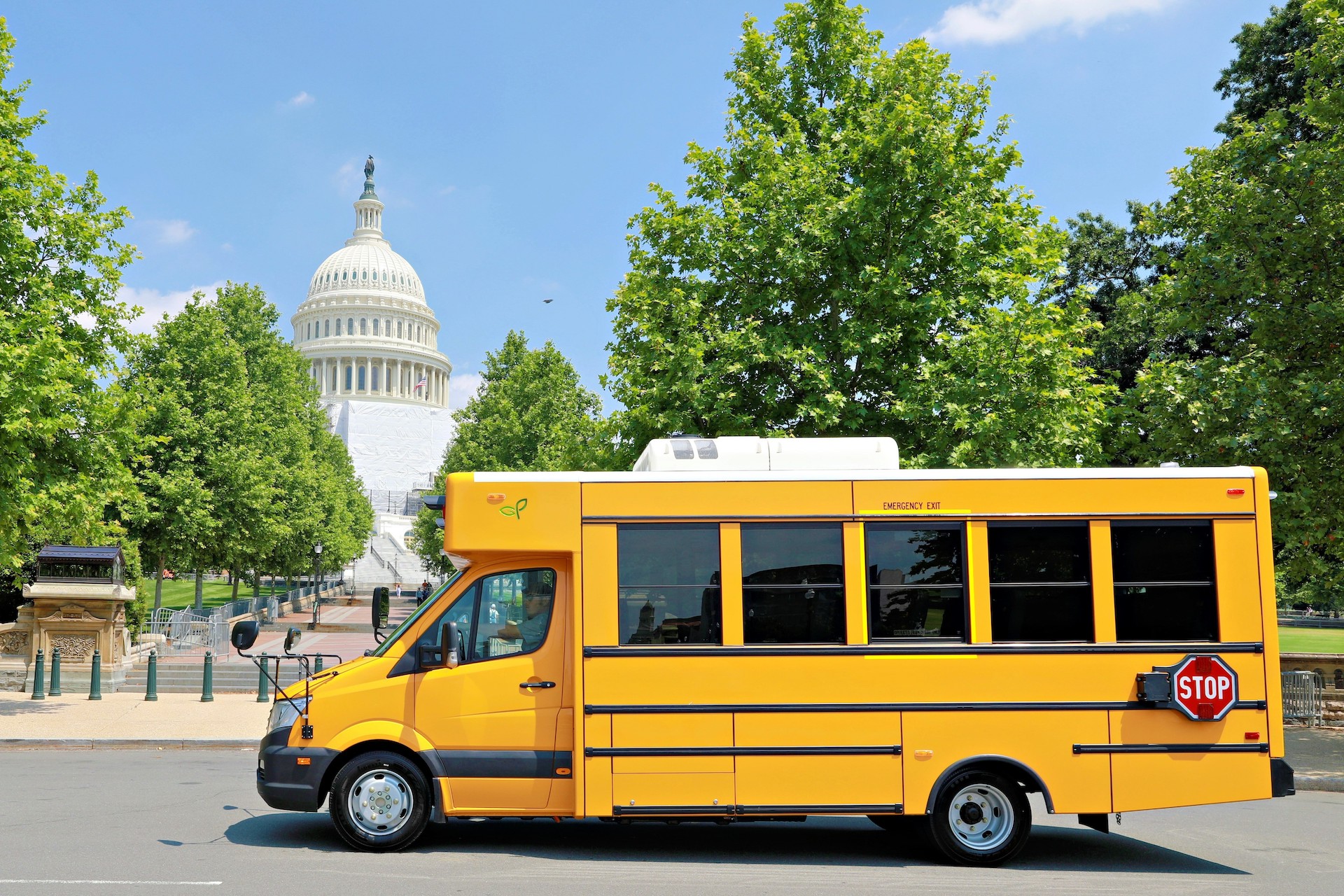 Heliox (Booth 141)
Category: Green Technology
Name of Product/Solution: Heliox Mobile 50 kW
Description: The Heliox Mobile 50 kW DC fast charging station is the ideal charging solution for heavy-duty EV pilot projects or depots looking to scale up. With a charging solution like the Mobile 50 kW you get the industry-leading reliability of Heliox DC fast chargers with the added benefit of not having to break ground to install your equipment. This not only helps reduce upfront costs, but it also provides additional flexibility when designing the EV portion of your depot. Without hardwiring concerns, you can reposition the EV charging area of your bus yard as needed with no fear of hindsight recalibrations.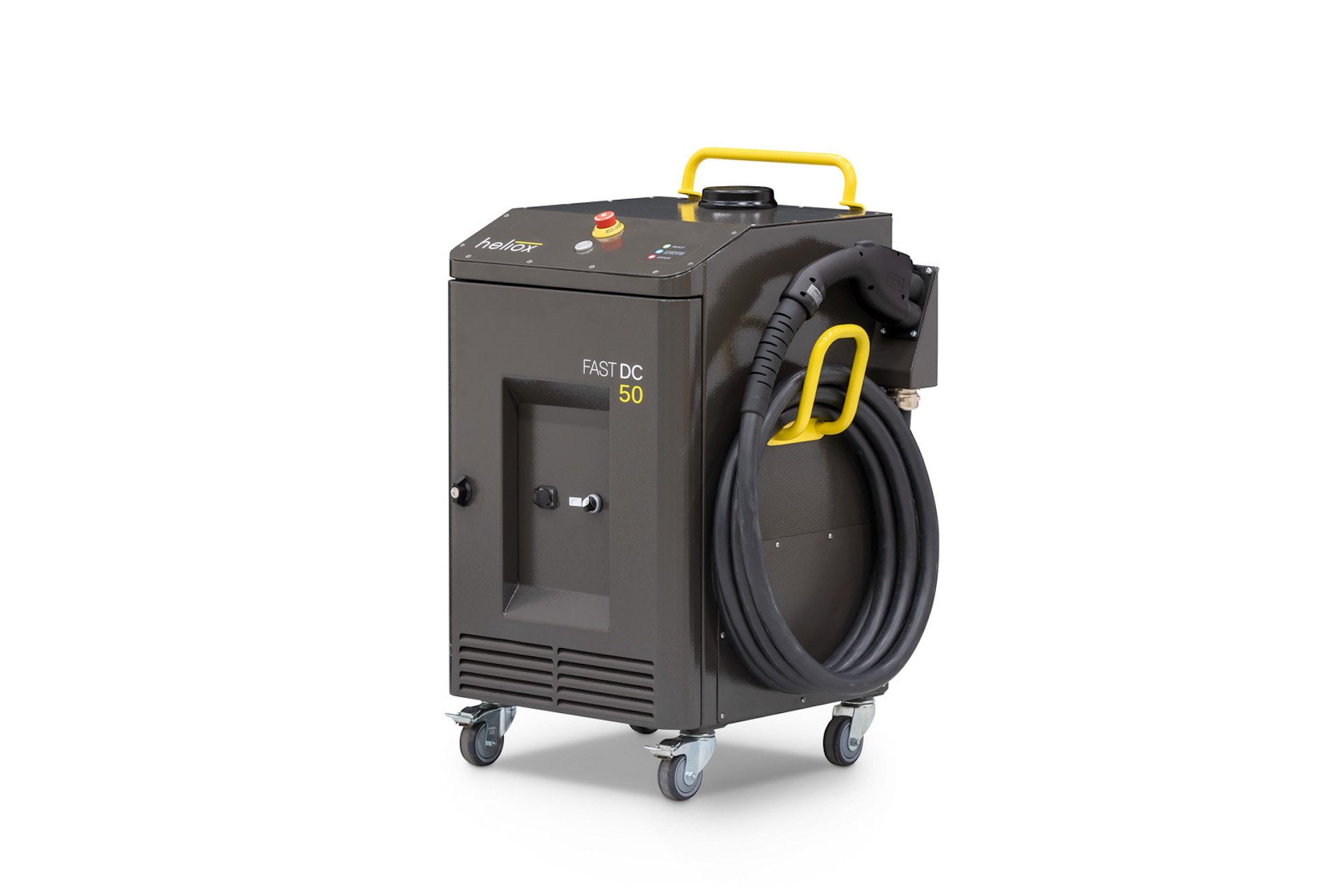 HopSkipDrive
Category: Software, Safety Technology
Name of Product/Solution: RideIQ
Description: HopSkipDrive RideIQ is a powerful all-in-one hub that solves the unique transportation challenges of schools and districts across the country by enabling safe, supplemental transportation. With HopSkipDrive's RideIQ, school transportation staff can easily create and optimize individualized or small-group transportation plans for students, while addressing schools' needs for flexibility, transparency, speed, and reliability. HopSkipDrive RideIQ is trusted by 400+ school districts across the country, enabling more than three million safe rides. Some important highlights of RideIQ include an easy-to-use platform that makes it simple to set up one-time or recurring rides and gets critical information into the hands of CareDrivers and parents immediately; complete transparency and real-time visibility for users in a rider's community of care (e.g. parents or caregivers), whether that's via the web, mobile app or SMS; access to our Safe Ride Support product and resources, which combines GPS tracking of every ride, mobile telematics to detect risky driving behavior, and live specialists monitoring each ride, all combining to help prevent problems before they occur.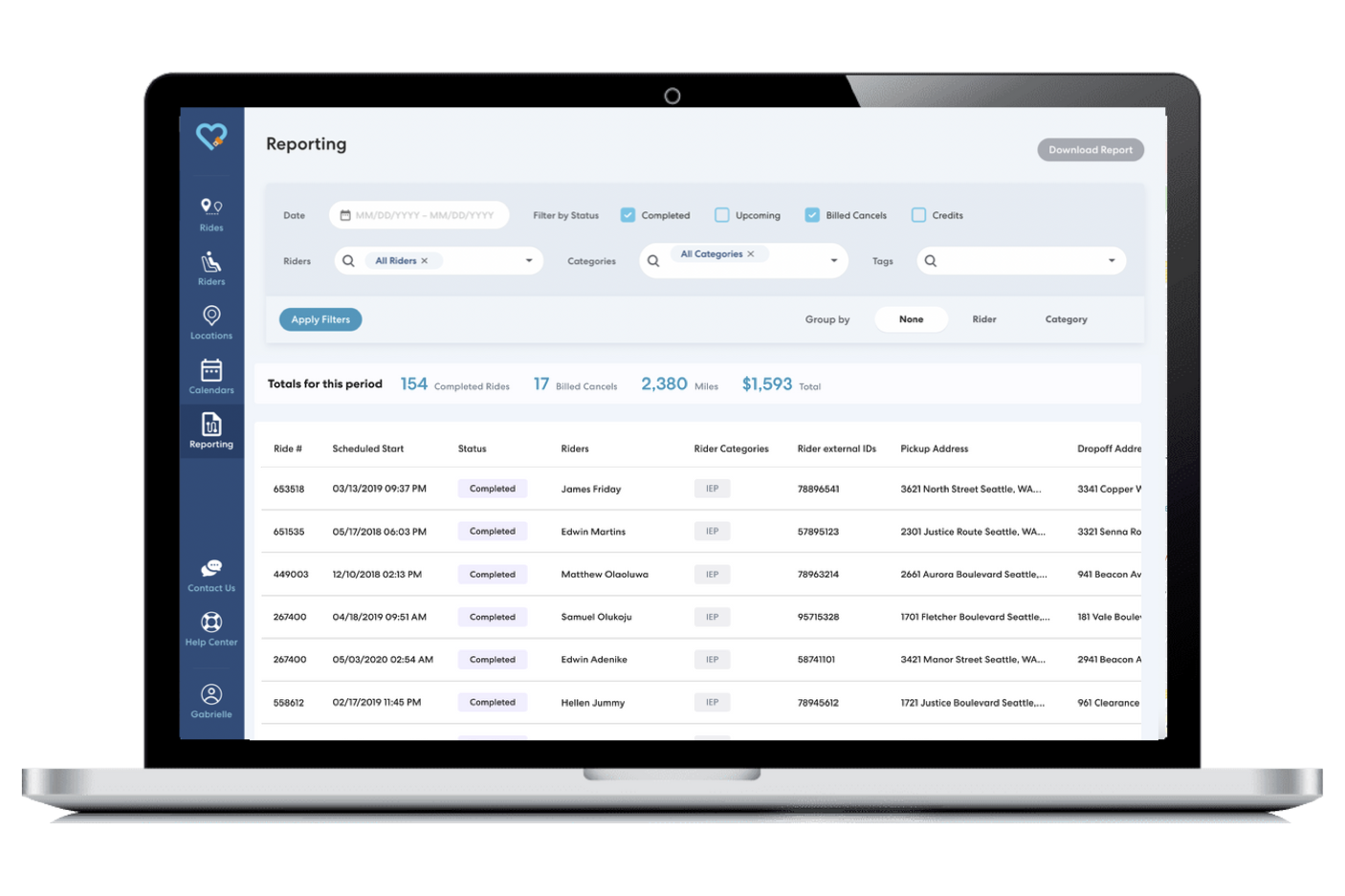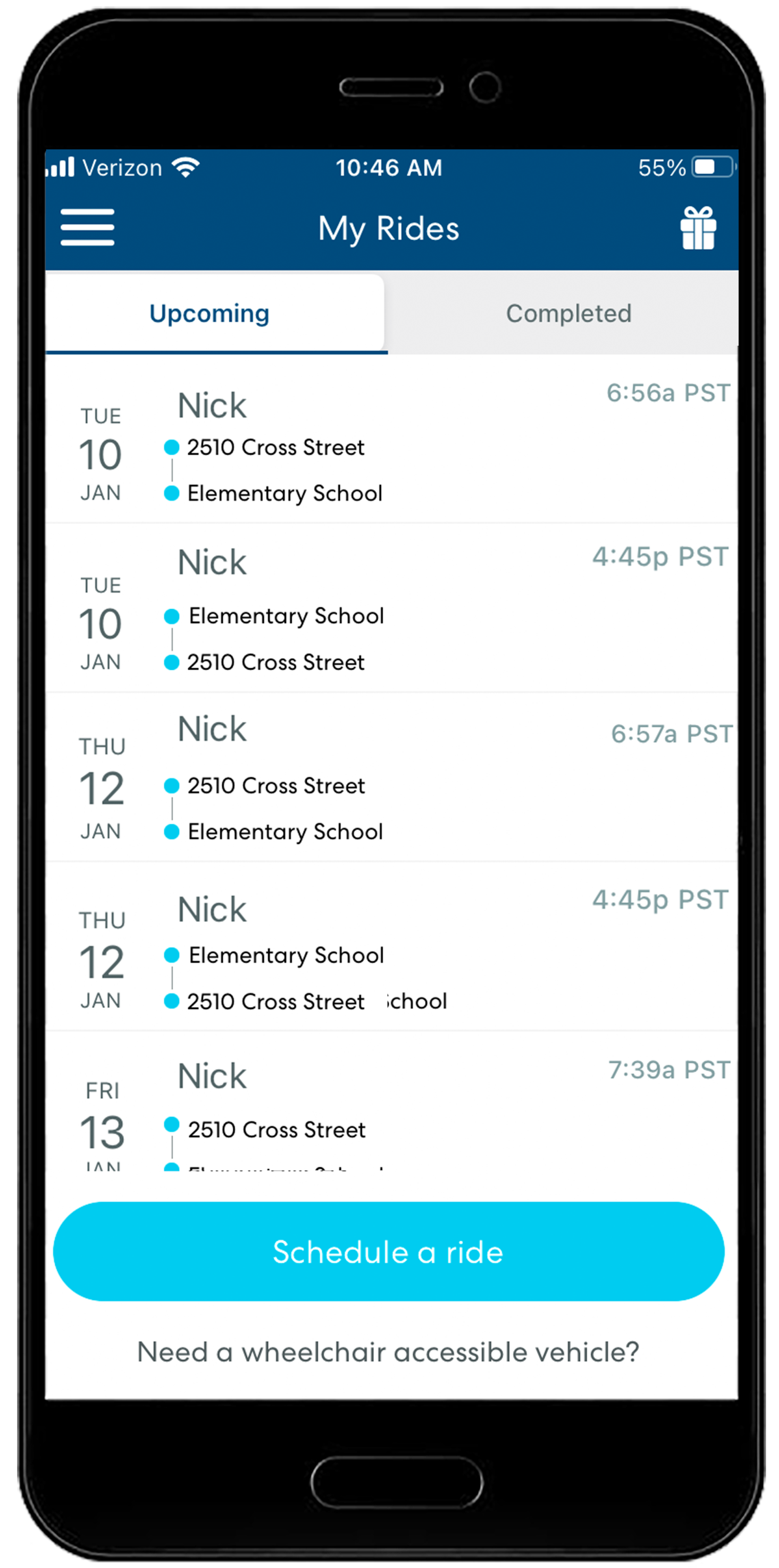 IC Bus (Booth 301) 
Category: Hardware
Name of Product/Solution: NEXT GENERATION CE SERIES
Description: When it comes to transporting our most precious cargo, only the best will do. That means a bus with the latest safety technology and high-quality materials with forward-thinking propulsion options and provides drivers with everything they need to succeed. New features include: ergonomic wing instrument panel is angled toward the driver with switches that are easy to read and reach; premium dash cluster with a five-inch digital color display with custom view options including real-time fuel economy, speedometer and tachometer, gear selection indicator, safety indicators and distance to empty; USB-A and USB-C charging ports are conveniently located to left of driver (in storage bin) and on right side of the instrument panel, and back-lit, color-coded steering wheel switches/controls with cruise control plus four switches that are programmable with Diamond Logic Builder. Other features include a driver light pre-check switch conveniently located on the dash to check all exterior light bulbs, all exterior lights will flash while the driver performs pre-check; full range of driver seat options to accommodate drivers of all shapes and sizes; and a tire pressure monitoring system (TPMS) (optional) provides real-time tires status including low pressure, extreme low pressure, high pressure, high temperature and more. The bus also includes Bendix Intellipark electronic parking; brake with dash-mounted switch integrated into the cluster (air brake units only) electronically engages the parking brake when critical interlocks are met, indicating that the vehicle is not parked and the driver does not have control; stalk shifter for transmission control mounted on the steering column allows the driver to easily reach and operate shifting and engine braking while keeping their eyes on the road, integrated driver HVAC system with improved driver interface with multiple, intuitive control settings within an arm's reach with additional venting for faster and more complete defrosting; improved left-hand drivers area including storage bin with more usable space and an easy-to-reach 44 oz cup holder, and a trash bin with double capacity (optional) with designated area forward of the stepwell.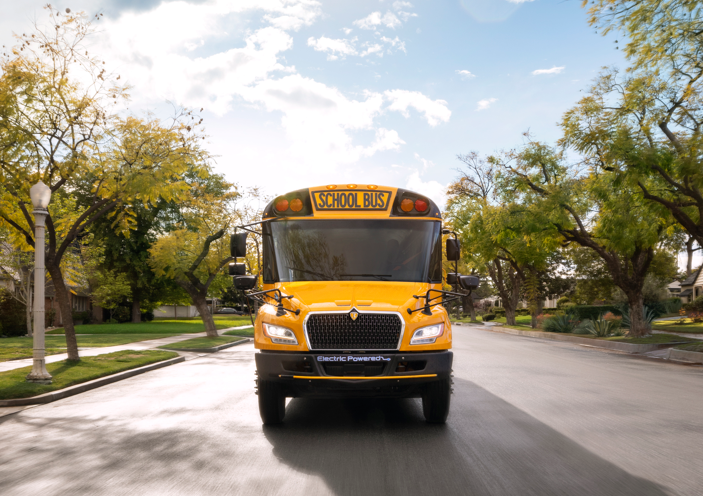 Category: Software, Green Technology
Name of Product/Solution: OCC Go – Mobile App
Description: The OnCommand Connection Go – Mobile App provides access to your most critical vehicle health insights in the palm of your hand. The mobile application was built with the smaller fleets in mind, those who do not have dedicated personnel managing the OnCommand Connection portal on a regular basis. This funnels the most important, key information right to the palm of your hand on your mobile device.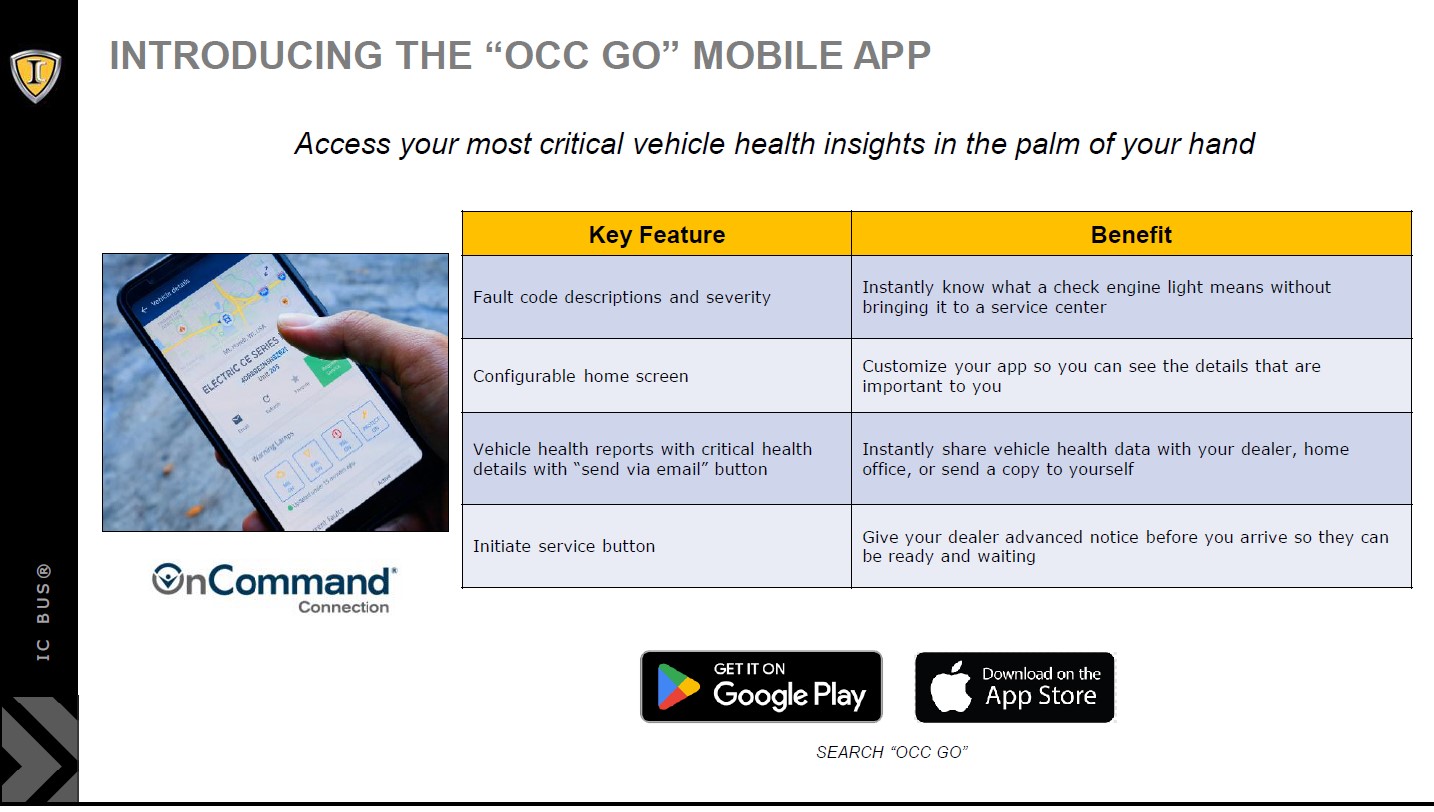 IEE Sensing (Booth 523)
Category: Safety Technology
Name of Product/Solution: LiDAS – Life Detection Assistance System
Description: LiDAS is a state-of-the-art, turn-key, child detection system that can recognize children (or any living being) inadvertently left behind on school buses or other school transportation vehicles. LiDAS is made up of an array of radar sensors that include sophisticated, patented pattern recognition software, a central control unit and wireless communication modem that manages the function of the system and a driver interface to provide feedback on system status and operation. LiDAS is highly customizable (detection escalation, pre-route, post-route and cyclic checks), fully automated independent of human actuation, ambient lighting conditions, mechanical or audible disturbances and independent of temperature (functions in summer or winter). LiDAS provides real-time communication and data retention via a cloud-based network with multiple notification methods possible (text message, alarm, horn honking, flashing lights, etc.).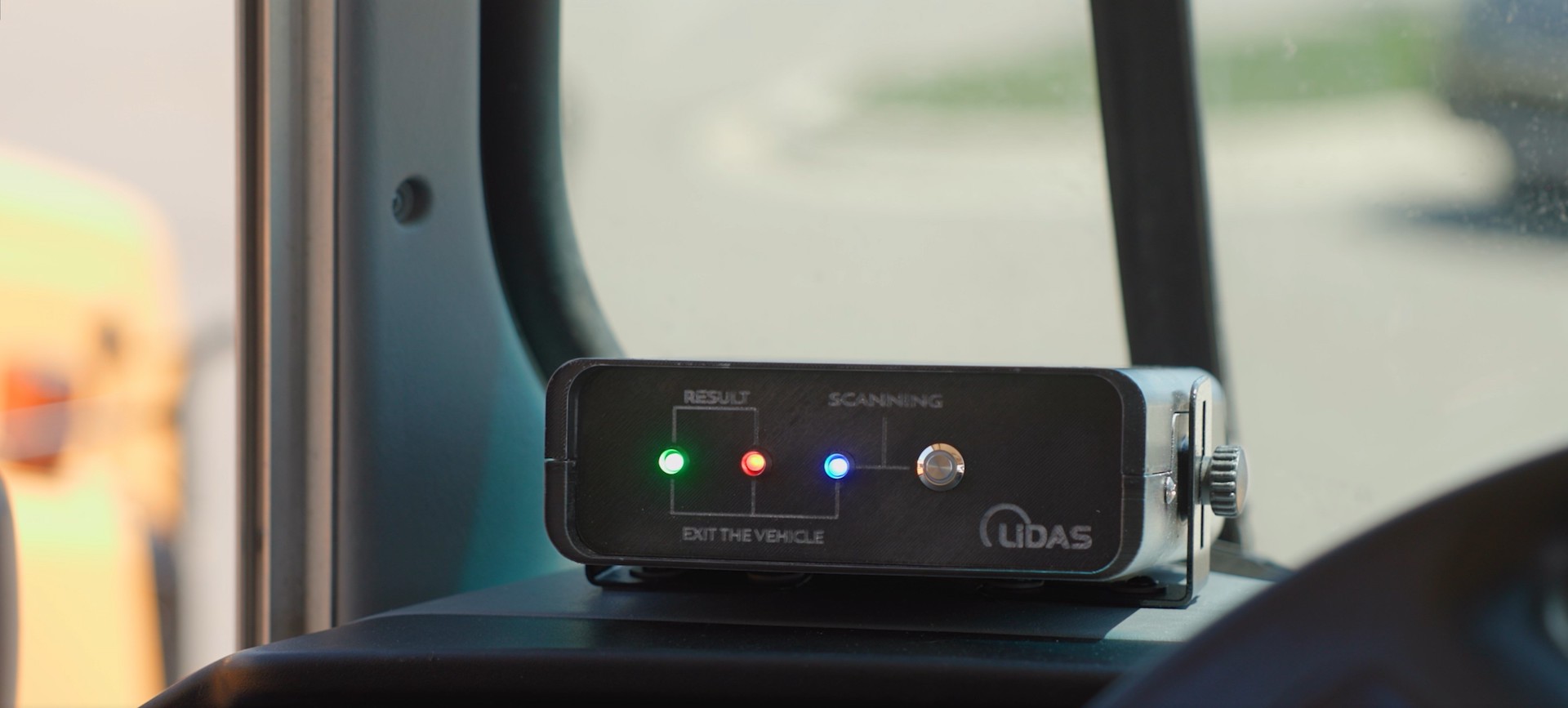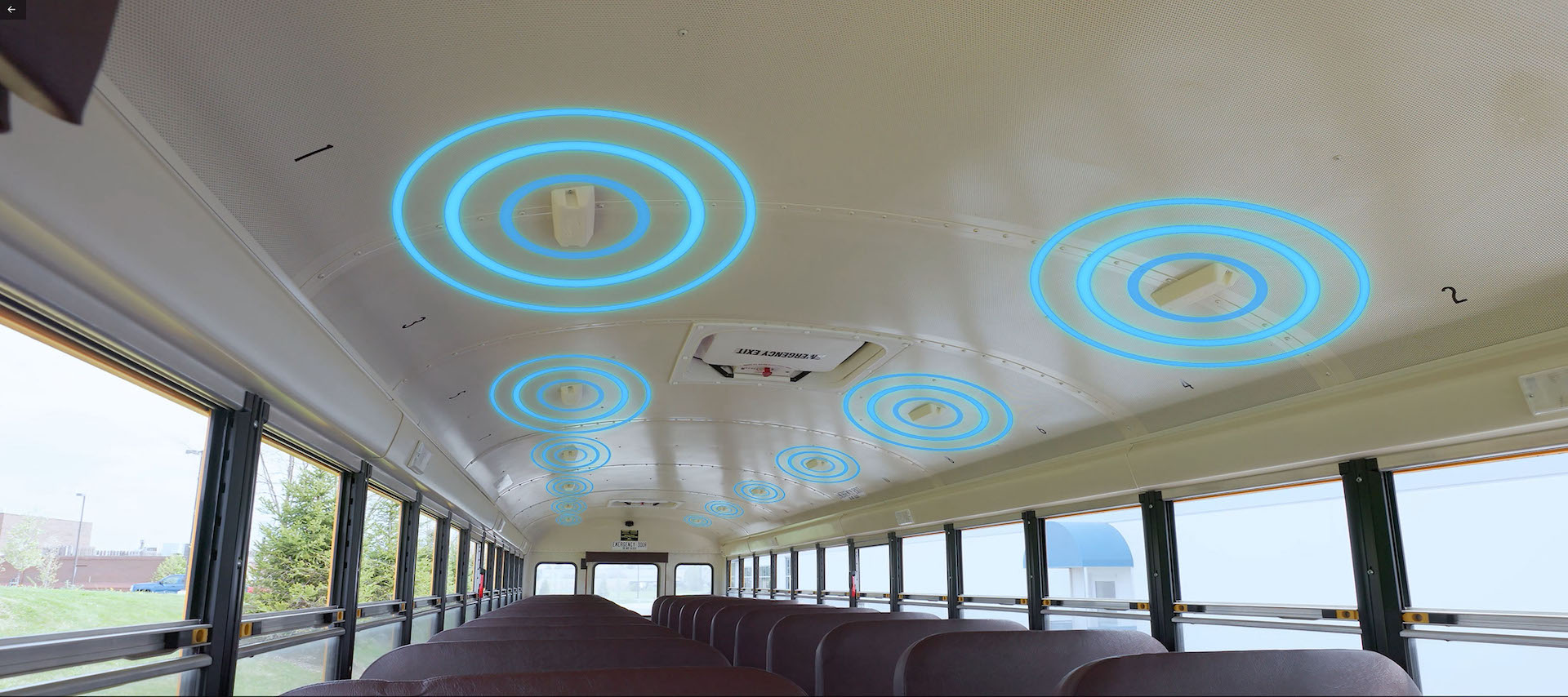 Netradyne (Booth 725)
Category: Safety Technology
Name of Product/Solution: Driver•i
Description: Netradyne's vision-based Driver•i is the most advanced fleet safety camera platform, with Edge Computing to capture and analyze video immediately, creating timely alerts to avoid risky situations. Unlike legacy platforms that use G-force triggers to record video, Driver•i's high-de­finition cameras have advanced AI object detection to "see" the entire drive, identifying stop signs, speed limit signs, pedestrians, and other objects, and alerting on speeding, hard turns, acceleration, and more. Managers receive the complete safety picture via instant alerts, reports, and video-on-demand. Drivers receive recognition for good driving, so they feel appreciated, stay safe, and stay on your team. They also have visibility to their driver score along with clear recommendations for improving safety. Parents can feel confident that they know exactly what took place on their child's ride to school. Options include audio recording and live streaming. Integrates with other camera systems.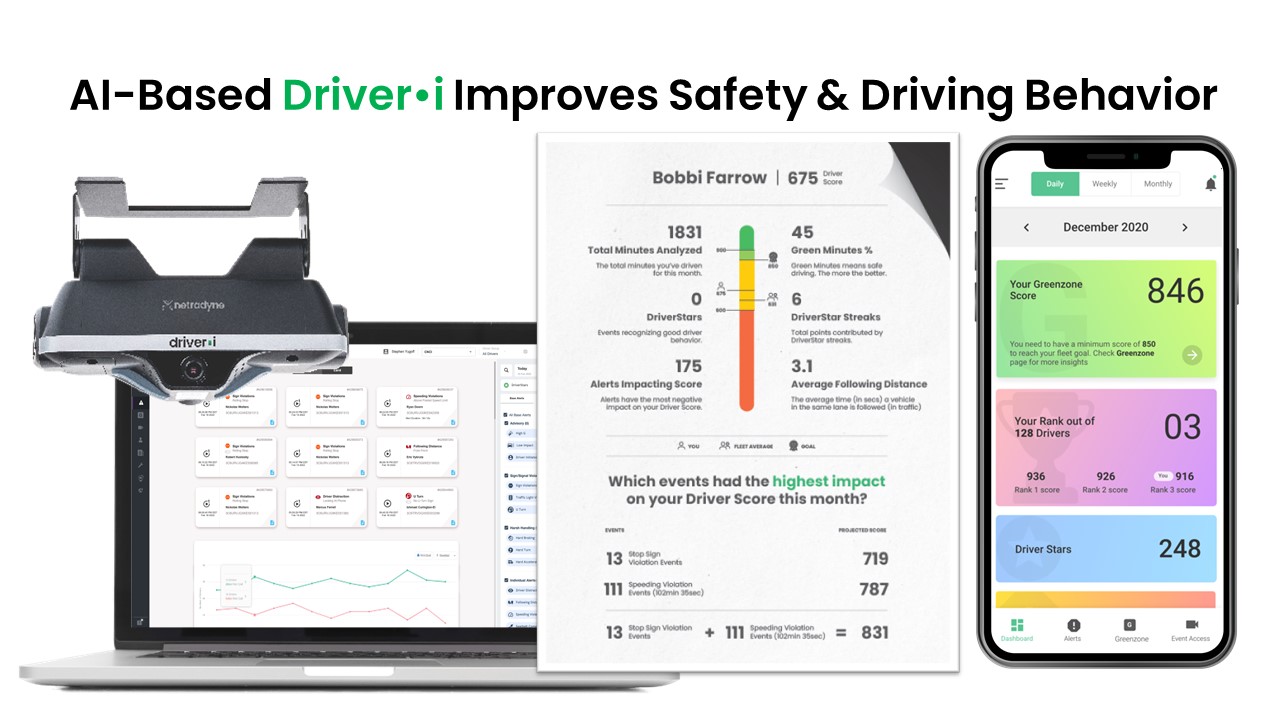 Nuvve Holding Corp. (Booth 721)
Category: Software
Name of Product/Solution: Nuvve Fleetbox App
Description: Nuvve's Fleetbox app gives school transportation directors peace of mind when it comes to managing the charge on their V2G-capable EV bus fleets and electric chargers. With this app, fleet managers can view power consumption and charger status; check vehicle status and filter by site or name of vehicle; analyze site charging status of the entire EV bus fleet; schedule trips for their buses; view energy reports on usage; and charge/discharge energy for buses depending on need. Nuvve Fleetbox is available on both the Apple App Store and Android Play.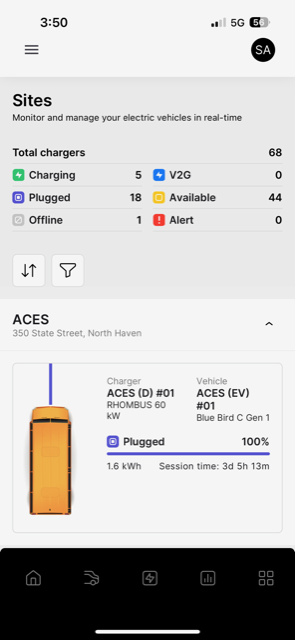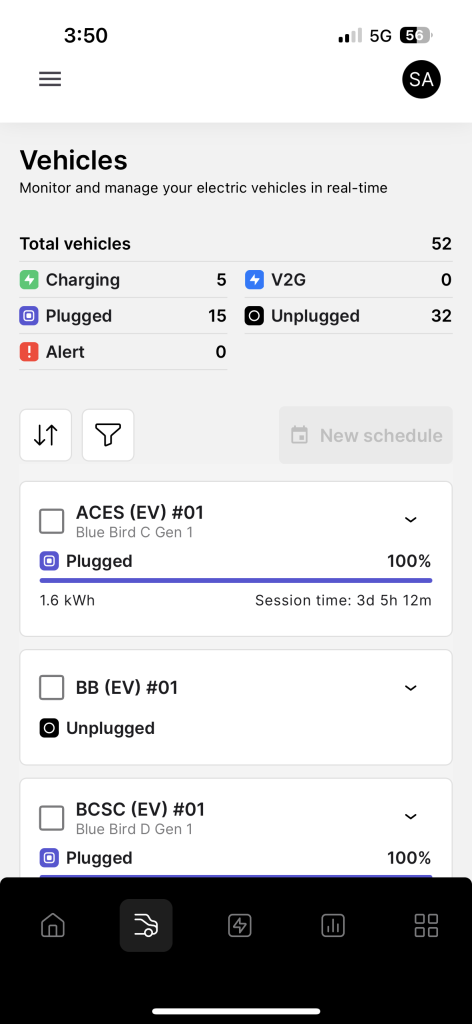 Propane Education & Research Council (Booth 115)
Category: Green Technology
Name of Product/Solution: Off-Grid Propane Fueling/Hybrid EV Charging Station
Description: The greatest challenge to adopting clean alternative energy for student transportation is the infrastructure needed to power clean buses. This system provides propane fueling and DC Level 3 charging from solar, wind and propane power generation, with battery storage for a completely off-grid affordable solution that can be ordered and implemented in weeks instead of months or years.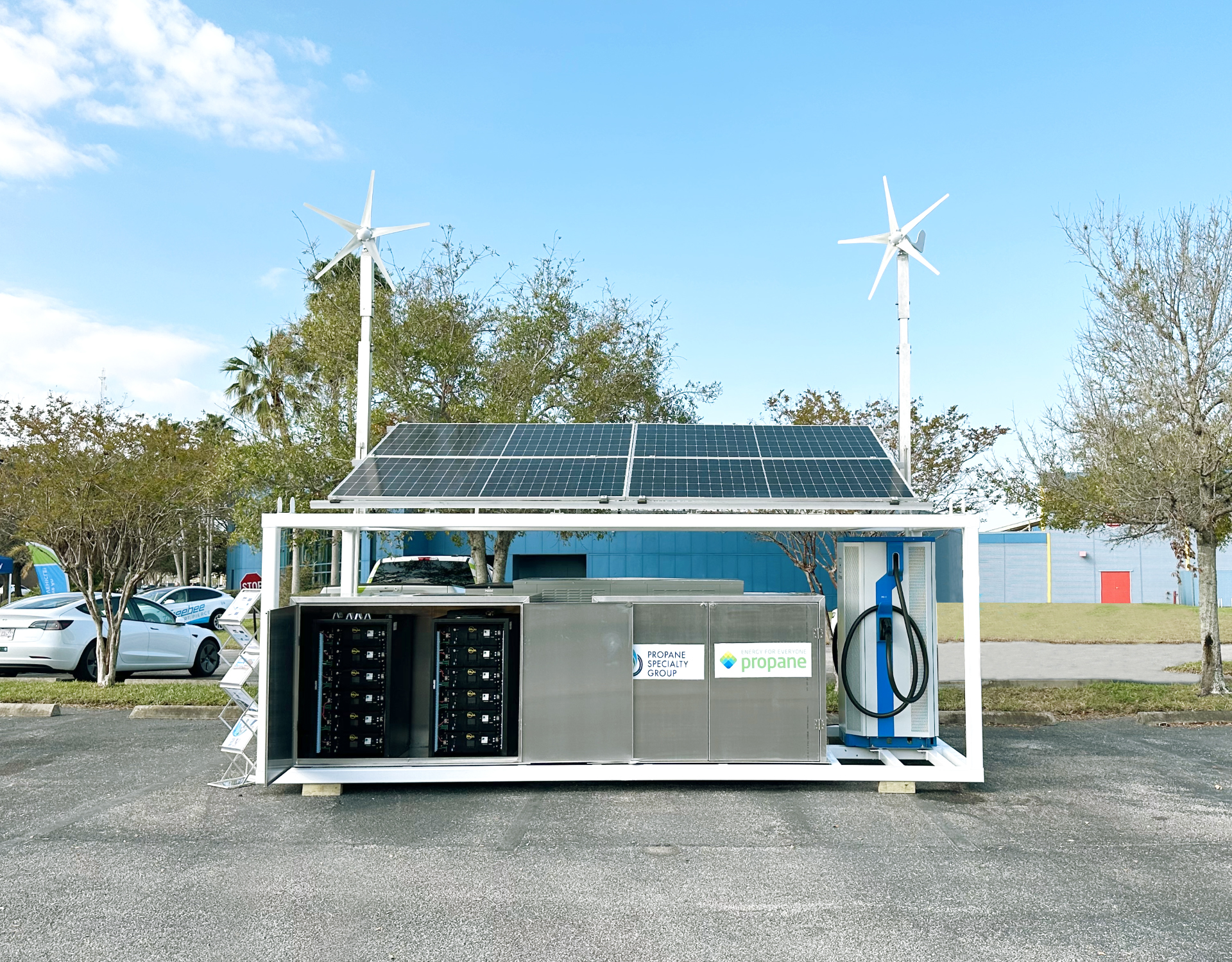 Rosco Vision (Booth 223)
Categories: Software, Safety Technology
Name of Product/Solution: Rosco DCAMS
Description: Rosco's e-mirror, DCAMS (Digital Camera and Monitor System), was engineered to replace rear-vision mirrors on commercial vehicles. The digital cameras and monitors cover views shown in both the flat and convex lenses of rear-vision mirrors. The Rosco DCAMS includes two monitors and two housings for the connected cameras. The two monitors are mounted on each of the A-pillars, providing the driver with enhanced field-of-vision (FOV) and clearer images in all weather conditions. The DCAMS monitors provide superior visibility and brighter images during the day and night and include heated cameras to prevent frost on lenses in cold temperatures. The aerodynamic design of the camera housings offers fuel savings and efficient operations, while the low profile and high mounting location reduces the risk of impacts with objects, thus reducing costs associated with damage.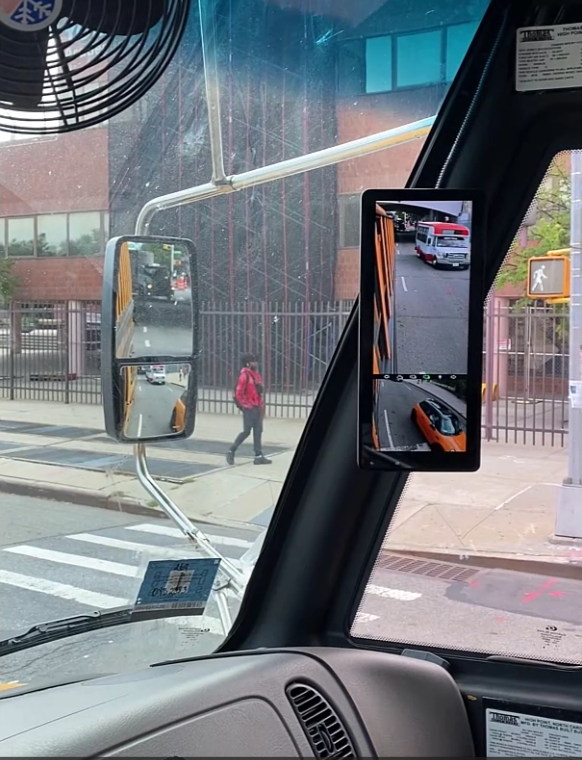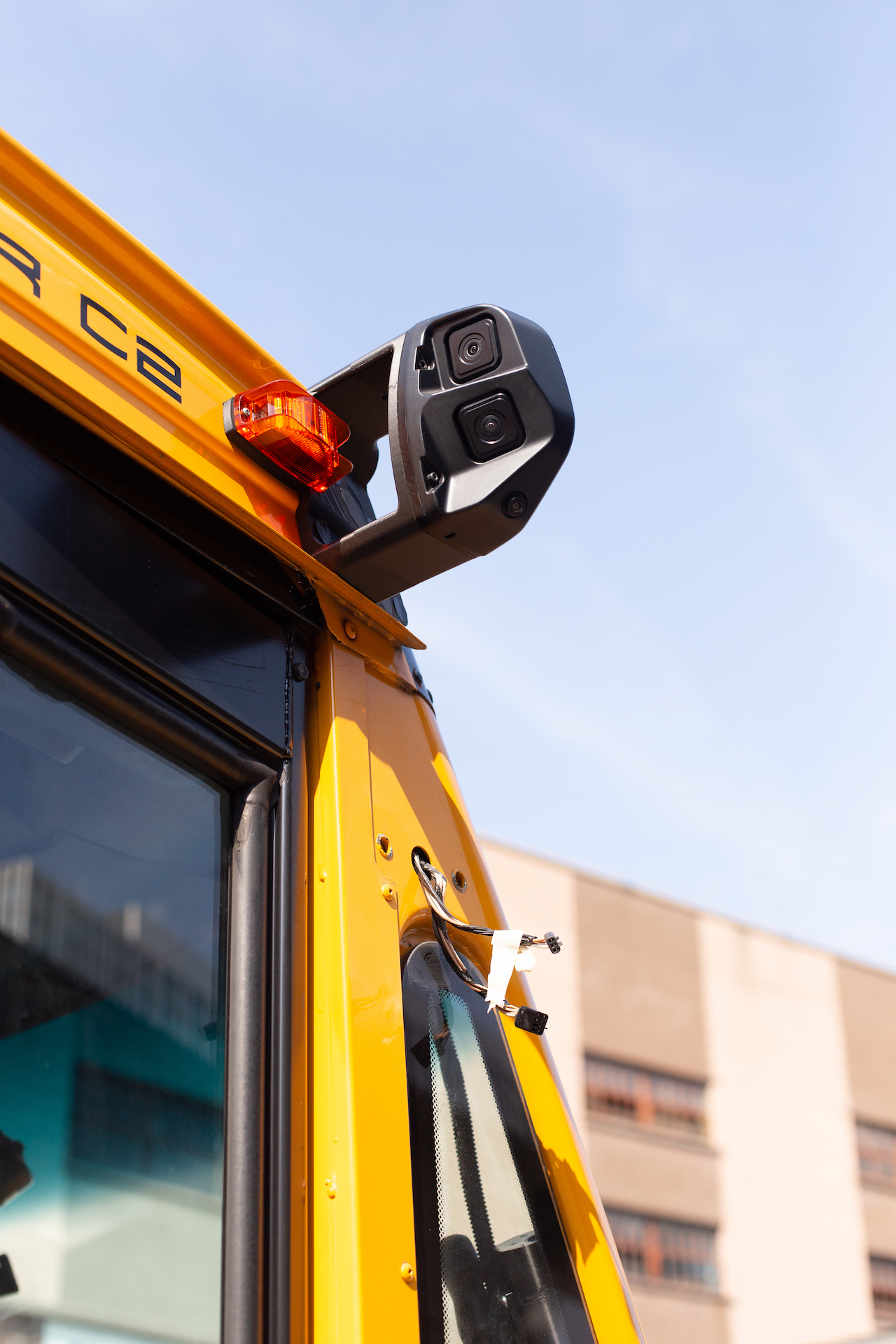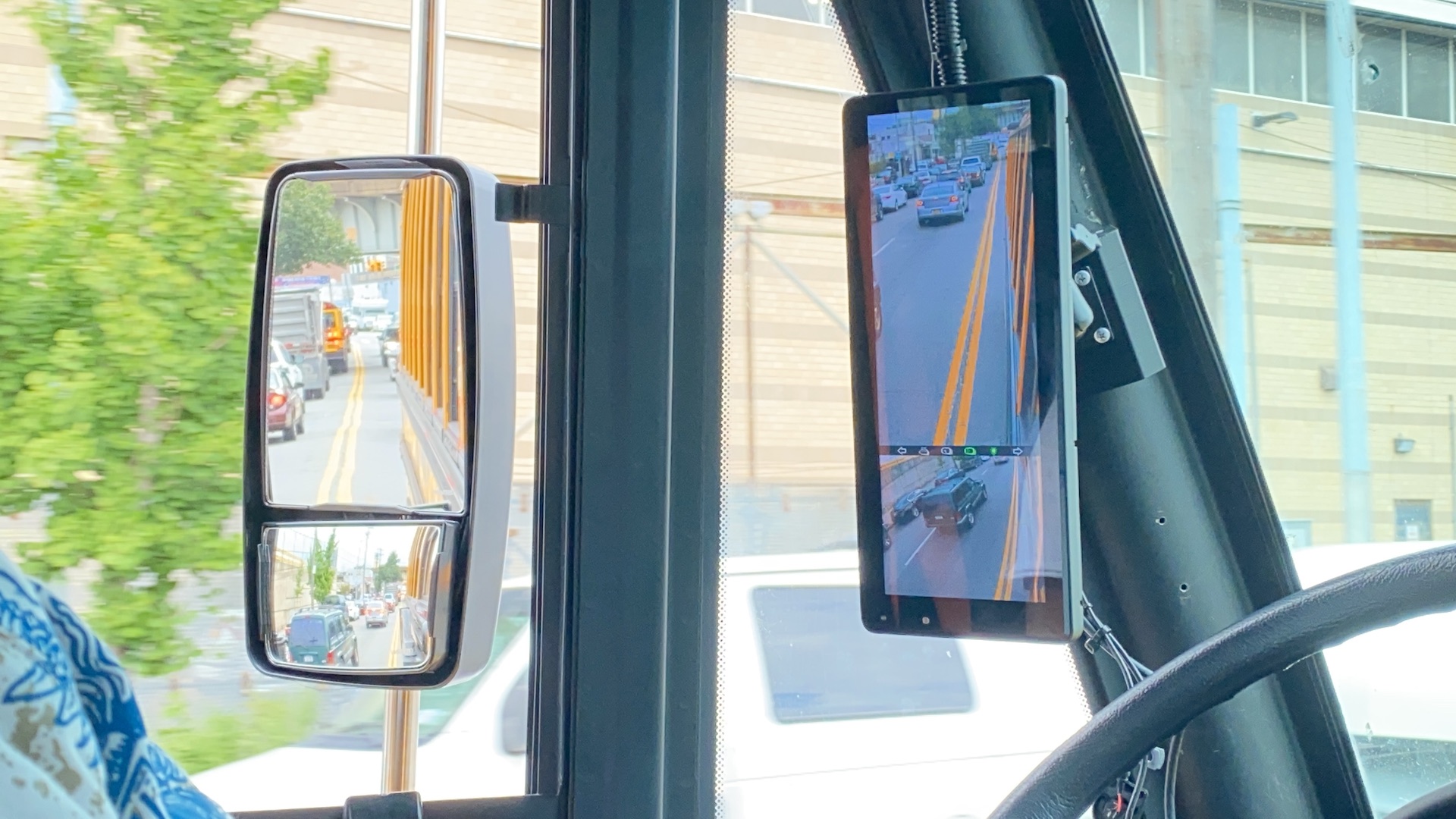 Safe Fleet (Booth 517)
Category: Safety Technology
Name of Product/Solution: Predictive Stop Arm (PSA)
Description: The Predictive Stop Arm uses patented radar and predictive analytics technology to monitor oncoming vehicle traffic and assess danger to students. When the system identifies a likely stop-arm violation, it warns students to "get back" so they keep out of harm's way.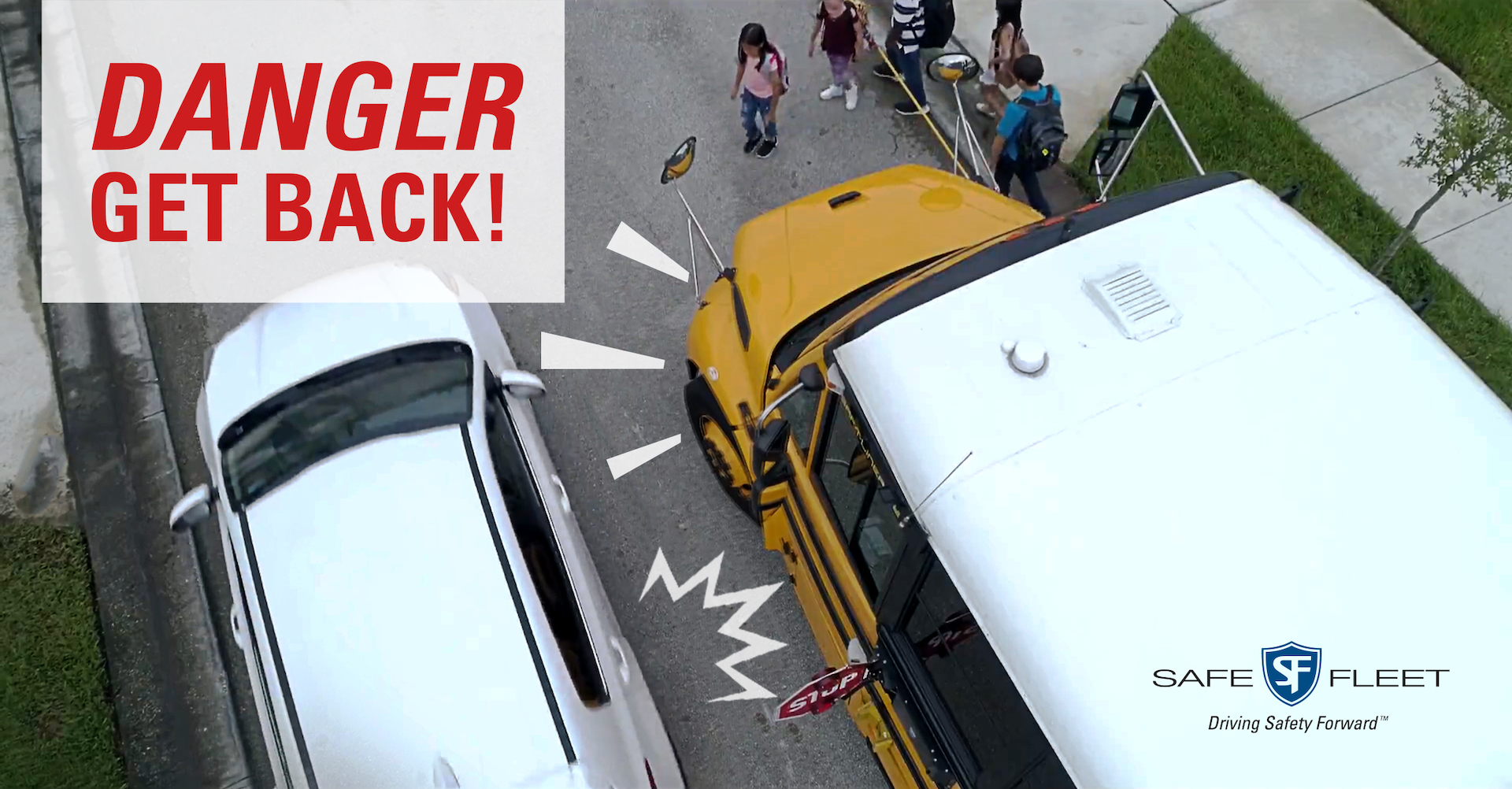 School-Radio (Booth 642)
Category: Hardware
Name of Product/Solution: School-Radio
Description: School-Radio provides affordable, easy-to-use communication and GPS tracking solutions for schools. Our portable radios, mobile radios, dispatch console, and GPS tracking software help keep students safe and improve school operations. With School-Radio, administrators can communicate with staff and students quickly and easily, no matter where they are. Our dispatch console and GPS tracking software give schools real-time location information for staff, buses, and other vehicles.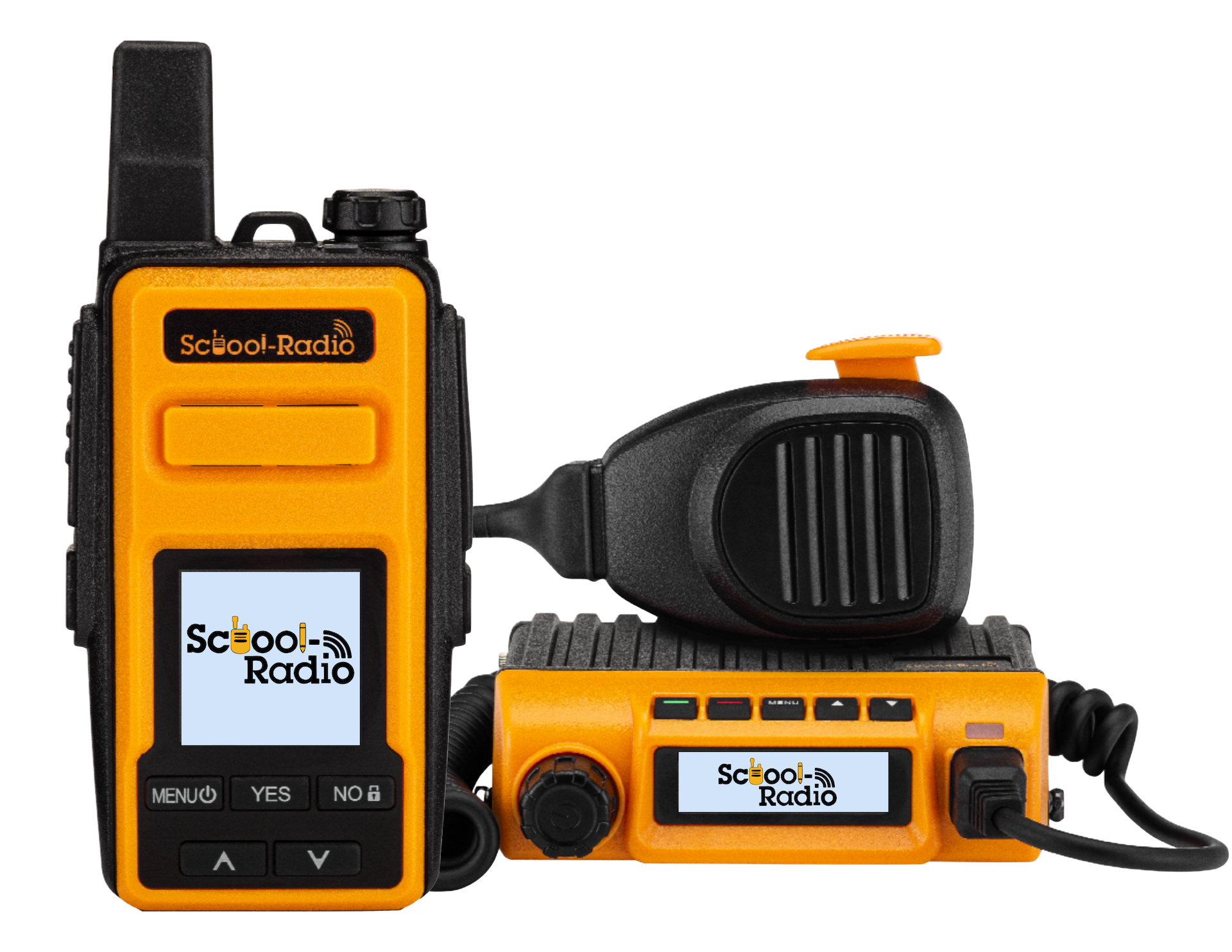 Trans/Air
Category: Safety Technology
Name & Description of Product/Solution: Not provided
Transfinder (Booth 207)
Category: Software
Name of Product/Solution: Routefinder PLUS
Description: Routefinder PLUS is a fully customizable user experience ready for your organization. Build and manage your school's data about students, as well as stops, routes, field trips, drivers and vehicles all in one place. The Routefinder PLUS platform upon which Transfinder's suite of solutions is built, offers unlimited user-defined fields, customized views, safe route creation and automatic stop assignments, and a custom report writer to let you access the information you need. In Routefinder PLUS, you can have your district policies baked into your routing system so your routes comply with rules and regulations your district has set, such as preventing students from crossing the street to and from their bus stops. Woven into PLUS is Transfinder's proprietary Artificial Intelligence Optimization technology, capturing your staff's institutional knowledge and "learning" with each stop and route created. PLUS also includes Formfinder, for the easy creation of any type of form with the flexibility to be used in a myriad of ways, such as handling payroll, surveying your community or capturing student management issues. Finally, PLUS includes Chatfinder for interaction with team members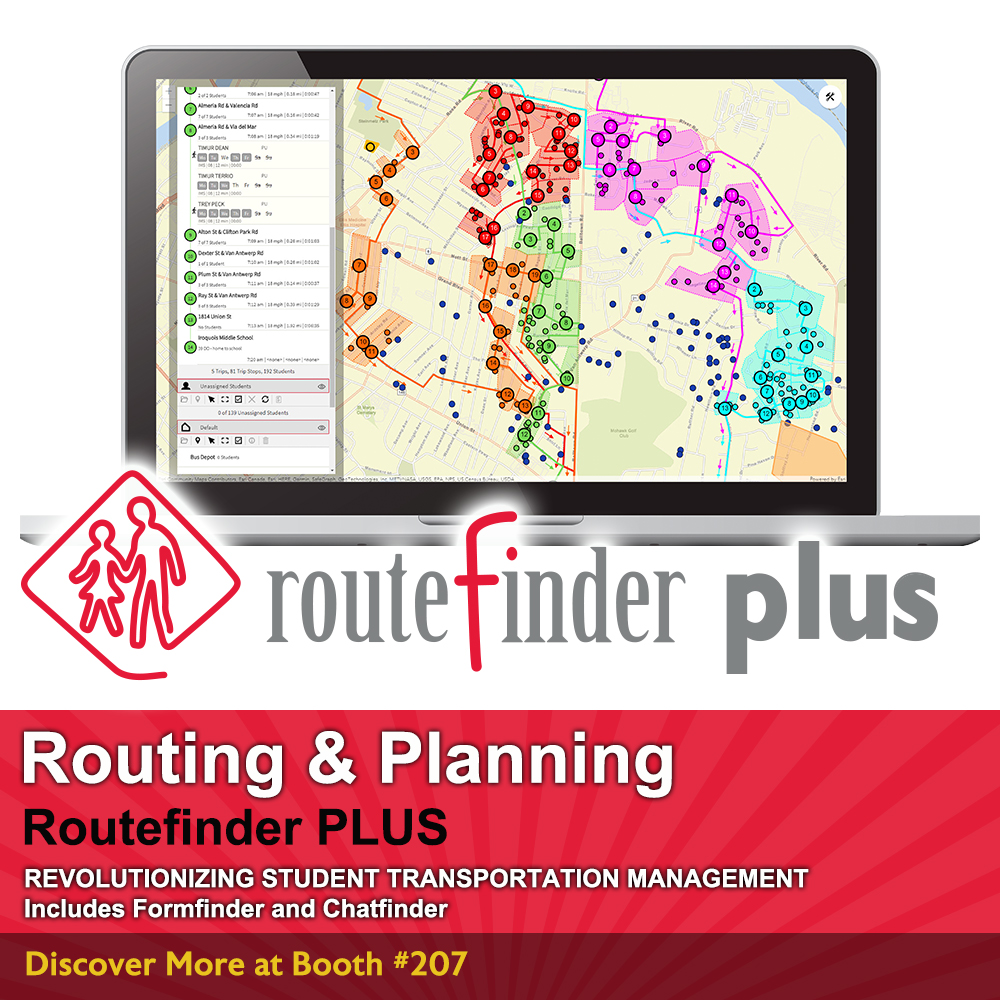 Categories: Hardware
Name of Product/Solution: Transfinder Telematics Tablet and Hardware
Description: Transfinder offers a fully integrated solution the software to manage transportation operations district-wide and the hardware necessary for drivers using the Wayfinder driver app to manage form submissions, vehicle substitutions, route navigation, and tracking student ridership. The latest Samsung Tab Active tablets are rugged and purpose-built for the tough conditions drivers see on the road daily. IP68 rating means they can handle wind, dust, liquid and drops as well as extreme temperatures and pressure changes. The ruggedized RAM mounts provide power and connectivity to accessories like the RFID card reader as well as to provide a complete integrated solution. Tablets can be easily removed from the mount when needed for tasks like completing inspection reports. From the tablet, drivers log in using secure credentials. Drivers can navigate trips and track attendance in the Wayfinder app. Drivers will also be able to submit form information that will all be tied to the routing platform in real time. RFID Reader Transfinder hardware provides users with the ability to capture accurate ridership tracking. With RFID cards students can pass in front of the Transfinder RFID card reader as they enter and exit the bus. RFID cards require no physical contact between the card and reader, they scan faster than an optical (barcode) scanner, so they do not slow boarding times, and they do not wear out like credit-card magstripe cards and readers. Each RFID card carries no personal student information, only a unique RFID number, so a lost card does not compromise the student's identity. As students board the vehicle, a student manifest (with photos) can be displayed on the driver's tablet using the Wayfinder app from Transfinder. This is integrated into the Routefinder PLUS software to allow the driver to confirm students are boarding and exiting the bus at the correct locations. Transfinder's dedicated card reader works with Transfinder student cards or with cards already in use at the district with support for RFID frequencies of 125 kHz and 13.56 MHz. This fast and reliable solution makes student transportation safer and more efficient.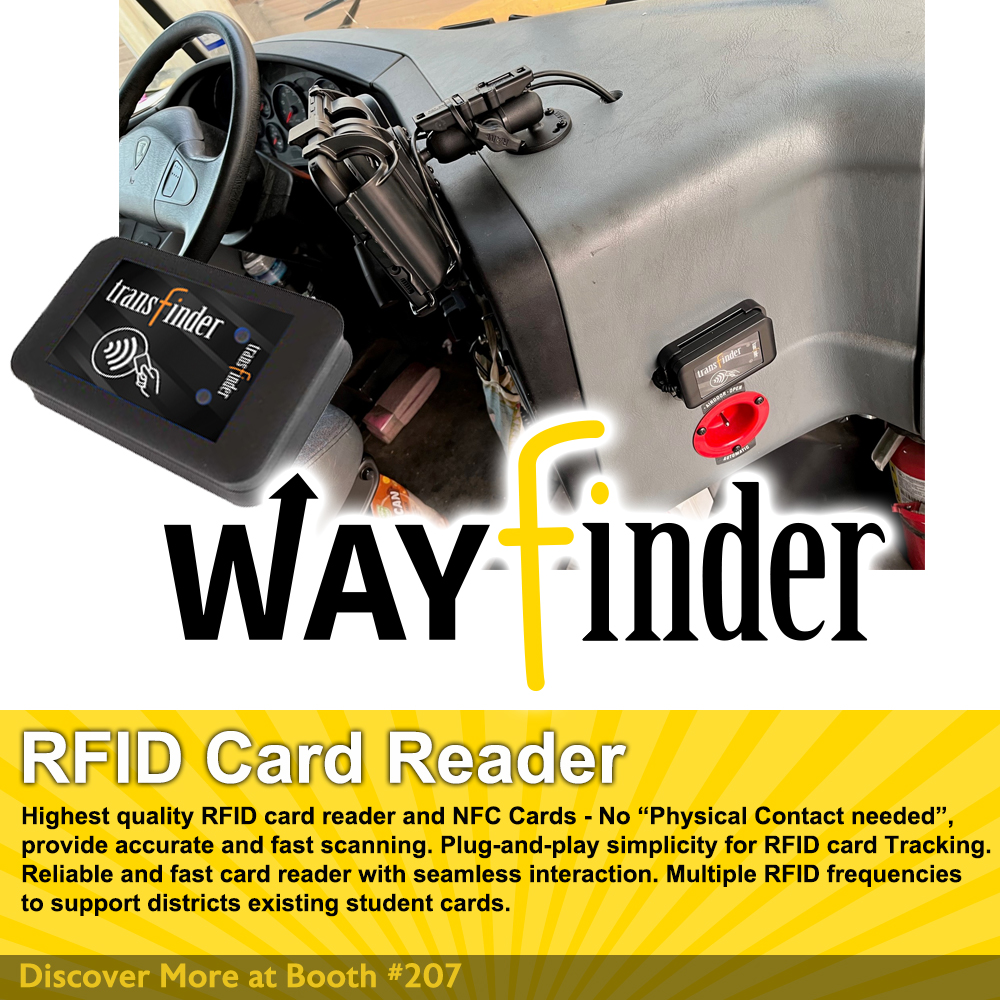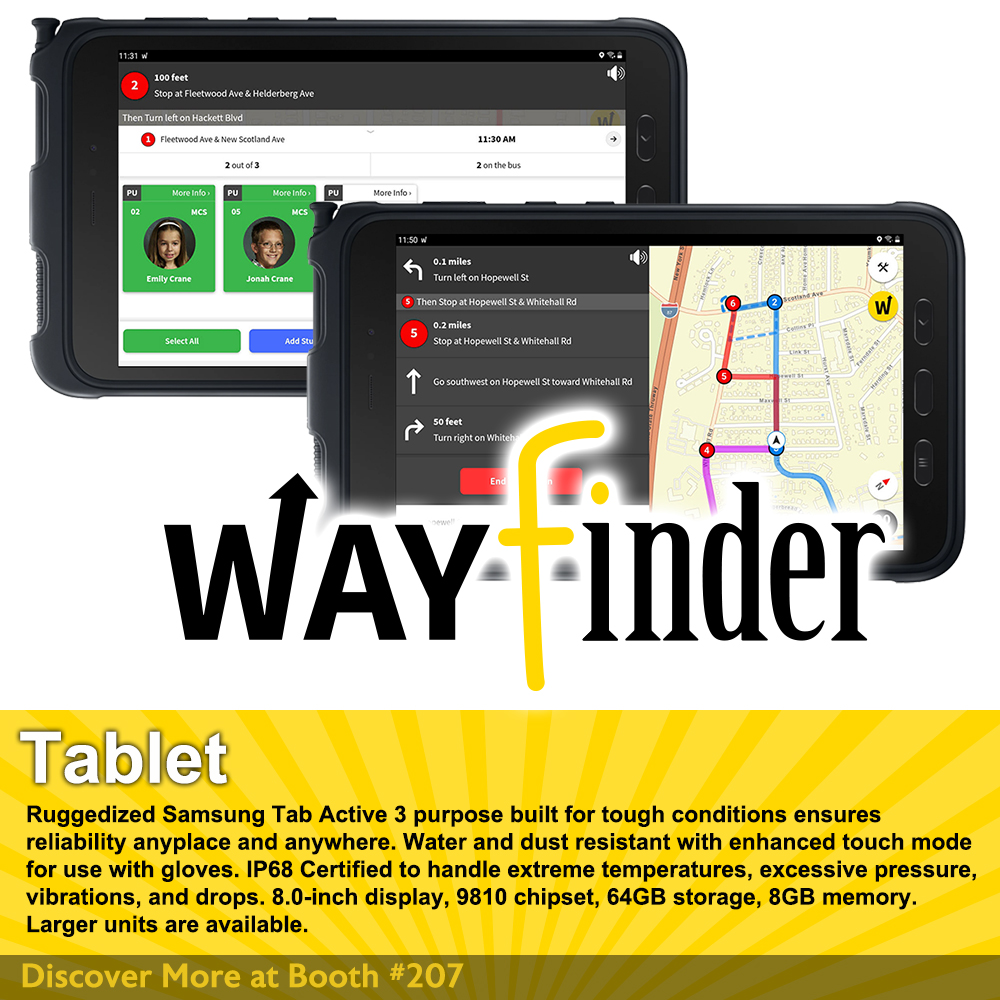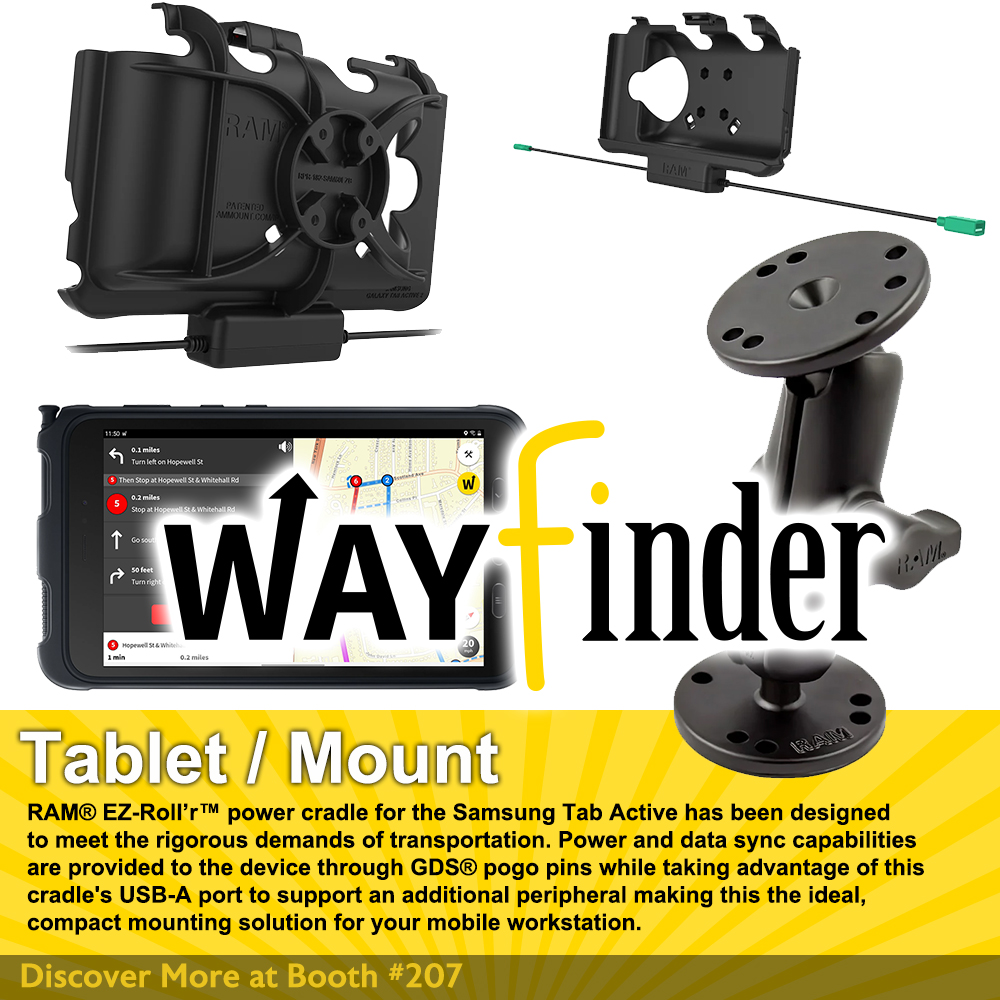 Via
Category: Software
Name & Description of Product/Solution: Not provided
Webasto Thermo & Comfort, N.A. (Booth 118)
Category: Green Technology
Name of Product/Solution: HVH 100
Description: In 2021-2022, Webasto introduced a highly efficient (greater than 95 percent) High Voltage Heating System (Zero Emissions) to the school transportation industry. This heater is capable of outputting 10kW (greater than the current Scholastic Pro 90 diesel fuel-fired heater) of heat while operating between 450V and 870V. This heat can be utilized for multiple purposes, including driver/student comfort & windshield defrost/defog.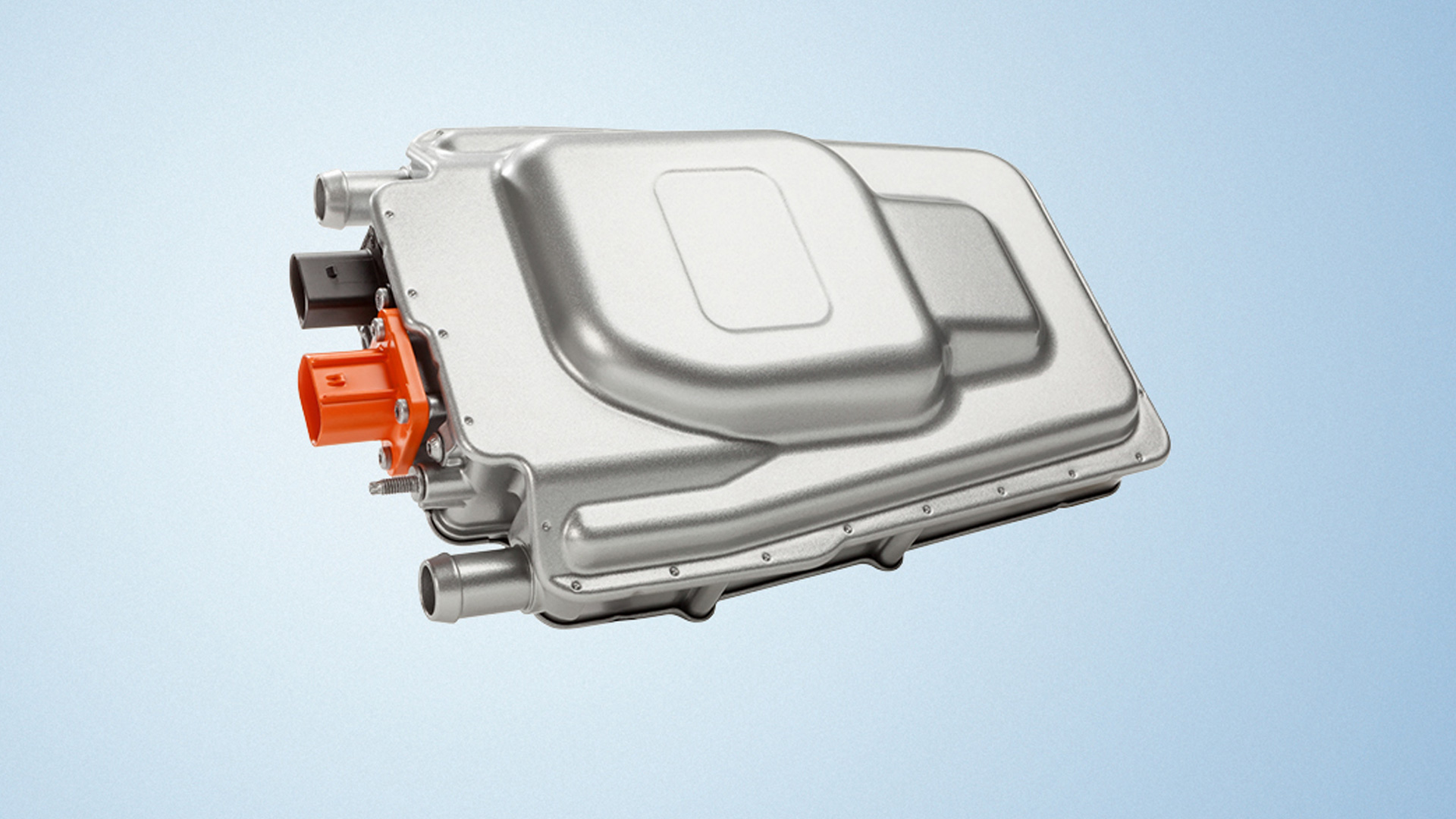 Zonar (Booth 311)
Category: Software
Name of Product/Solution: Zonar OnRoute
Description: OnRoute is a precision, turn-by-turn navigation solution. Every driver—new, substitute and temporary—can run their route with greater reliability and student rider safety. Drivers record their routes as they go with our in-cab app. Dispatch creates new routes or edits, reviews and approves recorded routes. Drivers receive visual and/or audible turn-by-turn directions, based on approved routes. For optimal accuracy, recorded route information is based on data pulled from the vehicle's Zonar GPS unit—making the solution routing provider agnostic.
Category: Safety Technology
Name of Product/Solution: Zonar Inspection Builder
Description: Tailor each inspection to fit like a glove. Standardize and verify every inspection, for every asset. No detail should be left behind when everyone's on the same page. EVIR Mobile comes with configurations for conducting standard, compliant pre- and post-trip inspections on popular fleet vehicle types. However, fleets vary. And flexibility is essential. If your fleet needs different configurations, build and customize your own using Inspection Builder, a feature within EVIR Mobile. Modify tag placements and zone numbers for each inspection type. Edit, move, remove or rename inspection zones and their components. Create additional inspection types outside of pre- and post-trip inspections. Create the inspection types you need, as detailed as you need. Name the inspection and provide a short description for operators. Display the fields they need to complete, such as odometer, route number, shipping doc and so on. Determine if any asset or zone tags need to be scanned. Display dropdowns for defect components or route types. Also incorporate timecards for payroll, fuel level and receipts, and sanitization requirements. Plus, do a standalone deep dive on specific components such as tires and brakes.