Heading into the nonofficial start of summer, New York school bus contractor Quality Bus is currently hiring drivers for next school year after being acquired by National Express, Llc. last month.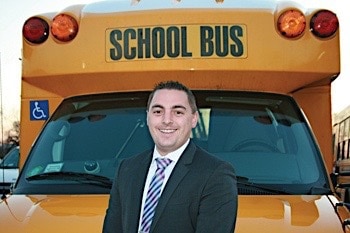 Michael Martucci and staff remain on at Quality Bus to oversee day-to-day operations.National Express confirmed that former Quality Bus owner Michael Martucci, who is also the immediate past-president of the New York School Bus Contractors Association, and the rest of his staff, are also remaining with the company.
Per National Express standard operating procedures for subsidiaries, a company spokeswoman also confirmed that "Quality Bus" will continue to adorn the sides of school buses that transport more than 6,750 student riders each day from home to school and back.
Quality Bus is headquartered in Sparrowbush, New York, with additional bus terminals located in Goshen, Marlboro and Chester. The contractor serves Port Jervis City School District, Marlboro School District and Chester School District, as well as special education transportation throughout the Hudson Valley Region of N.Y.
"We are pleased to add Quality Bus Service to our team," Gary Waits, CEO of National Express Student Transportation, said when the acquisition was announced on April 23. "Our focus on safety and service is aligned with Quality's outstanding reputation, making this an ideal acquisition to expand our operations in the state of New York."
The NELLC spokeswoman told School Transportation News that Quality Bus also transports about 8,200 riders a day as part of a shuttle service for a junior college program. Also included are career and technical students for work mid-day from 13 school districts as part of a cooperative transportation contract.