The California Association of School Transportation Officials (CASTO) announced that long-time industry leader Al Sauvadon died Friday. He was 85.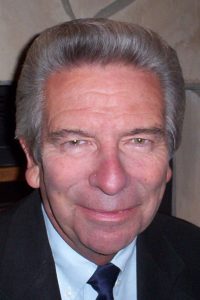 CASTO called Sauvadon "an integral part of the California school bus industry" on Monday in a statement posted on its website and emailed to members and associates. He was a three-time CASTO president in the 1980s and joined school bus contractor Student Transportation of America following his retirement from Lucia Mar School District on the central coast of California, where he was the director of operations and transportation for 31 years.
He received the CASTO Life Member Award in 1991 and last attended the association's annual state conference in February of last year. He remained employed by STA and served as public relations administrator until his death.
Originally a French citizen, he came to the U.S. in the 1950s. As a young boy, he initially struggled to learn English. But Sauvadon went on to serve in the U.S. military and later graduated from the California Bus Driver Instructor Program when it was only in its second year of existence, according to CASTO.
He eventually became a frequent speaker at STN EXPO Reno, dating back to the event origins in the early 1990s and continuing through the mid-aughts. He keynoted the 2001 EXPO with the topic, "Be the Best." Sauvadon was widely considered to be an expert on customer service, school bus driver hiring and retention, public relations, union negotiations, and worker's comp liability.
Sauvadon's voice was also well-known as the emcee of California's annual bus safety roadeo and also keynoted many CASTO chapter workshops.
He is survived by wife Paula, son Gary, daughters Terri, Michelle, and Anna Borges, the supervisor of the Office of School Transportation at the California Department of Education, four grandchildren, and four great-grandchildren. He will be buried with full military honors at the Dixon U.S. National Cemetery in Northern California.
---
Related: Tipping a Glass of Some Cool LeMon Aid
Related: Student Transportation Well-Represented on California Classified School Employees of Year List
Related: School Bus Drivers Honored by California Highway Patrol