Editor's Note: This profile is part of an ongoing series on women who have made an impact in the school transportation industry.
Carol Dietrich, director of corporate training and technical publications for Blue Bird Corp., has a special family legacy at the school bus manufacturing company.
In the 1930s, her grandfather was a farmer in North Alabama, where he owned and operated a Blue Bird school bus. Her grandmother was a teacher, and her grandfather would drive all of the kids and grandmother to school every morning. Dietrich said that at this time, the bus manufacturer company was only 10 years old.
"I grew up hearing this story, it was legendary to us," Dietrich said. "Having this legacy makes it a real honor to be part of Blue Bird, a company whose sole existence is building school buses and that's all."
Prior to her career at Blue Bird, Dietrich worked as the president of Training Systems International for 25 years, a consulting firm that focuses on organizational and leadership development training. She has worked in various global industries, including BP Exploration in Alaska, and AGCO, a manufacturer and distributor of agricultural solutions.
Dietrich also co-authored two books with her father, Martin Broadwell, on leadership and training, "101 Ways to Supervise Like a Human Being," and "The New Supervisor: How to Thrive in your First Year as a Manager."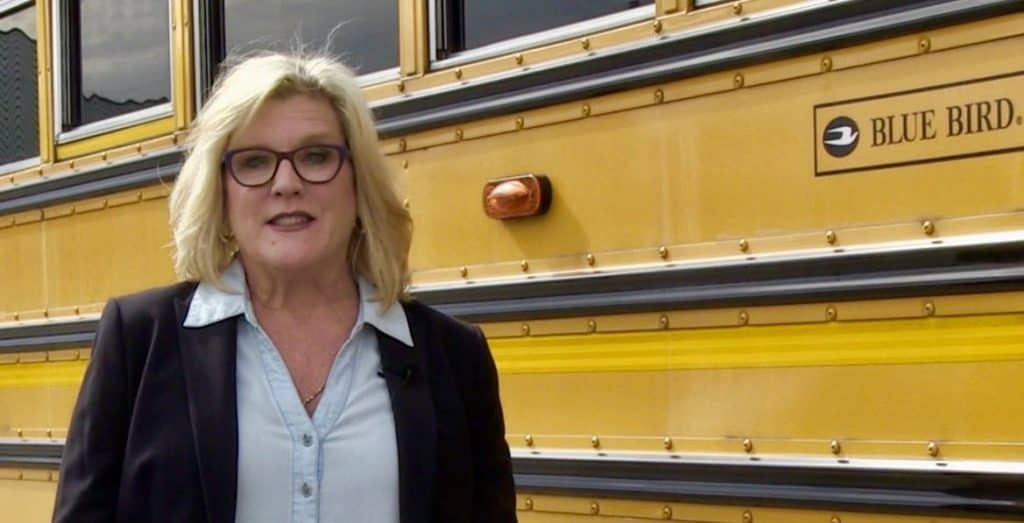 Dietrich started working at Blue Bird in 2016, originally as a sales certification development consultant. From there, she became the director of technical training and communications. She transitioned to her current position about a year ago.
She oversees the teams that are responsible for all technical publications: Driver handbooks, service manuals and the parts catalog. She also supervises the teams that develop and deliver training and certification programs for production job skills, customer products and sales, leadership development and technical expertise.
Last year, the company launched the Blue Bird Academy as a way to promote a dedication to customer and employee learning. Dietrich added that this is one of her greatest accomplishments while working in this industry, because it helps focus on making employees and customers better at what they do.
"When I came to Blue Bird, we didn't really have a training group, per se," Dietrich recalled. "Now, we have a team of instructional designers, technical and sales trainers, and a great team at the factory [that is] dedicated to job skills and leadership training for our employees."
Dietrich elaborated that every member of the team she has had the privilege to work with makes her a better person via their dedication to the company's core values. "They are helping to establish a legacy at Blue Bird," she said.
Dietrich is also responsible for both the internal and external training provided at Blue Bird, noting that she loves being close to the production side and working closely with the individuals who build the school buses.
"We are in the process of rolling out a job skills certification program for all the line employees," Dietrich said. "The internal team has worked tirelessly to put this together and it will change the way we build buses at Blue Bird."
Dietrich said she continues to be amazed at how complicated it is to build a school bus, citing the federal and state regulations, as well as the customer specifications that each of the 12,000 large school buses made annually must meet.
"That's pretty awesome," Dietrich said. "It takes the true dedication of each employee in building a quality bus to transport our most prized possessions safely to-and-from school each day. While that wouldn't be surprising, it really knocked my socks off how much we all truly care about each bus we build."
As Dietrich progresses through her career, she said she hopes to see more women step into roles at all levels of the organization. As a female in a mostly male-dominated industry, she said it's hard to be taken seriously sometimes. Dietrich has often had to work harder to prove herself to those around her.
Dietrich said that even with all of the experience she has, she often finds herself speaking louder in order to get her ideas heard. She urges other women to keep their work ethic intact and to maintain themselves. Eventually, people will listen to what they have to say, she advised.
Dietrich wants to see more women in leadership roles within the industry and sees that Blue Bird is taking steps to recognize women of talent.
"At Blue Bird, we are exploring and putting initiatives in place to recognize the talent we have already, [plus] recruit more talented women and provide opportunities for those [who are] exploring the idea of working in the manufacturing industry," Dietrich said. "We have a way to go, but I believe we are at least realizing there is a need to change and that is the first step. I am fortunate to have some pretty amazing women on my teams."
Dietrich advises hiring managers to take a chance, as they are just as capable and talented as men to lead teams and organizations.
"Hire for potential and fit, train for skills, without considering gender," Dietrich said.
Another challenge Dietrich faced was balancing work and family life. As a mother of three, her children are now all in college, and she hopes she led them by example. Her family is very supportive of her work. Dietrich hopes her daughter and two sons will have a greater appreciation for family collaboration since she was fortunate to have with her own parents.
Going forward, Dietrich said she hopes "to continue to grow the Blue Bird Academy to be a world-class model of education and training in the transportation industry."
She also looks to expand its reach to more people, to take advantage of the leadership training, job certifications and technician certification programs at Blue Bird that are going to be available in the fall. These programs are open to anyone who has the desire to learn to work on Blue Bird school buses.
"Having worked in agriculture and now the school bus industry, it is very special to be a part of industries that build products to serve. That just adds to the dedication I feel for what I do. No doubt, grandaddy would be proud," Dietrich said.