A New Jersey school district transportation leader took advantage of Love the Bus month to show her appreciation to her newly inherited staff.
Marissa Plancher, the transportation coordinator at Metuchen School District in New Jersey, located about 10 miles west of New York's Staten Island, said she was unaware of the celebrations that take place industrywide each February to recognize school bus drivers and the benefits of school buses. That is until she received a recent edition of School Transportation News eNews and read an article about Orange County Public Schools in Florida kicking off this year's celebrations.
So, she decided to sweeten her staff meeting on Feb. 10 with sugar cookies in the shape of school buses and document the festivities.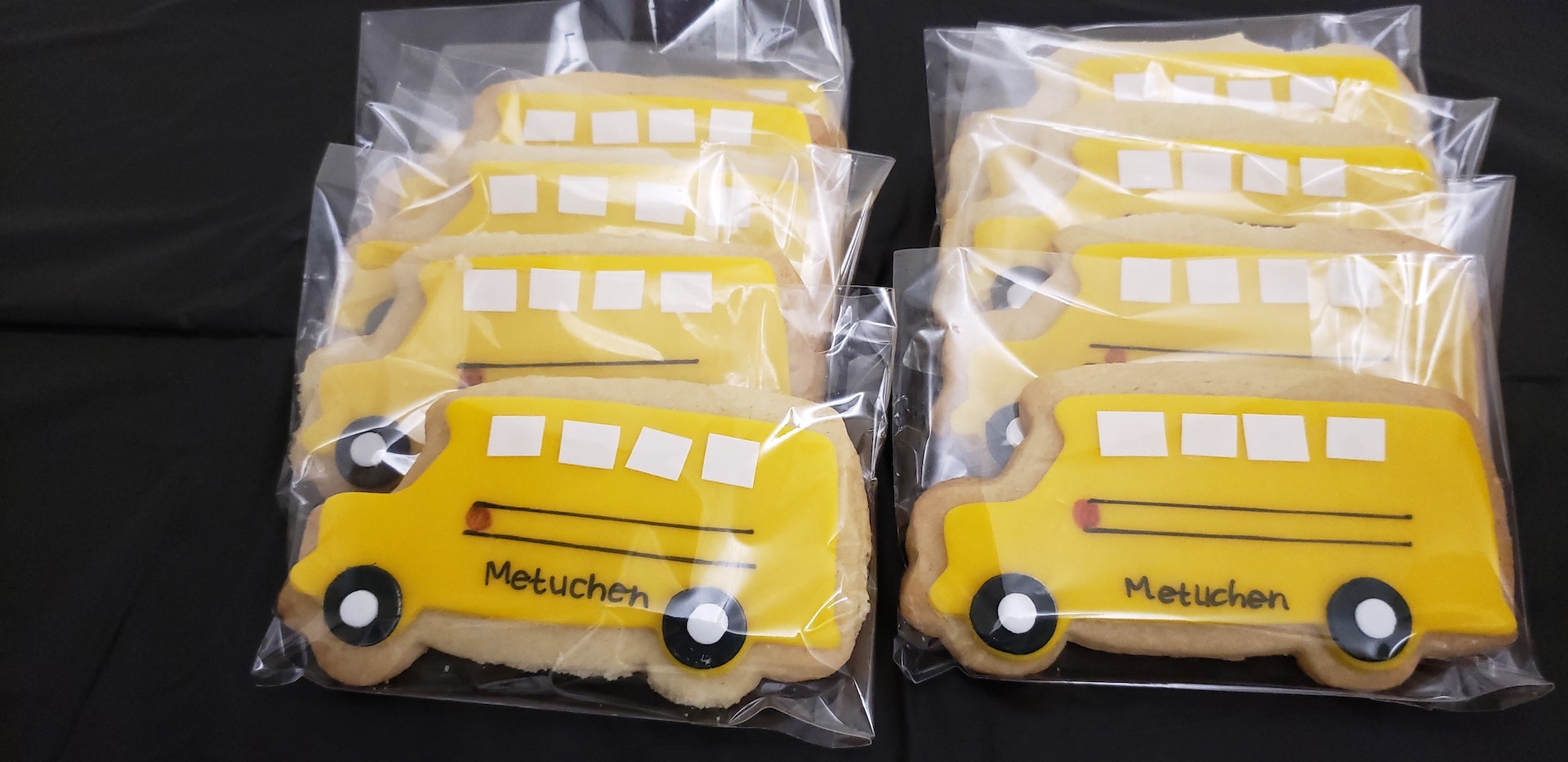 Plancher started at Metuchen School District on Jan. 26, and she admitted it wasn't easy joining the transportation department at the middle of the school year. Prior to Metuchen, she worked as a classroom aide at nearby South Plainfield School District.
At South Plainfield, she also assisted the transportation office by coordinating travel programs in the summer and managing those trip logisitics. But, she said that Metuchen marks her first experience running an entire district transportation operation.
Plancher said she originally planned to only serve breakfast at the staff meeting. Once she heard about Love the Bus month, she contacted a local bakery to about providing school bus cookies.
After breakfast, she presented a cookie to each of her seven drivers, two of which are substitutes, and the three bus aides that work on special needs routes. She also handed out yellow balloons to represent the happiness students bring to each employee, she added.
"[The staff] have made my transition in the past few weeks so much smoother," Plancher explained. "I am so grateful for my new team."
She also redecorated the transportation office to make it a more welcoming environment, Plancher said. And she enlarged a staff photo she sent to STN (below) and hung it in the middle of the office bulletin board for the staff to see.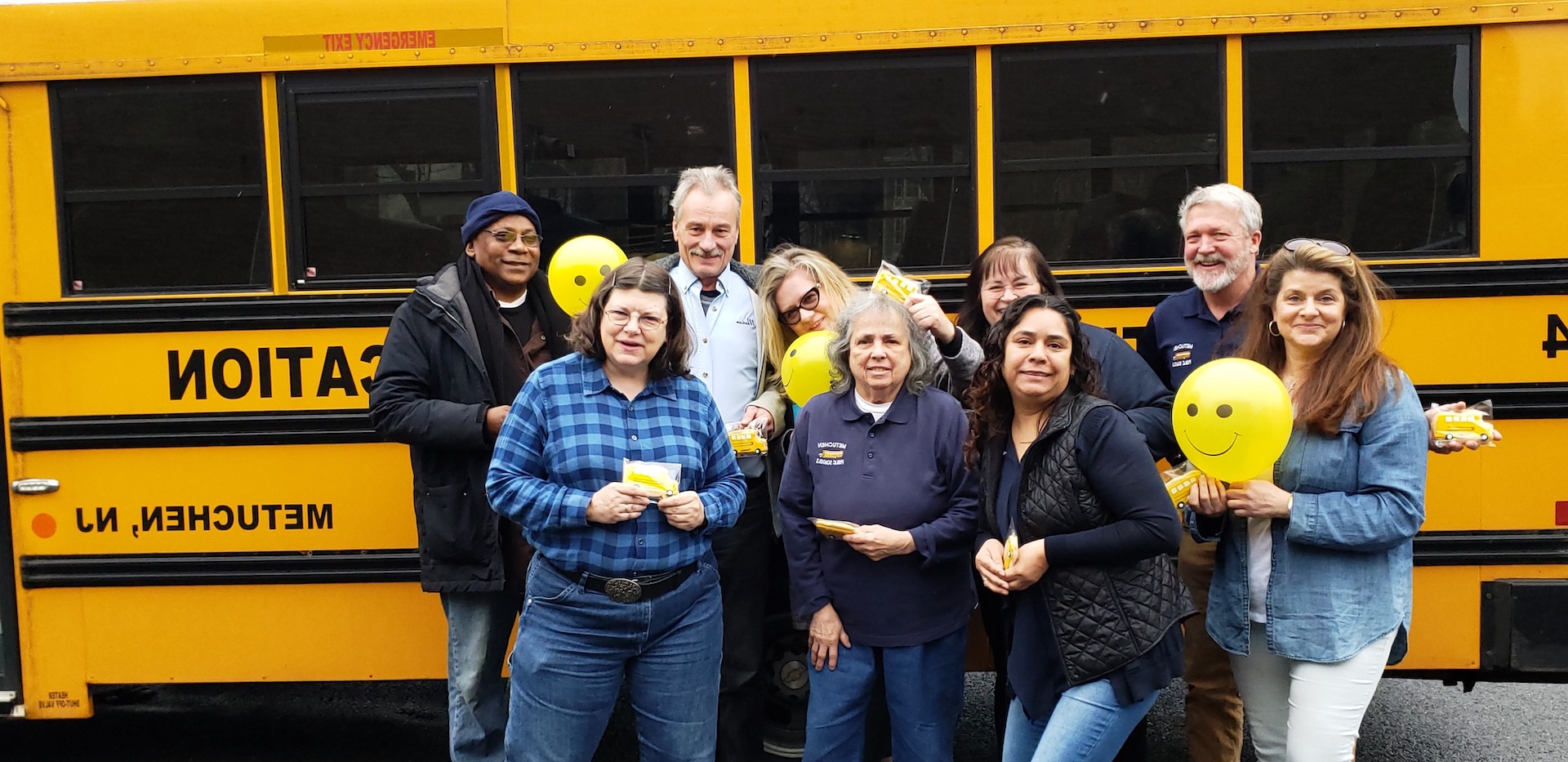 ASBC Says to Get Social
Love the Bus is a month-long celebration that highlights the importance of school bus drivers and the impact the yellow school bus has on student safety. Organized by the American School Bus Council (ASBC), the month raises awareness and appreciation for the diverse group of people devoted to the pupil transportation industry.
ASBC encourages school district officials and contractors nationwide to use #LoveTheBus or tag @WELOVETHEBUS on social media to share the various festivities. ASBC is also awarding prizes to district and companies, based on how the content of their posts and how many likes they receive from followers.
Student transportation officials can also download Love the Bus materials from the ASBC website and to share articles or photos of a special driver within their organization.
---
Related: Love the Bus Month Kicks Off in Central Florida
Related: New Jersey Senate Bill Introduces $10M Electric School Bus Program
Related: New Jersey Gov. Murphy Signs Three School Bus Bills
---