BESI, Inc. has announced that former company representative Earl McMillen died on Sunday. He was 85.
A veteran of the U.S. Army, McMillen was a fixture at school bus industry trade shows up until several years ago. BESI announced his death prior to the inaugural STN EXPO Indianapolis Trade Show.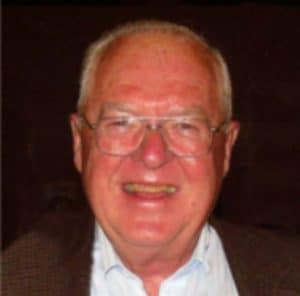 McMillen joined BESI as a sales manager in the early 2000s, after retiring from GenCorp/Omnova. Prior to that, he worked for Masland Dura Leather.
He is survived by Ellen, his wife of 55 years; sons David (Betsy) and Jay (Dawn), grand-daughter Makenzie; and step grand-daughter Ashton Miller. He was preceded in death by his parents Glen and Mary Esther (Doverspike) McMillen and brother David.
Funeral Services will be held at 10 a.m. on June 15 at the Kindred Funeral Home: 400 Union Blvd., Englewood, Ohio. Interment will follow the service at Concord United Methodist Church Cemetery. The family will receive friends on June 14 from 5 to 7 p.m. at the funeral home. Masonic services will be held immediately after.
Donations may be made to the Shriners Hospitals for Children – Pediatric Burns, Concord United Methodist Church, or to Shiloh Church. Online condolences may be sent to the family at www.KindredFuneralHome.com.