Two Illinois superintendents shared their districts' journeys to fleet electrification in a Thursday webinar that focused on round 3 of the U.S. Environmental Protection Agency's (EPA) Clean School Bus Program.
Amy McGuire, director of market development for webinar sponsor Highland Electric Fleets, reviewed the CSBP program which offers $5 billion over five years. In the third round of funding, which is being administrated via a rebate, $500 million is available.
Electric, CNG and propane vehicles are eligible and there is funding available for priority ($345,000 per bus maximum) and non-priority ($200,000 per bus maximum) districts. Funding is available for both buses and chargers, although scrappage for old buses and usage requirements for electric ones apply. Project size can range from one to 25 buses.
"This is an opportunity that doesn't come to school districts all that often," noted Superintendent Tim Farquer of Williamsfield Schools in Central Illinois. "I see no drawback in applying for these funds."
"I'm excited to be the tip of the spear in this journey."

Andy Edmondson, Superintendent, Hardin County School District
Hardin County School District
Hardin County School District in Illinois is a rural district covering about 180 square miles and utilizes 17 buses for 14 daily routes. Superintendent Andy Edmondson shared that the district is acquiring 12 electric buses, half in December and half in August 2024. It received $4 million for buses and $400,000 for infrastructure.
"There's a great savings for our district and we're excited to see that come to fruition," said Edmondson.
Edmondson explained that he was looking for ways to put dollars back in the classroom and identified electric school buses (ESBs) as a way to do that.
"Highland was a great partner to have," he shared, adding that having Highland's help through the process was "a great burden to have lifted" in a small district where staff wore lots of hats.
He said the district is keeping four diesel buses due to range concerns but is planning to do some testing when the ESBs arrive and run daily routes with them. "We'll be fully electric, is the plan," he stated. "We want to make sure we work out the bugs and all the logistics."
---
Related: School Bus Drivers Discuss Real-Life Experiences Driving Electric Buses
Related: (STN Podcast E180) Moving Toward EVs: Clean School Bus Program, Green NY Contractor Conversation
Related: EPA Seeks Videos Documenting the Electric School Bus Experience
Related: California Legislature Passes 2035 Electric School Bus Mandate
Related: Push for Electric School Buses Continues in Minnesota
---
The district is also working on vehicle-to-grid (V2G) capability but has non V2G chargers as well for better operational coverage.
However, not everyone at the district was initially on board, Edmondson said. "With any change, there's that apprehensiveness," he noted. Consequently, he had to do his research and bring that knowledge to skeptics – but he did it all for better student health and monetary savings for the district.
"It's really taught me how to communicate more effectively with our community on what we're doing and why we're doing it," he shared.
He related that nearby districts were curious about electrification but were watching to see how Hardin County SD fared. "I'm excited to be the tip of the spear in this journey," Edmondson declared.
Williamsfield Schools
Williamsfield Schools in Central Illinois was an EPA funding winner last fall and is running electric buses on all five of its routes.
"We've worked through our initial issues and we're excited to keep this all rolling," stated Superintendent Tim Farquer. "We did a lot of homework before we pulled the trigger on anything but we're very happy."
He shared that drivers and mechanics stepped up to learn what was necessary to work with the new electric school buses. Similarly, he said vendor partners Lion Electric, Nuvve and Borgwarner were very responsive and helpful with troubleshooting.
He confirmed that the district leveraged its funding strategically and utilized repower technology to fully outfit the new ESBs it received.
Farquer shared that fleet electrification was also a strategy to create resiliency for the rural district's electric grid. He projected an 80 percent savings in fuel costs, paying about 2.5 cents per kwh. He noted that charging at night is much cheaper than charging during the day.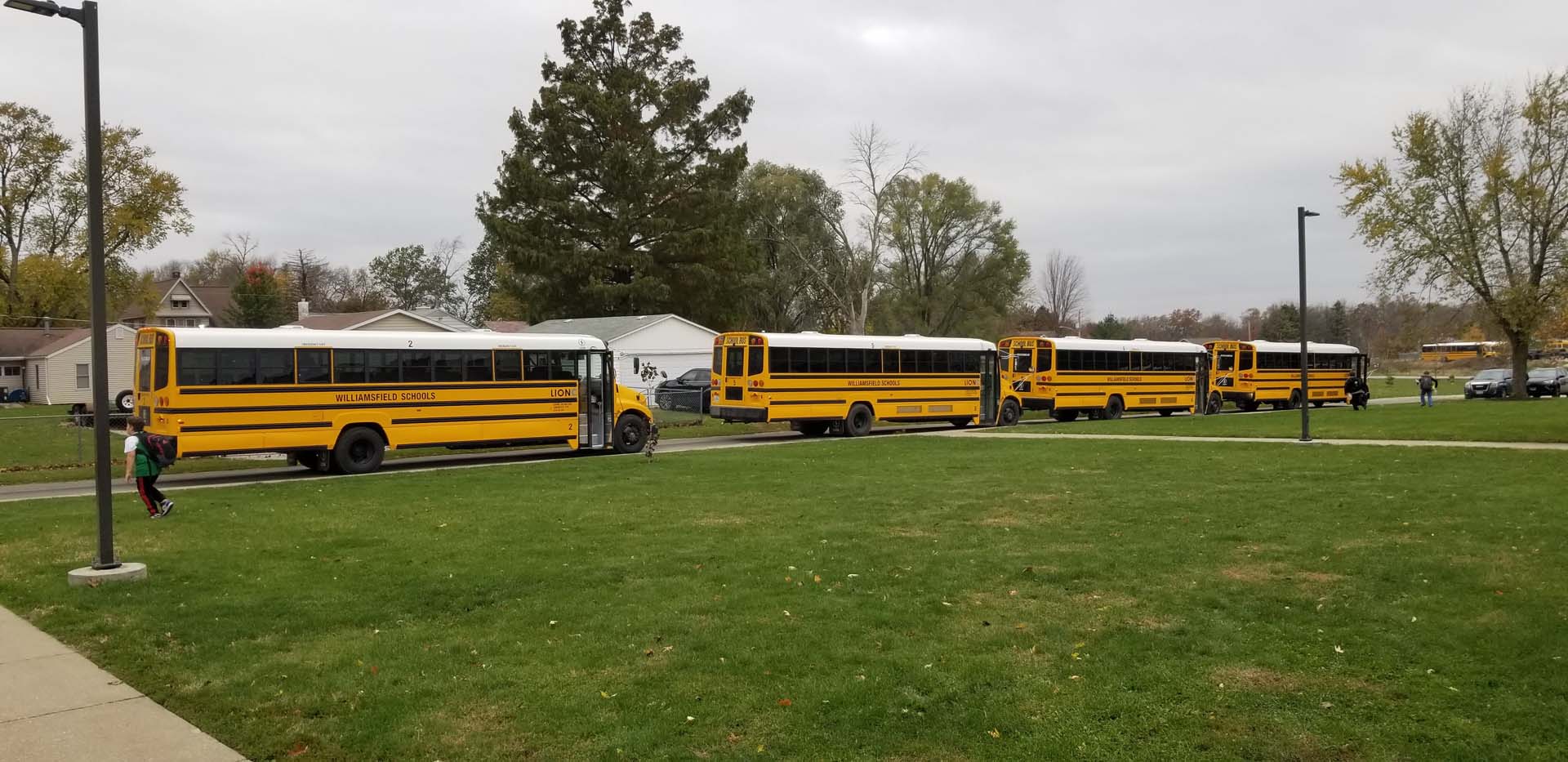 It's All in the Details
Hardin County SD works with a transportation contractor and was still able to fulfill EPA scrappage requirements with Highland's help in finding qualifying buses from other operations to scrap. Farquer noted that this fits with the EPA's goal of getting pre-2010 buses off the road and noxious fumes out of drivers' and kids' lungs. Williamsfield Schools was able to fulfill the requirements by selling some of its newer diesel buses at a discount to other districts to help them retire older buses.
"We won the lottery and we're trying to spread winnings around in a way that supports the reason that we're doing it in the first place," Farquer said. STN Publisher Tony Corpin noted that this showed an example of the spirit of community and goodwill, which is a core value of the student transportation industry.
In response to attendee questions on running the ESBs, Farquer discussed details like monitoring roads that get soft in the spring since ESBs are heavier due to the batteries. He also noted recently changed state requirements that allow for wider buses. This allowed their EBS on the road but drivers had to get used to operating them.
McGuire agreed that ESBs are built to cover most district needs, no matter the location, weather or terrain.
---
Related: Upcoming EPA Webinars to Detail Clean School Bus Rebate Process
Related: $500M EPA Clean School Bus Rebate Targets School Districts That Haven't Applied
Related: Watch: Taking a Healthy Ride on the Green Side
Related: (STN Podcast E174) School's Back: Garage Star & Green Fleet Award Winner Perspective
---
The range indicator on the school bus dashboard looks similar to a fuel gauge, Farquer said. He and Edmondson agreed that it measured accurately and is an operational staple.
"Change is the biggest fear that people have to work though, and they will," Edmondson declared.
Partnership
Highland Electric Fleets provides a turnkey solution for planning and preparing for electrification as well as walking through the process with the district for support. Federal, state and local grants are tracked and used if possible, simplifying the process for districts who may not know where to start.
"We plan for as full electrification as our customers are comfortable with," McGuire confirmed. Highland plans out the cost and breaks it down over the timeline of the project.
She acknowledged the two-year timing requirement of the CSBP that could be complicated by supply chain challenges but verified that there is understanding with the EPA and extensions can be requested.
"There's a strong interest to make sure that these projects are successful," she said.