A video produced by El Monte Union High School District features the voices of students and administrators discussing green mobility options and benefits, which include electric school buses.
The animated short was produced by the district's Clean Mobility in Schools Pilot Project, funded by the California Air Resources Board in partnership with Lalo Alcaraz, a two-time Pulitzer Prize finalist, and his team at Pocho Villa Productions.
The video presents how students can independently choose green options for their school commutes. Some options are walking to school with a friend, carpooling, using a scooter, biking, or riding on one of El Monte's new electric school buses.
The production specifies that air pollution can lead to a wide range of diseases, and states that nearly 85 percent of greenhouse gas emissions from transportation come from vehicles with gasoline engines. The goal is to increase the number of electric vehicles rather than those with gasoline engines. Electric vehicle use improves air quality and lowers rates of asthma and respiratory infections.
The video ends with the following quote from both students and administrators, "Let's work together and create a safe, healthy and comfortable green way to get our students to school by taking a healthy ride on the green"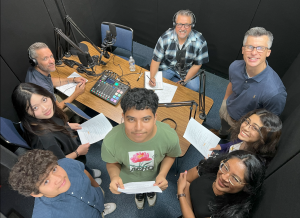 El Monte Union High School District describes its Clean Mobility in Schools Pilot Project as a new, two-year sustainability initiative that under California Climate Investments (CCI) plans to reduce greenhouse gas emissions, strengthen the economy and improve public health and the environment.
The project aims to replace diesel and gasoline vehicles with battery/electric, convert their existing Level 2 workplace chargers with solar panels, and add new buses to service. These steps aim to reduce the pressure placed on families to find alternative ways for their children to get to school.
Superintendent Dr. Edward A. Zuniga explains via the district's webpage that the program focus is to ensure that staff and students are provided with a safe, efficient and effective learning environment.
"Our district is honored to be a recipient of a $9.8 million grant by the California Air Resource Board," he continued, adding that it will fund Clean Mobility measures and promote the use of zero-emission vehicles and clean transportation.
"As part of this grant, we wanted to start a conversation in our community about clean
transportation," District Facilities and Energy Manager Lena Luna said in a statement. "Lalo and his team gave us the perfect vehicle to introduce ways students and their families can contribute to green mobility, and the benefits going green brings to the whole El Monte community."
CARB Member Dean Florez said via a press release, "El Monte Union High School District is a tremendous example of the work the California Climate Investments program is delivering to all California residents as we work collectively to reduce harmful exposure to air pollution by children and others in our working-class communities."
The district's proposed project will transform mobility at the school sites by adding 11 new zero-emission buses to the fleet, improving congestion from pedestrians, bike share and car share. Furthermore, adding a new motor pool vehicles and maintenance vehicles that run on battery or electric power to reduce gasoline use and enable onsite energy storage.
El Monte serves over 8,000 students in grades nine through 12 and over 11,000 students in adult schools. The district said it is committed to finding sustainable, alternative means of zero-emissions transportation that will enhance the quality of life for students and staff who commute.
An El Monte spokesperson told STN that the district does not have an exact number of student riders on the electric buses because vehicle usage varies based on school events. "However, we have a student population just under 9,000 that are open to use the EV school buses for field trips and sporting events, as well as for home and school pickup for special need students," they added.
---
Related: Push for Electric School Buses Continues in Minnesota
Related: Electric School Bus Consumer Education
Related: More Funding for California Electric School Buses, Infrastructure Now Available
Related: (STN Podcast E159) ACT Expo Recap: Diesel's Longevity, New Electric School Buses + Alt. Transportation Convo