The National Weather Service is reporting a flood warning in effect until early Saturday morning, due to Tropical Depression Imelda hitting Houston and surrounding areas. Several school districts have been impacted by the excess flooding, which has caused cancellations.
Houston ISD canceled schools on Friday due to the weather conditions. However, on Thursday, the district did not cancel school and students were seen walking on benches due to flooded halls.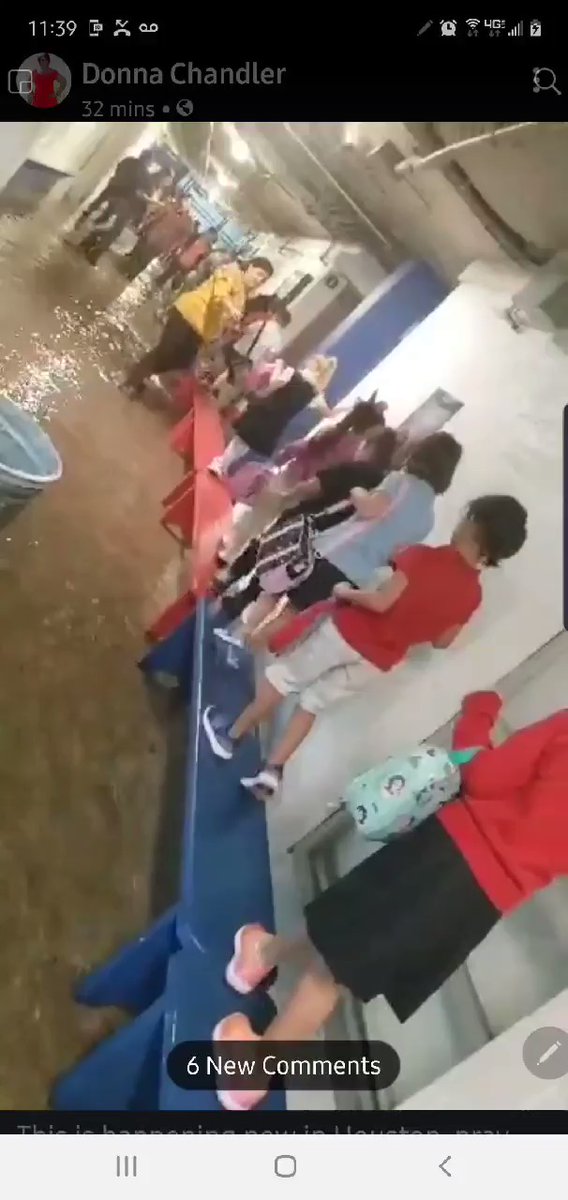 The district posted on its Twitter account the following statement, "the weather event, unfortunately, took a turn that was unforeseen by many area school districts and agencies. Throughout the day, we took proactive measures to keep our students and staff safe. We followed the emergency management officials' advice to shelter in place and maintain normal dismissal times."
Humble ISD, located northeast of Houston, closed on both Thursday and Friday, noted its website. The announcement also stated schools will not have to make up the days to cover the closure. Local media reported that over 30 school districts were closed today due to the storm's impact.
Unbelievable flooding in Winnie, Texas. 📹: Mario Segura

Homes took on water and Riceland Medical Center had to be evacuated. If you need shelter, you can go to: White's Park Community Center (225 White's Memorial Park Rd.) https://t.co/ytqQU59U2J pic.twitter.com/T8s560qzxM

— Erica Simon (@EricaOnABC13) September 19, 2019
Marisa Weisinger, executive secretary for the Texas Association for Pupil Transportation, said the areas of Beaumont were also affected. Beaumont ISD's school board held an emergency meeting on Friday to declare a state of an emergency and classes remained canceled.
Dr. Shannon Allen, superintendent at Beaumont ISD posted on Twitter Friday that staff was continuing to assess all facilities to determine when it could safely reopen. She called the situation "devastating" for the community and neighboring school districts, but she expressed hope after overcoming similar challenges after Hurricane Harvey in August 2017.
Cypress Fairbanks ISD, which is located northwest of Houston, announced at its website that its schools and facilities will remain open. However, the officials urged caution when driving on wet roadways and to be patient if school buses are delayed.
Yesterday, the district announced cancelation all after-school activities and reported that no late buses will run.
---
Related: Worsening Weather Patterns Mean Additional Contingency Planning for School Bus Operators
Related: Student Transporters Constantly Adapt to Weather Conditions
Related: National Safety Council Warns of Severe & Unpredictable Weather
Related: Texas School District Reverses School Bus Driver Shortage with Pay-to-Train Program
Related: Texas DPS Responds to Complaints of Overcrowded School Buses
---
Footage of the flooding shows people in kayaks and boats rowing down the roads, with the interstate freeways completely flooded over and serve damage caused by the storm.
And then you see it. The armadillo. Amazing detail in an already impactful photo from the flash flooding northeast of Houston @coomerchron spent yesterday wading through for @HoustonChron Armadillos are becoming the official mascot of southeast Texas floods. pic.twitter.com/AHm0Y8KhPE

— Mark Mulligan (@mrkmully) September 20, 2019
The American Red Cross posted on its Twitter account that "more than 1,200 people spent Thursday night in 18 Red Cross and community shelters in Texas after the catastrophic flooding caused by Imelda."
The Texas Department of Transportation announced at its website that flash flooding is the leading cause of weather-related deaths in Texas. The website lists suggestions of what to do if you encounter a flooded road.