RENO, Nev. – "If the pandemic has taught us anything, it's that change is inevitable. But what would happen in your organization if you considered change as a positive?" business growth expert and trainer Meridith Elliott Powell asked a room full of transportation professionals gathered for the STN EXPO Transportation Director Summit at events venue The Chateau near Lake Tahoe.
"Embrace the suck," Powell said during the Sunday event, quoting a military slogan. She went on to explain that COVID-19 has upended the school transportation industry in permanent ways.
"How are you supposed to make decisions when you have no idea what is happening in the world?" Powell questioned. It starts, she said, with a relentless vision held by the leader, who looks past obstacles to where the organization is headed, then passes this vision on to their team.
Attendees and vendor partners discussed and shared visions they identified. One table submitted that student transporters should improve the reputation of their field, while another suggested making it more of a strategic career rather than just a job.
The next step, Powell said, is to embrace change since it is inevitable. "Start to shift and change before you have to shift and change," she advised. "Are you controlling change or is change controlling you?"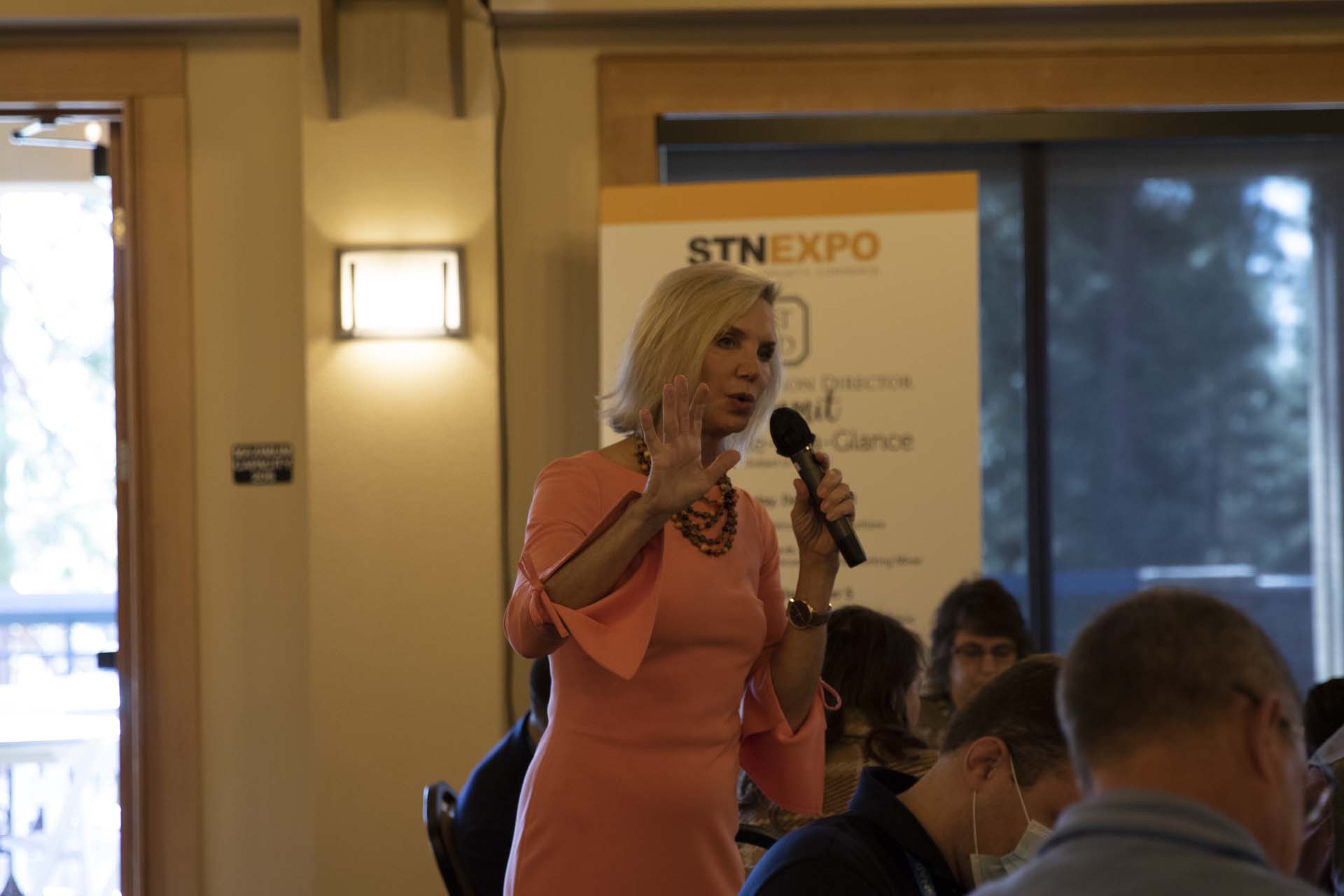 She used the example of whiskey maker Jim Beam, which invested in other industries in the 1920s to be financially prepared for the hit the alcohol industry took during Prohibition. While the brand didn't necessarily have a superlative product or system, it did correctly predict the future and that is what saved it, she said.
To stay relevant, Powell said that an industry leader will also seek feedback from the customers they serve and learn their challenges. A successful example is Proctor & Gamble, which created floatable bars of Ivory soap based on customer feedback.
She posed the question: "What shifts and changes do we need to be paying attention to now?" She followed up with the answer: To consider society, competition, economics, politics, technology, industry and customers.
STN Publisher Tony Corpin elaborated that the most relevant aspects for transportation staff include driver shortages, supply chain and chip shortages, fuel prices, new technology developments, parental demands, and involvement in the school district process.
Additionally, a good leader will involve employees in the process so they feel empowered. They will also identify their own internal challenges and then seek out collaboration and partnerships with peers who have already solved those challenges.
Decision making in an uncertain market can be daunting. Powell explained that the solution is for organizations to make decisions according to their core values.
She cited the example of Chick-fil-a, which is the third-fastest growing fast-food chain in the U.S., despite being closed on Sundays in accordance with its founder's values of faith and family. She also talked about King Arthur Flour, which has stayed in business since the 1700s by continuing to focus on quality-focused processes rather than opting for a faster but lower quality product during the Great Depression and the decades since.
"Your core values are powerful, but you have to know what they are," Powell stated.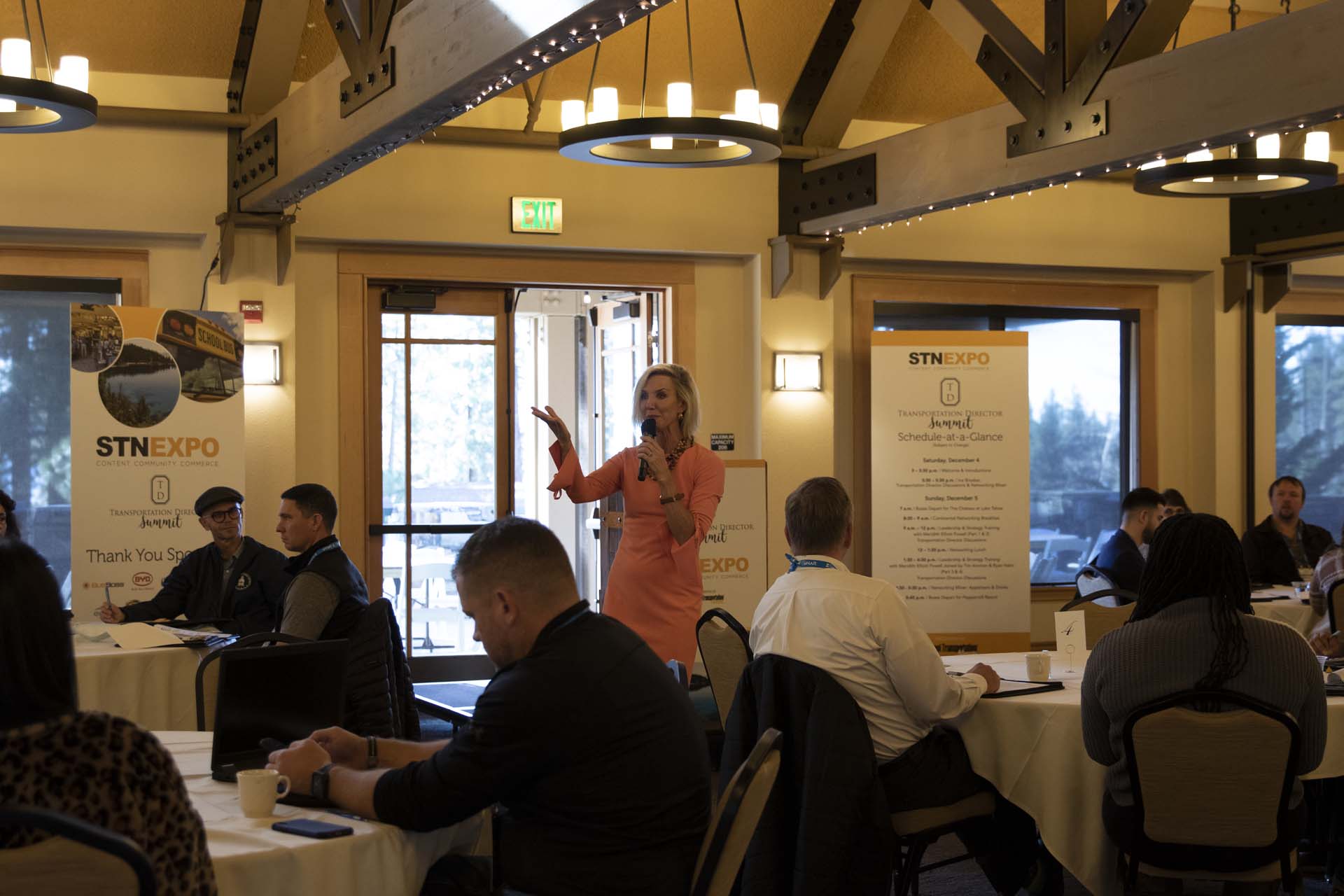 Lastly, she emphasized the importance of building a network by being willing to talk to new people, one of whom could hold the key to solving a pressing problem. Additionally, a good connection requires listening and not talking solely about oneself.
"In uncertain times, you need a network," Powell declared.
In answering an attendee's question about the generation gap between employees and management and succession planning, Powell conceded that maturity levels are different since previous generations may have developed more self-reliance compared to today's kids who are supervised 24/7. However, the younger generation brings skills, such as in technology, that make them valuable in today's market. It is now a matter of combining those talents and building a good team.
When planning for the future, she advised attendees to focus on "Seeds, Weeds and Needs," or things that work, things that no longer work, and what is needed that is not yet implemented.
---
Related: WATCH: Transportation Director Summit (STN EXPO Indy)
Related: (STN Podcast E57) Flip the Script: LIVE From the STN Transportation Director Summit
Related: TSD Conference Session Discusses Leadership in Pupil Transportation
Related: Transportation Director of the Year Smith Spent Half His Life in Pupil Transportation
Related: TD Summit Attendees Learn Leadership Lessons From the World of Sports
Related: Good Leadership is Servant Leadership
---
Consultants Tim Ammon and Ryan Hahn closed out the day by offering takeaways. "Having a clear vision helps you respond well to change in an uncertain environment," Ammon said.
Hahn underscored the importance of what student transporters do. With many in the room indicating they are involved with transporting hundreds or thousands of students to and from school every day, he noted that they were also indirectly responsible for making sure some kids ate that day and have a safe place away from an abusive home. He urged attendees to not forget why they do what they do, even amid pressing day-to-day responsibilities.
Ammon said that the best partnerships come from seeking out networking opportunities like live conferences, as well as being honest about what one needs help with.