The National Association of State Directors of Pupil Transportation Services (NASDPTS) informed association members that A.K. "Vijay" Ramnarain, the Southern Region representative on the organization's board of directors, submitted his resignation.
Ramnarain is no longer the state director of transportation at the Virginia Department of Education and has taken another position, NASDPTS said. No information on his new position was mentioned. However, the NASDPTS website currently lists Kerry Miller as Virginia's state director.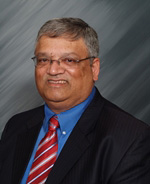 Ramnarain's Linkedin page says he has served as director of support services at the Virginia Department of Education (VDOE) for over 35 years. An architect, he has focused mainly on school safety issues and playground design at VDOE before assuming oversight of school transportation.
According to the Virginia chapter of the Association for Learning Environments, for which Ramnarain is also a board member, he is the co-author of the VDOE document "School Safety Audit Protocol, Checklist and Procedures" and is certified in playground safety and design by the National Program for Playground Safety. He led a team of playground design and safety experts in producing a publication incorporating learning while playing for children in grades preK-12 entitled "From Play to Learning Environments."
Meanwhile, in accordance with bylaws and as approved by the board of directors, NASDPTS President Mike Simmons told association members that Mike Bullman, the state director of transportation for the South Carolina Department of Education, assumes the role of the Southern Region representative. Bullman is also a member of the School Transportation News advisory board.
Bullman previously served as NASDPTS secretary, which was filled by Trent Vonburg, the state director at the Wyoming Department of Education.
---
Related: School Bus Illegal Passings Continue Increase Nationwide, NASDPTS Survey Finds
Related: NASDPTS Fills Administrative, Membership Services Director Position
Related: (STN Podcast E135) Stepping Up to Serve: NASDPTS Supports Safe Student Transportation
Related: NASDPTS Discusses Proper Oversight of School Bus Drivers
Related: At Least Half of Va. School Buses Now Have Brake Interlocks