The National School Bus Safety Week, administered by the National Association of Pupil Transportation, is here. Starting Monday, school transportation departments around the country celebrate drivers and school buses alike.
This year's theme is "Safely Rolling to my Destination" with the goal of promoting safety on school buses and addressing the importance of bus drivers. National School Bus Safety Week is an active and evolving public education program, held during the third full week of October each year, designed to promote school bus safety and a way for parents, students, school administrators, etc. to highlight the importance of safety on board the bus.
The centerpiece of National School Bus Safety Week is the poster contest, where thousands of school districts from all over the country participate in local and state-level competitions to select artwork depicting themes related to school bus safety. The winner this year is Avrie Siedschlag, a student from Coon Rapids Middle School in Coon Rapids, Michigan.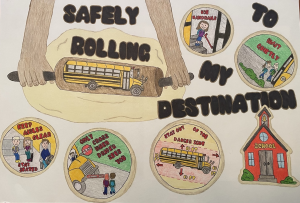 Amid the preparations for the National School Bus Safety Week, copies of the posters are available. Siedschlag's poster, along with posters of other winners will be showcased during School Bus Safety Week.
The poster creation period for next year opened up earlier this month and runs till April 1, 2024. The submission forms can be found here. Next year's theme is "Driving Safely Into the Future".
How is your operation planning to celebrate School Bus Safety Week? Send pictures and comments to ruth@stnmedia.com for a chance to be featured on the STN website and social media channels.
---
Related: NAPT Annual Poster Contest Winners Announced
Related: February Celebrates Yellow School Buses
Related: ASBC Announces Winner of Annual School Bus Safety Poster Contest
Related: Round Up: 2022 School Bus Safety Week