RENO, Nev. — Sportswriter and author Ross Bernstein regaled a packed Capri Ballroom at the Peppermill Resort Casino Spa with tales of grinding to get the job done day after day, waking up not knowing what city he's in, and most importantly, the value to the school bus industry of thinking differently.
"What's your last, best, newest idea," he asked the audience on Tuesday, prior to the STN EXPO Trade Show.
With 50 books under his belt that uncover the championship traits of various professional athletes and coaches, Bernstein has definitely learned what sells, what doesn't, and what not to bother with. He said when people love you, they ask what else can you do to help them grow their own business. Helping customers, school boards, superintendents and parents solve their problems is the goal. Several of his books even became movies, and now his speeches on the DNA of champions are the core of his business.
"Books are dying," he commented. "I don't write books anymore." He observed that trying to write and sell books at bookstores that have closed nationwide, or seeing them discounted dramatically online, or even republished without his permission, isn't a good future strategy from his point of view. However, talking sports is a universal language, Bernstein said.
But when he did write books, he extolled the virtues of former Major League Baseball Hall of Famers Harmon Killibrew and Kirby Pucket of his beloved Minnesota Twins, NBA great Michael Jordan, NHL legend Wayne Gretzky, and NFL champion Tom Brady, among others. Each of these athletes used an incredible work ethic, along with a blend of individual traits, to reach great heights. Bernstein said each athlete provides a playbook to realize an improved personal and work life.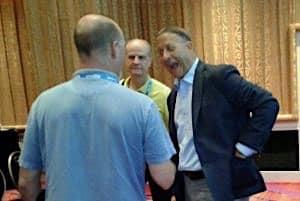 Bernstein's rapid-fire organic ideas left the audience with some great anecdotes and life advice, including: Figure out what it is that makes you extraordinary. Why do people choose to work with you, he asked. The most powerful intangible is likeability.
For example, when a brief stint as a walk-on hockey player for the University of Minnesota came to an end, another job opened up—as mascot Goldy Gopher—which he gladly accepted. Bernstein soon made a name for himself as a mischievous mascot, who once showered the University of Wisconsin band with cheese slices.
A publisher approached Bernstein to write a book about his antics. The result was his first book, "Gopher Hockey by the Hockey Gopher," which he wrote while still in college, and with strong support and involvement from Herb Brooks, the Team USA hockey coach who led his squad to an improbable 1980 Olympics gold medal. Brooks became a mentor and lifelong friend until his untimely death in 2003, but not before he and Bernstein wrote the autobiography "America's Coach: Life Lessons and Wisdom for Gold Medal Success."
With Bernstein, one quick bit of advice blends into another, tying sports analogies to life lessons. Bernstein said everyone should, "Think charitably. …Make it personal. …Philanthropy [can also be] good business," he noted. "I'm not selling products, I'm selling hope. How do you create loyalty? What could you do?"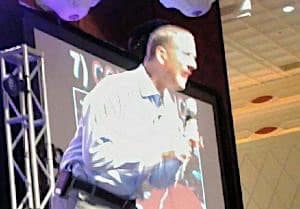 He urged each attendee to "Find your currency, because money isn't necessary" in life. "Currency isn't just stuff, it's also your time, your expertise and your willingness to help others." Being a service to others, is critical.
He asked the audience members if they have authentic proof of their successes, or more notably, how they turned personal losses into wins. "Take risks. It's ok to fail," he said. "Perform the autopsy. Try new things and don't do [the strategy that didn't work] again." Instead, he recommended that attendees move on to the next best idea and keep trying more of them.
"Simplify your life. It means being easy and being authentic," he advised, noting the importance of doing all the little things to make a big difference. "Our job is to make [customers] look good."
"Did you make a difference?" Bernstein wanted to know. "Are you doing the right things?" He said, "Quality time left," an adage from Herb Brooks, meant it was the people who mattered. "I grind (at work) so I can play hard." Everyone likes to do business with fun people, and people who respond immediately when contacted, Bernstein emphatically advocated.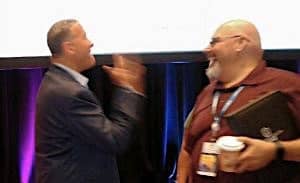 "Being a champion is a choice—your choice," Bernstein concluded. "Follow your moral compass," he advised.
Loving what you do for a job, now that's a great goal in life, was his take-away lesson that attendees heard.