RENO, Nev. — Dave Jaworski, a top Microsoft executive and the opening keynote speaker for the 25th annual STN EXPO, delivered a powerful presentation for a packed audience Sunday.
The software pioneer led U.S. sales operations for Microsoft, among several different positions, and was one of the first several employees at Microsoft Canada. He returned to the company last year as global digital advisor and wrote the book "Microsoft Secrets: An Insider's View of the Rocket Ride from Worst to First and Lessons Learned on the Journey."
Jaworski was only the third employee of Microsoft Canada and was involved in the launch of Microsoft Office. He showed a photo of Microsoft's first 11 company employees, which included founders Bill Gates and Paul Allen. Of course, the long hair, long collars and kid faces drew chuckles.
Jaworski is passionate about helping people and organizations achieve their dreams and potential and brought the message of family, vision and the importance of relationships to about 600 STN EXPO attendees. He also extolled the importance of the school bus industry. "No other teacher had an impact," for his own children, he observed, "more than one bus driver they had with whom they still keep in touch with."
Where he grew up in Canada, he said only one child dropped out of his school because of the intense involvement with many of the one-parent households. "For some of those kids, [school bus drivers] may be the only positive experience that they have that day," he said.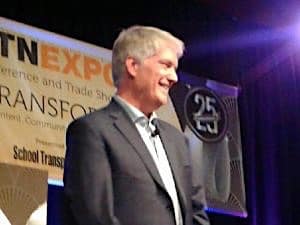 When money gets tight at schools, though, the first budget cut is often to staff training, he observed, which requires creative thinking. He also advocated challenging drivers and other employees to develop ideas on how to do things better in operations as well as actively seeking out employees who are smarter and more creative than management, a tact employed by Gates.
"We have to stop walking into the room as know-it-alls," Jaworski said, relating to a comment Gates made at a Microsoft meeting years ago.
Stay curious, Jaworski added, even if you think you know everything. That, he said, is the secret to unlocking the potential of each student and employee.
But at the end of the day, "it's the relationships that matter the most," he said. Relationships matter and actions speak louder than words, he repeated. "What words do you use," he asked the audience? "The relationships that you have matter the most."
Other observations he made were that:
Everyone can be stressed but not talk about it.
Principles matter.
Arrogance can be a problem and get in the way.
If you see something that isn't right, say something, or try to change it.
Jaworski said his favorite quote is "Culture eats strategy," which is often attributed to business management consultant, author and philosopher Peter Drucker. Essentially, the saying means that a company's culture can prevent an organization from implementing a strategy that is incompatible with the prevailing culture. It has become synonymous with purpose-driven business practices.
This makes vision and alignment of direction critical to an organization, Jaworski said. "Number one [among] the most important factors in predicting success in a relationship, is alignment," he added.
Sometimes, he mused, "I wish you could turn back the clock and change some of those priorities," he admitted.
Jaworski repeatedly centered his presentation on answering the question of what is the mission where you work? "You have the opportunity to change it, if you don't agree," he pointed out.
Everyone needs a clear, articulate vision, Jaworski advocated. "Are you aligned and headed in the same direction? If not, how do you change that," he said.
He related that key people like John Shirley, who was recruited from Tandy/RadioShack by Gates, are why Microsoft became so successful. Shirley, among others, was "laser wicked smart."
Jaworski stressed that Gates surrounded himself at Microsoft with smart people. "[Software engineer] Dave Cutler from DEC [Digital Equipment Corp.] was like God joining our team." And in turn, Gates knew that those great people needed to in turn, surround themselves with great people as well."
However, "Compromise is death. If you [end up with] rotten people on your team, … you are not being a leader."
Jaworski emphasized that regardless of the level of the position, "every single one of you make a difference" at each organization.
"Changing the lives of children," is a passion, he said. "I know children at school who got really excited because their parents … returned to complete their GED."
He observed, however, that, "We have a culture that always says you need to be right."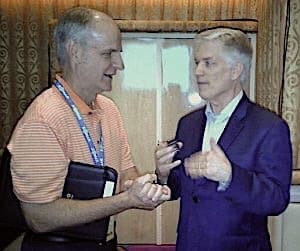 How you respond to the situation in front of you is vital. What is "our emotional response when we first come in. What can I learn from that?" he asked.
Putting himself in the seat of the typical school bus driver, he said that, "When I first step on my bus in the morning, what am I going to say? What are you saying to yourself?"
Though a technology evangelist, Jaworski pointed out that, "At the end of the day, you are smarter than any tool we are going to put on your buses. You are smarter than any of this."
One of his personal favorite daily strategies, which a colleague recommended to him, can be a simple tool for managing and changing your life. "Every day, take a three by five card, write down the one or two or three things you want to get done that day," he explained. He recommended reviewing the list throughout the day to check what you have or have not accomplished. He said the strategy has helped keep him more focused on what is more important each day.
Among attendees, that suggestion seemed to click as something they could most easily adapt to their own work places. Several attendees after Jaworski's talk warmed to the idea and discussed how they looked forward to implementing that tip when they returned home.
"Does your calendar reflect what your values are," he asked, when discussing priorities. "If you heard something today that resonated with you, who can you share it with? Who will you teach it to," he wondered?