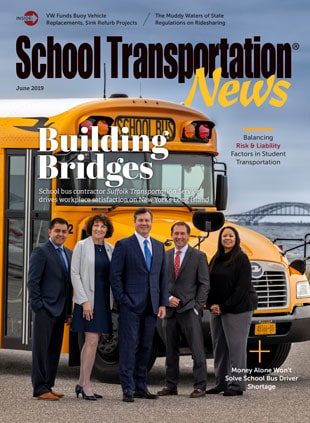 The nationwide driver shortage, the accountability of school districts and school bus operators, school bus refurbishment and more.
Read the full June 2019 Issue here.
Cover Story
Contractor Profiles
Suffolk Transportation, Inc. in New York is one of the 10 companies featured this month, as the contractors share perspectives on the driver shortage, alternative-fuel adoption and more.
Features
The Never-Ending Story?
It is apparent that the nationwide driver shortage can't be solved by only increasing pay. Transportation directors are finding other solutions to keep drivers on staff and behind the wheel.
Risk & Reward
Who is accountable for some of the many issues affecting liability for school districts and school bus operators nationwide?
Special Reports
Refurbish vs. Replace?
While refurbishing school buses remains a valuable option for many districts, others are finding it increasingly unnecessary, especially with the recent influx of grant money for new purchases.
Student Transporters Grapple with New Ridesharing Trend
School districts and parents are hesitant about the liability and safety concerns that come with on-demand ridesharing apps, as confusion has resulted about who or what regulates the service.
Columns
Editor's Take by Ryan Gray
Positive Culture is Invaluable, No Matter the Economy
Thought Leader by Ted Thien
Blockbuster and the School Bus
Publisher's Corner by Tony Corpin
Rising Fuel Costs = Alternative Energy
Sections