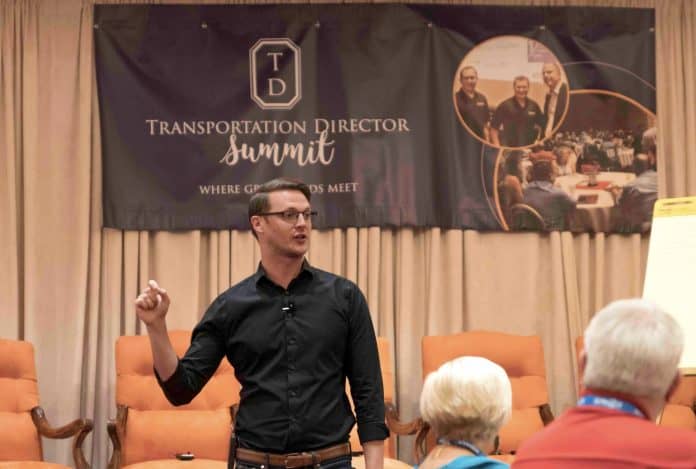 Keynote speaker Ryan Avery, the youngest Toastmasters International World Champion of Public Speaking, is returning by popular demand to open the inaugural STN EXPO Indianapolis conference. His exciting keynote address is scheduled for June 9, 2019.
---
Avery previously spoke to student transporters during the Transportation Director Summit held last July at the STN EXPO Reno.
Avery's walk-away advice to that audience was that, "when your actions inspire others to take action, then you are the leader." Become "THE leader, not just A leader," he said.
Leading, he concluded, "is about going from A to Z in everything you do, to be the leader."
In June, his message will take the next step to "Accelerate Your Achievements," when he will provide attendees with a roadmap to manifesting the big dreams.
Avery's own path has taken him around the world several times. Fresh off speaking engagements in the Middle East, Ryan is always on the lookout for staging some eye-opening events, especially if it involves the famous Guinness Book of Records.
During many of his talks around the world, he helps attendees break or set a world record. For example, one idea he has is to create the largest image made out of 12,000 candles—to represent how many people died last year in the U.S. due to drunk drivers. We are going to make a stop sign out of the candles," he confirmed for STN in January.
Next up is an effort to make the largest pet food mosaic in New York using 7,349 cans of pet food that will spell out "Adopt A Pet Today," because "that is how many pets we euthanize in America every day," he commented.
He hinted that there are some additional Guinness projects in the planning stages, so look for a possible surprise to magically appear during his STN EXPO presentation in Indianapolis.
Avery's bestselling book, Speaker, Leader, Champion, has already been translated into five languages, and is the focus of his effort to break the Guinness World Record for book signing.
He recalled that his publisher, McGraw Hill, agreed to rush-ship 3,000 copies to the Colorado State University campus, Avery's alma mater, so he could try and sell all of them. But he could only sell and sign less than half of them in the planned nine hours.
Part of that effort in his book was to, "convince people to believe in you." However, the effort did help propel sales of his book to a much broader and larger audience.
However, "Words are free but can cost you a lot," he warned. That got everyone's attention quickly last summer in Reno.
"Whenever you aren't confident, [it's because] you aren't passionate about it," he stressed.
Avery's favorite quote is from Eleanor Roosevelt, who famously said, "Do what you love, because people will criticize you anyway." Avery added that he has found "confidence is the byproduct of being courageous."
He advised everyone that, "Our job as a leader is to find the answers."
Editor's Note: At age 25, Ryan Avery competed against more than 30,000 contestants from 116 countries to claim the 2012 World Championship for Toastmasters International.