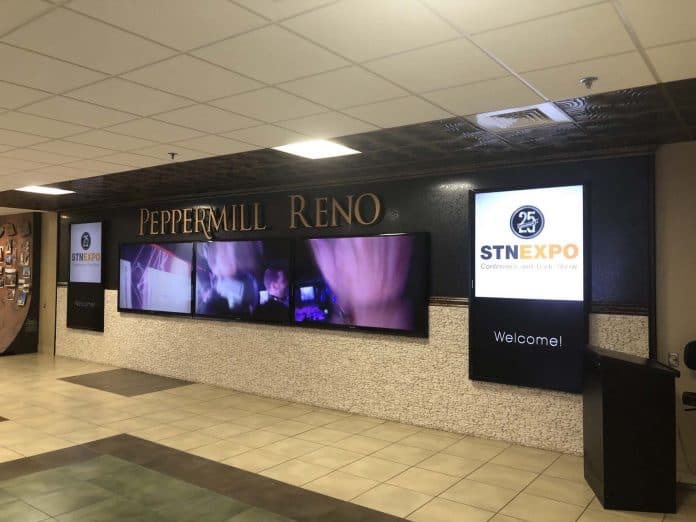 Registration is now open for the 26th Annual North American School Bus EXPO Conference & Trade Show (aka: STN EXPO), presented by School Transportation News magazine. Make your travel plans now for July 26-31, 2019, at the luxurious Peppermill Resort in Reno, Nevada.
---
This must-attend event welcomes transportation professionals nationwide who want to learn the latest trends in training, products and services. Registrants will also learn how to produce better, more quantifiable results from their transportation teams and operations.
Registration is Open Now
Are you prepared to "Get Inspired" and take your pupil transportation operation to the next level? Learn more and register now for the popular STN EXPO Reno. The Super Early Bird Rate of only $299 expires on May 3. Register now and save $200—the "at the door" rate is $499.
Click here for the lowest registration rate that is current available.
Keynote Speakers
The keynote speakers selected for STN EXPO Reno are experts in everything from organizational leadership to school security. Each will provide insight and valuable tips on making your operations better and your kids safer.
Jim Harris, Leadership Consultant
Sunday, July 28
Jim Harris is one of North America's foremost management consultants, public speakers, authors and thinkers on change and leadership. He has 20 years of experience as a professional speaker and consultant and speaks internationally at more than 40 conferences a year on: innovation and creativity, customer relationship management (CRM), eLearning, creating learning organizations, environmental leadership, energy efficiency, strategic planning, and creating common organizational mission and vision. Jim works with leading businesses and Fortune 500 companies around the world. He recently finished a global consulting contract with IBM. His most recent book, "Blindsided," is a No. 1 international bestseller, having hit the top spot on the Financial Times of London's European Edition of Best Business Books. He also authored "The Learning Paradox," which appeared on many bestseller lists, and coauthored the national bestseller, "The 100 Best Companies to Work for in Canada." He is also principal at Strategic Advantage. He previously held positions as partner at Cleantech Group and affiliate at Covey Leadership Centre. In addition, Jim writes for many publications, including the Globe and Mail, Profit magazine and Backbone magazine.
Michael Dorn, School Security Expert
Monday, July 29
An international authority who has keynoted conferences from Virginia to Vietnam and from Toronto to Trinidad-Tobago, Michael Dorn serves as the executive director of the nonprofit Safe Havens International, the world's largest K-12 school safety center. The author of 27 books in his field, Michael served as a full-time campus safety professional for most of his 36-year career. After Sept. 11, 2001, he was named state anti-terrorism planner and lead program manager for the Terrorism Division of the Georgia Office of Homeland Security. As an FBI National Academy graduate, Michael also completed two weeks of advanced anti-terrorism training in Israel. He has provided oversight for school safety, security, climate, culture and emergency preparedness assessments for more than 6,800 public, charter, independent, boarding and faith-based K-12 schools worldwide. Michael has provided post-incident assistance for more than 300 school and school bus crisis events, including 15 planned shootings in U.S. and Canadian K-12 schools, plus a terrorist attack in Kenya. Michael is a highly respected expert witness for complex school and school bus shooting and sexual misconduct cases involving alleged assaults by students, school and school bus personnel. Michael has frequently been interviewed by major media, including CNN, Fox, 20/20, Education Week, Wall Street Journal, NPR and many overseas media outlets.
R. Leslie Nichols, CPP, Senior Analyst
Tuesday, July 30
Les Nichols is an expert in developing child and youth protection programs for youth serving organizations. For more than two decades he served as the VP of safety for Boys & Girls Clubs of America, where he assessed youth centers in schools, military bases, tribal lands, university campuses, camps, public housing projects, parks, community centers, libraries and churches. Les has written, lectured and consulted on developing effective policies, personnel screening, training, supervision, governance, internal reporting, hazard mitigation and emergency response planning worldwide. He has consulted with dozens of youth-serving organizations worldwide, lectured at universities, written numerous books, and spoken before government agencies, symposiums and national conferences on child safety. He is a certified protection professional (CPP) through ASIS International, a member of the International Association of Professional Security Consultants and has a master's degree in security administration. He has certificates in Enterprise Risk Management and Emergency Response Planning, and has been educated in terrorism and homeland security issues. He is experienced at conducting threat-vulnerability analyses and applying "Crime Prevention Through Environmental Design," "Situational Crime Prevention," and Target Hardening" strategies.
Who Should Attend
Transportation Directors/Supervisors
Superintendents
Special Education Professionals
School Bus Dealers
School Board Members
Safety Trainers
Purchasing Agents
Private Fleet Operators
Mechanics/Technicians
Head Start/Childcare Professionals
Fleet Managers
Executives/CEOs
Driver Trainers
Administrators
Over 50 Exhibitors Are Already Confirmed
247 Security
A-Z Bus Sales, Inc.
ALC Schools
Allied Powers, LLC.
Amerex Corp.
AMF-Bruns of America
Ari-Hetra
Auto-Jet Muffler Corp.
Bergstrom, Inc.
BESI, Inc.
Blue Bird Corp.
Bucks Wheel & Equipment
ByteCurve
Child Check-Mate System, Inc.
CI Solutions
Collins Bus
Custom Radio Corp.
Easy Way Safety Services
Education Logistics, Inc.
First Light Safety Products
Freedman Seating
Gatekeeper Systems
Heavy Duty Bus Parts
Hop Skip Drive
HSM Transportation Solutions
IC Bus
Inspiration Zone
Insta-Chain
Lion Electric, Co.
Motorola Solutions
NS Corp.
O'Reilly Auto Parts
OnCommand Connection
Onspot Automatic Tire Chains
Propane Education & Research Council
Pupil Transportation Safety Institute
Q'Straint/Sure-Lok
REI
Rosco Vision Systems
Rostra Accessories/Vehicle Safety Manufacturing
Safe Fleet/Seon
SafeGuard/IMMI
Safety Vision
STN Lounge
Syntec Seating Solutions
Thomas Built Buses
Trans/Air Manufacturing
Transfinder
TRP Bus Parts (PACCAR, Inc.)
Tyler Technologies
UbicaBus
Webasto Thermo & Comfort NA
Zonar
Conference Registration Contact:
Alice Hung Sabedra
Senior Events Coordinator
310-802-7811
alice@stnmedia.com
Exhibit & Sponsorship Contact:
Tony Corpin
STN Publisher
310-802-7803
tony@stnmedia.com