A new reading program at Weslaco ISD, located near the Texas border with Mexico, uses technology on board school buses, so student riders can continue learning during their daily commutes.
The new initiative is called "Anytime, Anywhere, Reading" and began last fall. Weslaco East High School librarian Renee Dyer said she initially approached the district's administration to determine the feasibility of introducing digital books on the school buses. She added that some bus rides are over an hour each way.
Welasco ISD, located just east of McAllen, Texas, transports elementary through high school students.
"It's particularly appealing to our younger elementary school students because they compete for a lot of different incentives, based on how much they read and how often they read," Dyer explained. "[It is] less appealing to the teenagers. As they get older, it doesn't have quite the same lure."
The titles, which are hosted by educational publisher ABDO, are printed and laminated on every school bus in the district. Students scan the QR code that is associated with the book they want to read.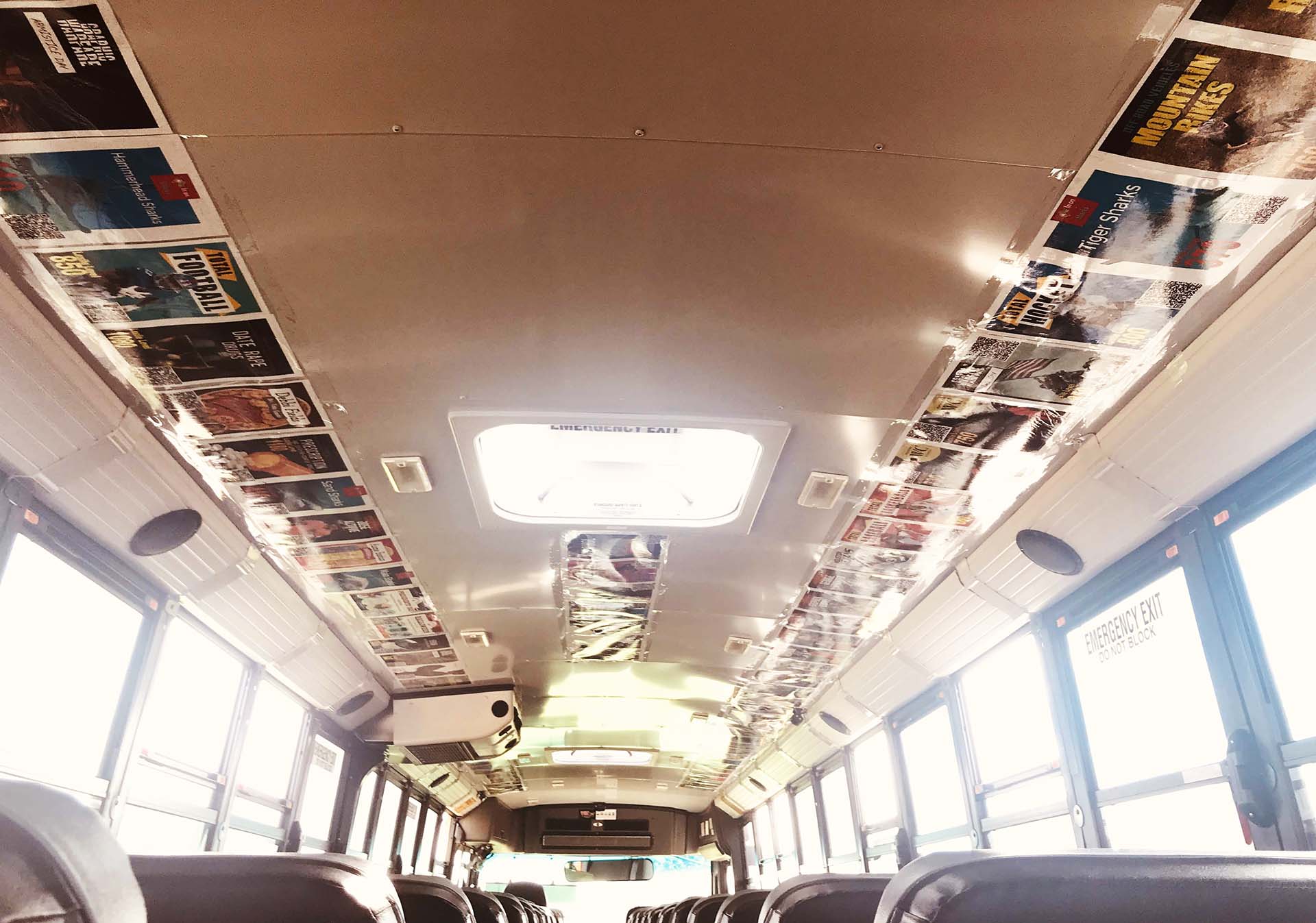 "There are about 80 books on each bus," Dyer explained. "They can just point their phone up to the book … You swipe your screen just like you would do a regular book … and then the book stays on their device."
Dyer said one benefit of using these digital books is that multiple children on the bus can scan and read the same book at the same time. Another benefit, as opposed to offering a bucket of books like at other districts, is the students can take the books with them when they leave.
"They can take it home, their siblings can read it, their parents can read it, or they can come back to it later in the night and continue reading," Dyer shared.
The books also came at minimal cost to the district. Dyer worked with the Texas Education Agency's Region One Education Service Center, so the library services coordinator could purchase the book licenses for districts in Webb County to the northwest, all the way to  Cameron County and the Gulf Coast.
Currently, Weslaco is the only district in the region to take advantage of the program.
The only cost the district shouldered was printing and laminating the book titles and QR codes, which the curriculum instruction department helped pay for.
Dyer and the transportation staff members dedicated several afternoons to not only posting the digital book laminates in every school bus but also identifying the right adhesive. She said they were seeking the least-offensive smell possible as well as a product that survives hot south Texas afternoons.
"We ended up just using book tape," Dyer said. "It's held up, knock on wood, really great."
While a Wi-Fi or cellular connection is necessary to download the titles, students do not need the internet or data plans to store and read the books. Dyer explained that while the buses themselves aren't necessarily Wi-Fi enabled, the district received a grant for 1,400 hotspots to erect around the district.
"So, the buses themselves aren't Wi-Fi enabled, but the students are Wi-Fi enabled," Dyer added.
---
Related: Bus Driver in Arkansas Helps Reading on her Route
Related: Older Driver Safety Awareness Week Focuses on Education
Related: The Education of Ken Hedgecock
Related: School Bus Bookmobile Facilitates Summer Reading
Related: Temple ISD Receives Eight New School Buses with Texas Grant Funding
---
The books range from educational text to biographies, mysteries to adventures. However, no bestselling fiction books are available because of copyright pricing.
One parent did complain that one book contains information about marijuana. "But we made sure to let the mom know these were informative texts. That they were letting students know what they would learn at the doctor's office, the effects of it, the dangers of it, that sort of thing," Dyer relayed. "Once she was aware of that, she was completely fine with it."
School bus drivers and monitors on the buses report that students are more engaged in their reading, Dyer added. Transportation staff has even noticed that some students are sitting in certain seats, so they scan a particular book title.
Staff members have also had to remind some students when they've arrived at their stop. "The kids have been so deep in their reading at times that they have lost [track] of where they are," Dyer noted.
The digital books are also now available at student pick-up locations around the district, as well as at various businesses around town.
"We want anytime, anywhere access for kids, and it doesn't even necessarily have to be our kids," Dyer said. "We want opportunities for reading."