The New York Association for Pupil Transportation (NYAPT) recognized the professionalism, skills and compassion of Willie Smith last month and the inspiration he is providing other school bus drivers across the state with the 2023 School Bus Driver of the Year Award.
Smith, a retired corrections officer transitioned to becoming a school bus driver and has been behind the wheel of the yellow vehicles for the past 18 years. He currently drives for Sewanhaka Central High School District in Nassau County on Long Island.
"At first, I just wanted to do something so that I could have the weekends off. I never expected to be here almost 18 years later," Smith told STN.
NYAPT announced Smith as its 2023 School Bus Driver of the Year on July 11. "Willie demonstrated all the best qualities of a school bus driver in New York state," said NYAPT Executive Director David Christopher in a statement. "From ensuring the maximum safety of all his students each day to the tireless dedication he exhibits throughout his training and mentoring of hundreds of other drivers, Willie leads by example and represents the true pinnacle of his profession."
When asked how it felt to win the award, Smith replied, "I was shocked because I couldn't believe it," he said. "With all the other candidates and I was picked? So, I was elated. I really was."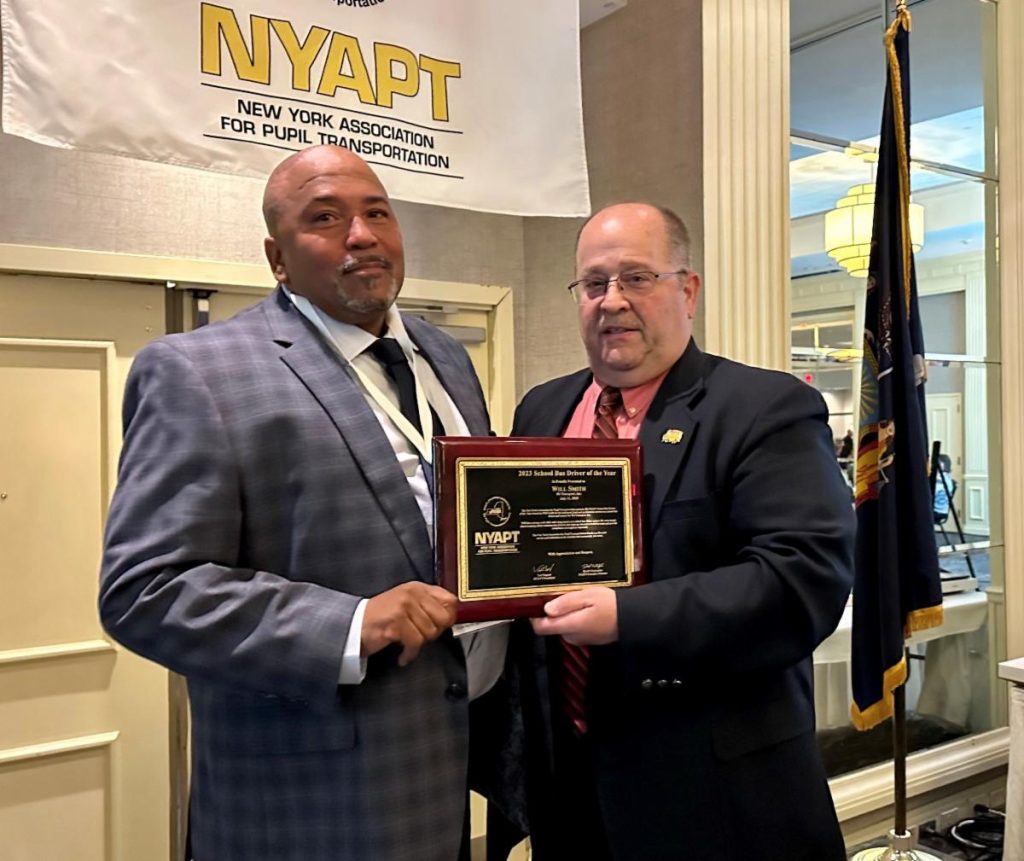 Smith started as a school bus driver in Queens, New York, he then moved to Long Island and was working for various districts at the time as a substitute driver. Later, Smith became a driver for Sewanhaka School District and has been there for the past 10 years. In 2015, Smith then became a 19A state-certified school bus examiner. In 2018, he became a school bus driver instructor and has trained over 1,000 bus drivers since.
"You got to have the passion for children … you got to have the empathy for others," said Smith, when asked what advice he would give to prospective bus drivers. "You know, of course, we all want to make a salary, but that's not the important thing. You don't know who's on your bus. It could be the next basketball player or a scientist. What's important is treating everyone with respect and giving them that fair chance to get an education.
Smith said his favorite part of the profession is making sure children get to their destinations safely. "That should be the main goal of all U.S. drivers," he continued. "The kids, they see you in the morning, they greet you and you greet them … it's like an extended family."
A particular memory that stands out to Smith was when he went shopping one day and a student he transported happened to be there with their family. "They saw me in the store and got very excited. That just made my day," he recalled.
"I'm just really humble and just want to thank everyone for even taking the time out to acknowledge me… I really appreciate that," Smith concluded.
---
Related: BYD School Bus Wins Prestigious Green Bus Award
Related: Benish Hall of Fame Induction Highlights NSTA Annual Awards
Related: ACT Expo Announces the Winners of the 2023 Fleet Awards
Related: Ulster County, New York Names its School Bus Driver of the Year