A year after Joe LaMarca took the reins from the retiring Kathleen Furneaux as executive director of the Pupil Transportation Safety Institute, Jonathan Bentley steps in as the new managing director, the organization confirmed.
LaMarca, who served as director of transportation of Brockport Central School District in New York for over 30 years in New York reportedly, resigned his position for personal reasons. Taking his place is Bentley, who Furneaux said has 10 years of experience in executive management in the service industry and with not-for-profit organizations.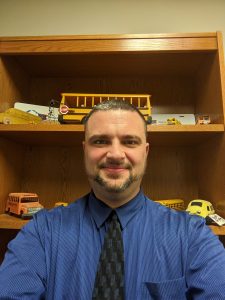 Despite Bentley not having worked in the pupil transportation industry, he said, his "role of managing the work of the knowledgeable transportation staff at PTSI, will support and enhance the positive outcomes they have enjoyed under previous leadership."
According to Bentley's LinkedIn profile, prior to PTSI he served as the vice president of Tony Baird Electronics for almost five years. Before that, he was the business development manager for the company for almost four years.
"I believe in the mission of providing the safest transportation for children to and from school," he continued. "My wife Christina of 11 years and I have three children, two of whom are riding school buses. I am deeply invested in supporting the work of the school transportation industry and look forward to the continuous improvement of transportation safety for school children."
Furneaux added via email that, "Jonathan Bentley's more than 10 years managing small, but effective organizations is a great fit for PTSI, building on success and embracing new opportunities into the future."
Bentley noted that in his first two weeks with PTSI, he is beginning to understand the scope of the work performed.
"Of course, my goal is to build upon the excellent reputation the staff has worked so hard to achieve and support the overall growth of the organization across the nation," he said. "Expanding the reach to more states, for delivering our excellent training programs and products into the hands of transportation professionals, is one of my primary goals. Working with the PTSI team, we will identify new challenges for transportation professionals on the front line and develop effective tools to help them reach their goals."
---
Related: LaMarca Succeeds Furneaux as PTSI Leader
Related: 'Check the Door Once More' to Avoid School Bus Dragging Incidents
Related: Author, Speaker LeMon Remembered for School Bus Safety Advocacy
Related: Texas Transportation Department Makes Child's Day with School Bus Rides
Related: Innovator Award Seeks Nominations of Trailblazing School Bus Contractors
---
PTSI, a non-profit organization in Onondaga County, New York, has more than 25 years of experience in developing pupil transportation training. The organization provides school bus safety courses on its website as well as information on the new entry level-driving training program and human trafficking.
"Leadership is the capacity to translate vision into reality," Bentley said, adding that he plans on directing PTSI into a future guided by innovations in the industry. "To be reflected in our unique training designs and comprehensive consultations for school districts."