Within the past several weeks, two incidents occurred of men attempting to force their way onto school buses, one of which was transporting students. Earlier this month in Athens, Georgia, a man stepped onto a Georgia school bus and began yelling, claiming someone was trying to kill him, reported News4.
The Clark County school bus driver had stopped to pick up students when a man reportedly approached the bus loading doors and stairwell and began shouting. The bus driver immediately told the man to not board the bus, according to news reports.
CBS46 reported that instead of leaving, the man attempted to take over driving the bus. Interior video of the bus shows children moving toward the back of the bus and some starting to cry.
A nearby parent saw the incident and talked the man into getting off the bus. The students were safely taken to school.
The man was reportedly charged with criminal trespass, reckless conduct, and distributing the operations of a public school.
A frightening situation for students in Athens when an unfamiliar man boards their bus and starts making strange statements. I've got the video. Join us now on @cbs46. https://t.co/3tBSFrulTE #ClarkeCounty pic.twitter.com/4hHA8zdYMx

— Rebekka Schramm (@SchrammCBS46) September 17, 2019
---
Related: House Resolution Seeks to Recognize Security Benefits of U.S. School Buses
Related: STN EXPO Indy Keynote Explains Need for Speed in Responding to Security Threats
Related: California School Bus Driver Recognized for Preventing Hijacking
Related: Georgia Governor Signs Bill to Amend School Bus Passing Law
Related: School Bus Security & Emergency Preparedness — Have you Properly Tested your Approaches?
---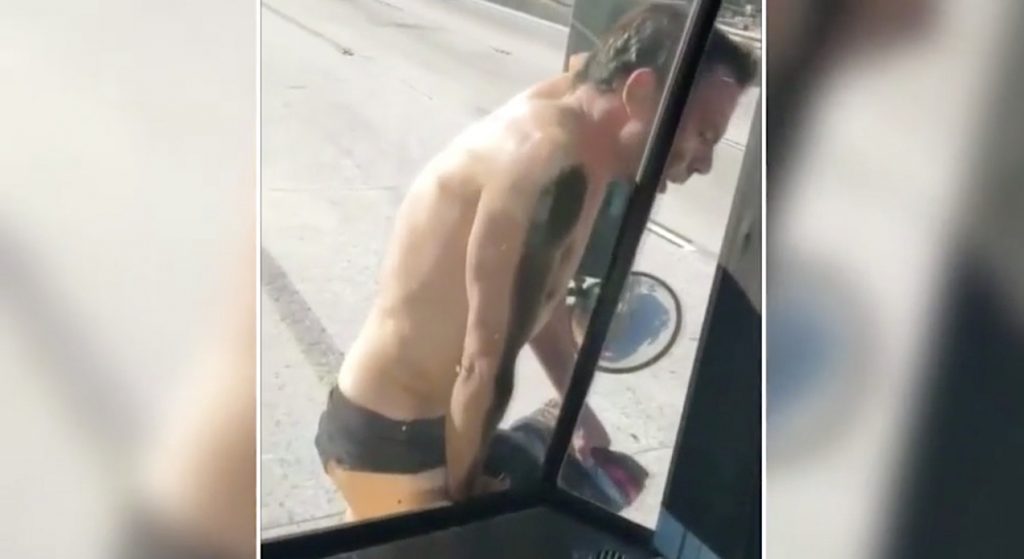 Meanwhile, a nearly naked suspect tried to force his way this week onto a Newhall, California school bus north of Los Angeles. The bus was navigating slow-moving traffic on the Interstate 5 Freeway, reported Fox 11.
Students were not on the school bus at this time, but instead, a group of drivers was on board to transport the vehicle back to the bus yard. The video showed the man approaching the bus and pounding on the windows.
The man had reportedly just come from a nearby church, where he was allegedly breaking into and vandalizing the building, when he ran down the hillside toward the freeway.
A bus driver called 911, and the Los Angeles County Sheriff's deputies and California Highway Patrol officers responded to the site. At this report, the suspect was still in jail, facing at least one felony vandalism count.