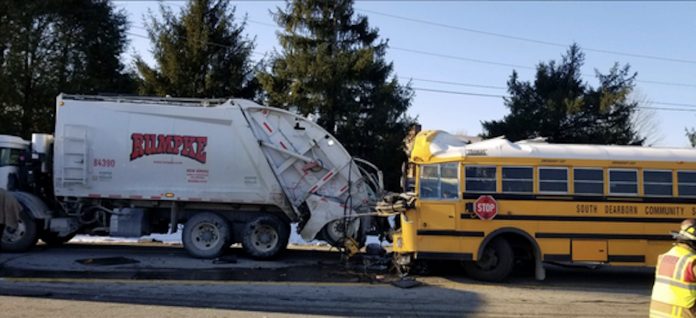 Twenty people were injured after a school bus and a Rumpke trash truck crashed this week in southeastern Indiana, reported Cincinnati.com.
---
Related: Indiana Student Killed When Truck Rear-ends School Bus
Related: Indiana Becomes a Flash Point for School Bus Safety
Related: Woman Arrested in Death of Three Indiana Students at School Bus Stop
Related: School Bus Crash in Greenwood County Injures 18
---
The article reported that a school bus struck a Rumpke residential truck in Aurora, Indiana. A student said the driver of the bus turned around to show his passengers a stitch in the back of his head, and that is when the collision occurred.
The bus driver and 18 students were transported to various hospitals for mostly minor injuries and complaints of pain. One student suffered severe injuries and was taken to Cincinnati Children's Hospital Medical Center, noted the article.
The truck driver was outside of his vehicle at the time of the incident but sustained minor injuries from the debris.
Most of the students were middle and high school age. The crash is under investigation.